Sharpest jump in mortality among patients below 45 years
Covid: Hospital deaths jump during India's second wave
Healthcare centres also received a higher proportion of patients with severe illness — 39% during the second wave compared with 32% during first wave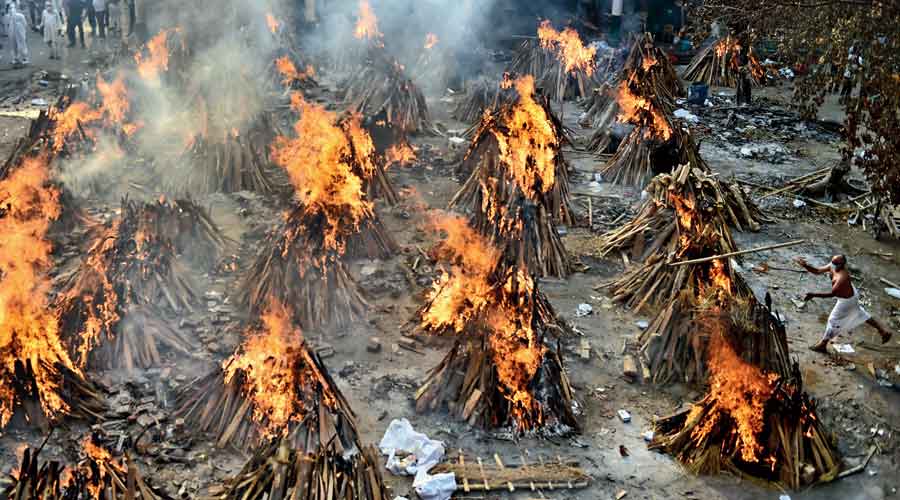 India's Covid-19 case fatality rate — the proportion of deaths among patients who have tested positive — has remained relatively stable, between 1.2 and 1.3 per cent through the surge in daily new infections during the second wave that peaked in early May
File picture
---
New Delhi
|
Published 01.07.21, 03:11 AM
|
---
Hospitalised Covid-19 patients faced significantly higher death rates during India's second wave than during the first, a new study has found, corroborating anecdotal accounts of a fiercer epidemic, but health researchers say the reasons remain unclear.
The study that examined the outcomes of over 19,000 patients admitted across nine hospitals in five north Indian states recorded an increase in mortality across all age groups with an overall 45 per cent increase — from 7.2 per cent in wave 1 to 10.5 per cent in wave 2.
India's Covid-19 case fatality rate — the proportion of deaths among patients who have tested positive — has remained relatively stable, between 1.2 and 1.3 per cent through the surge in daily new infections during the second wave that peaked in early May.
Doctors at the Max hospital network who led the study say overwhelmed healthcare services, admission delays and shortage of critical care beds likely contributed to the increased disease severity and mortality, but the impact of novel coronavirus variants cannot be ruled out.
They have observed the sharpest increase in mortality among patients aged below 45 years, rising to 4.1 per cent during the second wave, mainly in April and May, from 1.3 per cent during the first wave between July and November last year. But the rise occurred across all age groups. Sandeep Budhiraja, senior director for internal medicine at a Max hospital in Delhi, and his collaborators analysed the disease features and outcomes of 14,398 hospitalised patients during the first wave and 5,454 during the second wave.
The mortality was higher among patients admitted in both intensive care units as well as in wards. The doctors suspect this was because many sick patients on high-flow oxygen had to be treated in wards as there were no ICU beds available during the second wave's peak.
The hospitals also received a higher proportion of patients with severe illness — 39 per cent during wave 2 compared with 32 per cent during wave 1. Admission delays amid extreme shortage of ward and ICU beds could have contributed to this increase.
"By the time they could get (beds) in the hospital, they were already in moderate or severe hypoxemic (low oxygen) failure," Budhiraja and the collaborators said in their study not peer-reviewed yet but posted on medRxiv, an online repository for research preprints.
They observed higher mortality among patients in wards (3.1 per cent during wave 2 versus 0.5 per cent during wave 1), ICUs (25.1 per cent versus 19.8 per cent), and on invasive ventilation (68.4 per cent versus 62.5 per cent.)
"This study puts numbers on what we've suspected through anecdotal accounts and experience," said Aakanksha Chawla, a senior pulmonary medicine specialist at the Apollo Indraprastha hospital in New Delhi, who was not associated with the study.
"The healthcare system was just not equipped to handle the dramatic rise in the surge from mid-April to mid-May — amid the bed and ICU shortages, we saw more severe disease, more deaths, and more younger people coming in," Chawla said.
Sections of medical researchers, however, caution that while the hospital-based study appears to corroborate suspicions of higher mortality and greater levels of severe disease, it might still be premature to declare the second wave as inherently worse than the first.
Rajesh Pandey, a critical care medicine specialist and one of the study team members, said that while the hospital analysis pointed to higher mortality, higher inflammatory disease and greater secondary bacterial infections among the patients during the second wave, the reasons remain unclear.
"While the much larger numbers of patients posed a challenge, we know that the second surge also coincided with the emergence and growth of the variants, particularly the delta variant," Pandey said.
Although scientists know that the delta variant is highly transmissible and has the potential to cause infections in people believed protected by vaccination or prior Covid-19 infections, virologists say there is no clinical data yet to suggest that it causes more severe disease than earlier variants.
Pune study
But a citywide study has spotted a mortality dip.
An independent study of an entire city's Covid-19 patients' outcomes in Pune has found that the case fatality rate fell from 2.5 per cent during the first wave to 1.1 per cent during the second wave.
The Pune study by health researchers at the Johns Hopkins University Clinical Research Site at the BJ Government Medical College, Pune, measured the death rates among over 162,000 patients last year and 275,000 patients this year.
The rise in mortality among hospitalised patients and the lower case fatality rate in an entire city while appearing contradictory are not comparable measurements, according to health researchers, because they probe two different subsets of patients — those hospitalised and all those positive.
"Hospitalised patients represent a only small subset of the population that has tested positive," said Prasad Bogam, a public health specialist and a team member of the Pune study. "Mortality measured among hospitalised patients cannot be compared with case fatality rates in a population."