Covid: Dogs eat bodies on a riverbank in Uttarakhand
Residents said the bodies had presumably been dumped upstream into the river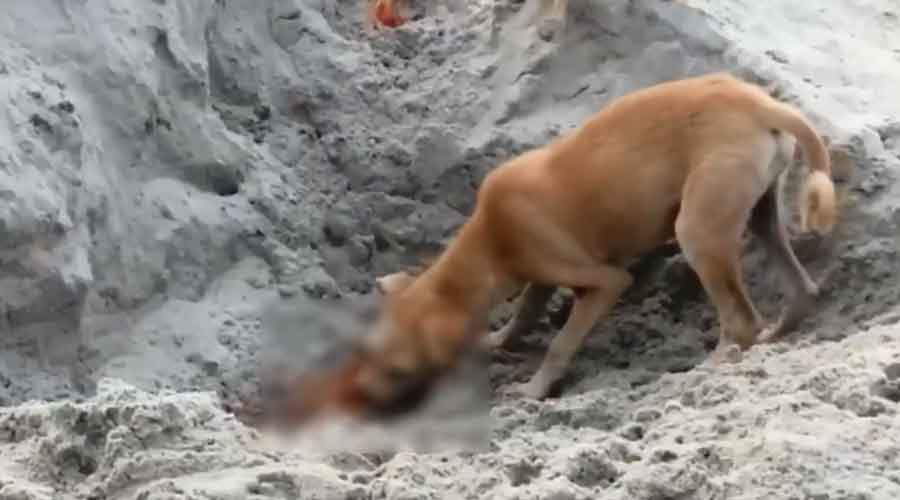 The smell apparently attracted street dogs, which pulled the bodies out of the water.
Video grab
---
Lucknow
|
Published 01.06.21, 01:26 AM
|
---
A video has emerged showing dogs eating bodies on a riverbank, purportedly Kedar Ghat along the Bhagirathi in Uttarkashi, Uttarakhand.
Residents said the bodies had presumably been dumped upstream into the river, a tributary of the Ganga, and had got stuck in the sandbars before the past few days' rainfall raised the water levels and caused them to drift towards the banks.
The smell apparently attracted street dogs, which pulled the bodies out of the water.
Residents told reporters on Monday they had complained to the civic body in the morning. "But they didn't show any interest," a priest who didn't want to be named said.
Ramesh Semwal, chairman of the nagar palike, told reporters: "Some half-burnt bodies were seen on the ghat being eaten by dogs. We have assigned a sadhu who lives on the ghat to keep cleaning the area after last rites are performed."
He seemed to be suggesting that rather than floating down from elsewhere, the bodies had been cremated at the spot. He didn't explain why they had remained half-burnt and how the sadhu would be "cleaning the area" of such bodies.
DISTURBING VISUALS of stray dogs digging & feeding on the dead bodies, on the banks of river Ganga, in Prayagraj.

Govt failed to protect their life, at least protect their dignity? This is what BJP & Godi Media doesn't want you to see and hence trying to deviate via smokescreens pic.twitter.com/Mc8VYb3sWE

— Gaurav Pandhi (@GauravPandhi) May 18, 2021
Bodies have been seen floating down rivers in Uttar Pradesh and other states, apparently dumped by relatives amid the rising Covid deaths, shortage of cremation space and firewood, and spiralling funeral costs. Many families are burying their dead in the sand on riverbanks.
Residents of Unnao and Fatehpur in Uttar Pradesh reported seeing at least three dozen and six bodies, respectively, floating in the Ganga in the past 24 hours.
Fatehpur sub-divisional magistrate Pramod Jha said: "Some corpses were spotted in the river. They were fished out and cremated."
Jha said he was informed about the bodies floating in the river on Sunday morning, following which a search operation was launched. Six decomposed bodies were found in the river, he said. The bodies could not be identified.
Later in the day, a team of doctors performed the last rites at Bhitora Ganga Ghat, he said.
Dayashankar Pathak, SDM of Unnao, said: "I visited the area but didn't see any bodies."
Chief ministers Tirath Singh Rawat and Yogi Adityanath have been silent on the reports of floating bodies but claim the Covid situation has been "almost controlled" in their states.