Doctors: Monitor every Covid patient given HCQ
The HCQ and azithromycin combination carries the risk of drug-induced sudden cardiac death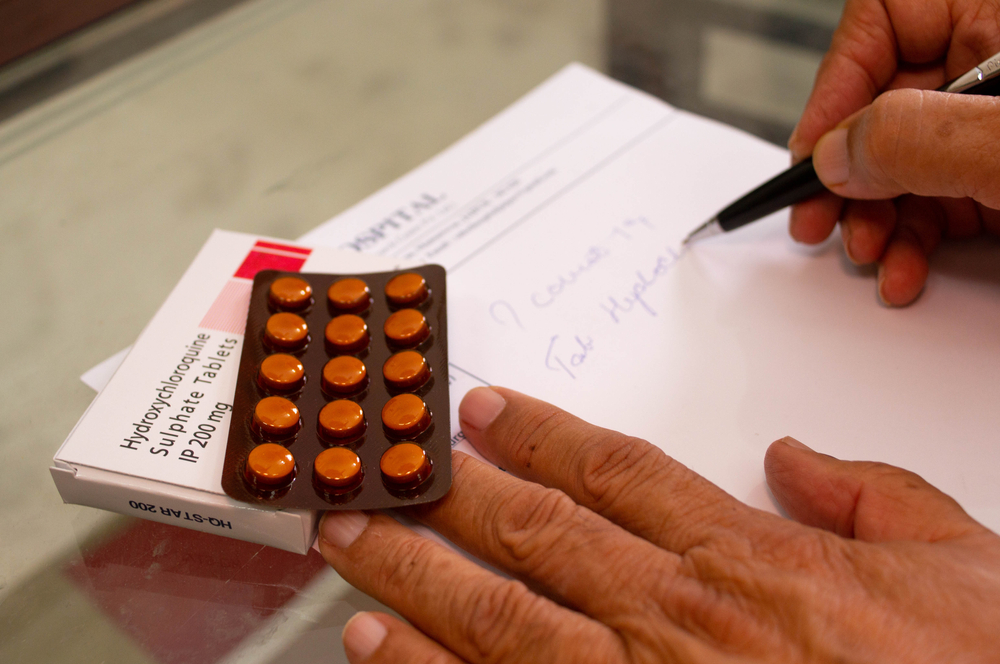 The Union health ministry's guidelines for treatment of Covid-19 recommend the use of this combination in patients with severe disease
(Shutterstock)
---
New Delhi
|
Published 24.04.20, 11:26 PM
|
---
Every Covid-19 patient given the hydroxychloroquine (HCQ) and azithromycin combination should be monitored for adverse cardiac effects, doctors in India and the US said on Friday in cautionary research papers about the therapy adopted by India, the US and other countries.
In independent papers, two groups of doctors at the New York University School of Medicine and the Lady Hardinge Medical College, New Delhi, have called for cardiac monitoring of Covid-19 patients receiving this combination, particularly patients with underlying health disorders.
Both groups have pointed out that the two drugs are known to independently disrupt trigger to abnormal cardiac rhythms and the combination carries the risk of drug-induced sudden cardiac death.
The Union health ministry's guidelines for treatment of Covid-19 recommend the use of this combination in patients with severe disease. Medical experts familiar with the guidelines have said the recommendation is based on laboratory observations and a study in France.
Although the health ministry introduced the guidelines last month, authorities have not yet disclosed what proportion of India's 23,452 Covid-19 patients diagnosed until Friday have received the hydroxychloroquine azithromycin combination.
Electrophysiologist Lior Jankelson and his colleagues at the NYUSM have found that nine (11 per cent) of 84 patients who received this combination developed a cardiac rhythm pattern that put them at high risk of a condition called "malignant arrythmia and sudden cardiac death."
Five of the nine patients had normal cardiac rhythms at the start of the treatment, the doctors said, reporting their findings in the journal Nature Medicine. They have suggested that all patients who receive this combination should be "repeatedly" followed up with cardiac monitoring.
The LHMC, New Delhi, doctors who examined available scientific evidence to generate what they say is the "most comprehensive analysis of medical literature" on hydroxychloroquine have also called for caution on the use of this treatment for Covid-19.
Their paper, posted on the medRxiv database but not peer-reviewed yet, has pointed to the "scarcity of safety and efficacy data" and cautioned against the widespread use of the combination in Covid-19 therapy without regular monitoring of patients.
"There is no evidence to support the efficacy of this drug – there is at present only weak evidence that has been used to recommend this therapy for Covid-19," Harmeet Singh Rehan, professor and head of pharmacology at the LHMC who led the analysis told The Telegraph.
A French study earlier this year that had reported lowered viral loads in patients given the two drugs had played a key role in influencing health authorities in multiple countries, including India, to adopt this treatment.
Rehan and his colleagues Umesh Devappa Suranagi and Nitesh Goyal have pointed out that the French study had "major limitations" – a small sample size, the absence of randomisation of patients and, the lack of intention for long-term follow-up and no clinical endpoint as an outcome measure.
The LHMC doctors have also pointed out that none of the studies on hydrochloroquine published until now have emphasized the adverse effects of hydroxychloroquine and azithromycin. "Every patient needs to be monitored," Rehan said. "We need clarity on the cause of deaths among patients who receive this combination."