Doctors are stricken, gear concern mounts
'Around 50 doctors have been infected so far across India'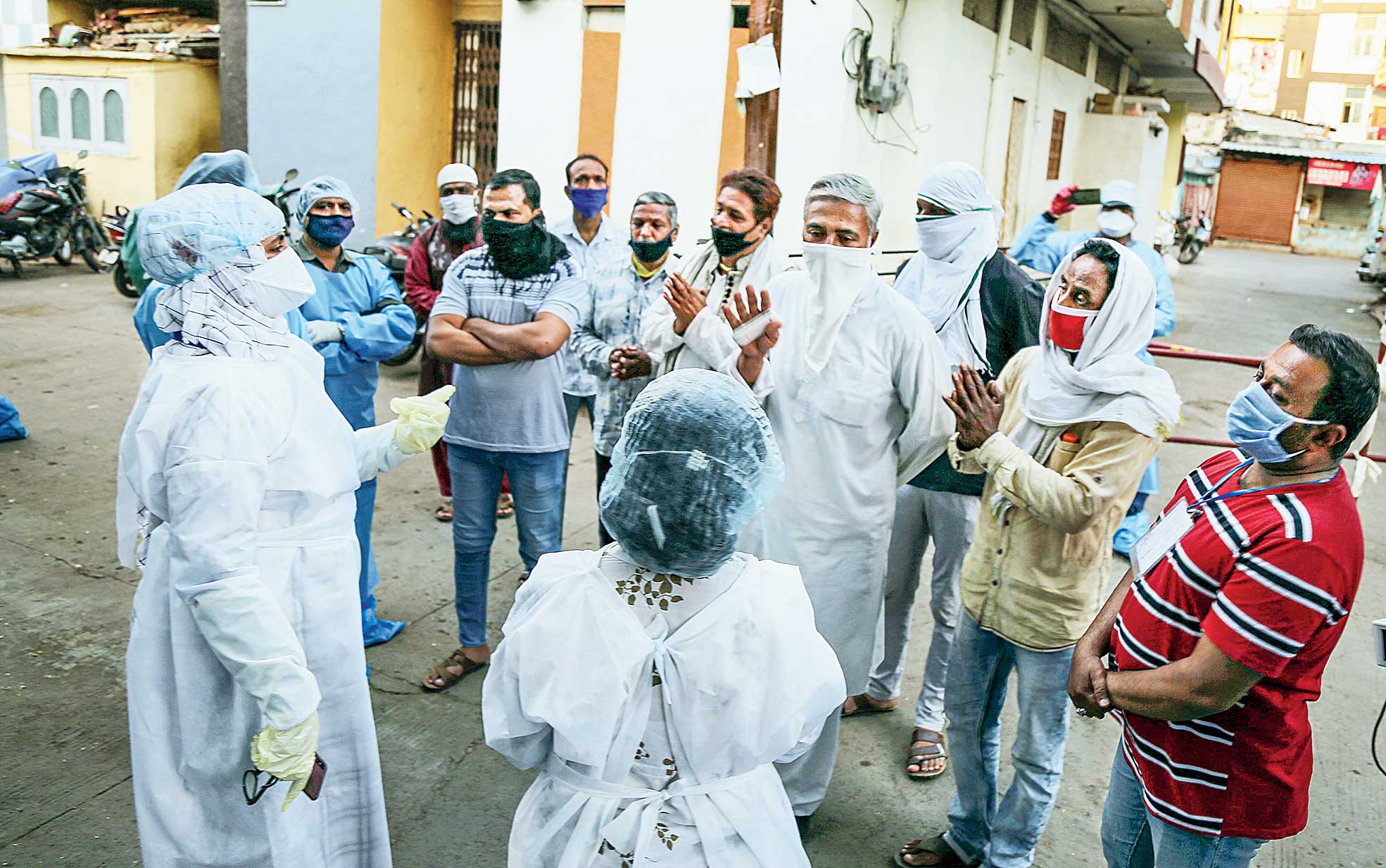 Residents of Taatpatti Bakhal in Indore apologise to a team of doctors on Thursday, a day after health workers were attacked when they went there to quarantine relatives of a Covid-19 patient. Seven suspected attackers have been arrested.
(PTI)
---
New Delhi
|
Published 02.04.20, 11:11 PM
|
---
Multiple doctors in government hospitals in India, handicapped by shortages of masks and other personal protective equipment, have been infected by the novel coronavirus, triggering concerns and anger in the healthcare community.
A Union health ministry official on Thursday declined to say how many doctors or healthcare workers among the thousands involved in treating coronavirus patients have the infection. "There are very limited cases," the official said.
In the absence of numbers from the health ministry, the healthcare community is relying on social media and personal contacts to document the coronavirus infection among healthcare workers.
"We believe around 50 doctors have been infected so far across the country," said Harjit Bhatti, a geriatric medicine specialist in New Delhi. "Many doctors are forced to work in situations where they are exposed to the infection without appropriate protective gear."
A senior resident at the All India Institute of Medical Sciences (AIIMS), New Delhi, who was not assigned any coronavirus-related duties has tested positive, Bhatti said. At least four other resident doctors in Delhi hospitals have tested positive, he said.
At the Hindu Rao Hospital in Delhi, he said, four doctors and some nurses had sent in their resignation letters to the administration, prompting a note from the North Delhi Municipal Corporation, under which the hospital operates, threatening action against the doctors.
The note said the resignation would not be accepted and the names of the doctors and nurses would be sent to the medical council or nursing council for "disciplinary action against them".
Srinivas Rajkumar, the general secretary of the Resident Doctors Association at AIIMS, New Delhi, has said doctors in the institute and across the country on coronavirus duty are compelled to work with "insufficient and inadequate" personal protective equipment.
"Doctors are scared to meet their family members at the end of the day," Rajkumar said in a video message intended for Prime Minister Narendra Modi and posted on Twitter. "We will continue to work but we don't want to put our family members and the general public we interact with at risk."
Rajkumar also alluded to a concern that is quietly brewing among health administrators. "When cases start to rise", Rakumar said, infections among doctors will limit resources to fight the outbreak.
The shortage of masks and other protective equipment isn't unique to India. Doctors in multiple countries, including Italy and the US, have reported shortages.
In Italy, among the hardest hit countries in the world, the number of infections among healthcare workers has increased from 583 on March 9 to over 7,000 by March 28.
Mahesh Devnani, a senior hospital administrator at the Postgraduate Institute of Medical Education and Research, Chandigarh, opened a Twitter thread on Wednesday to document through all public domain information cases of coronavirus among healthcare workers in the country.
The thread cites infections detected among doctors, nurses, or other healthcare workers in contact with coronavirus patients in Delhi, Haryana, Kerala, Maharashtra, Madhya Pradesh, Rajasthan and Uttar Pradesh.
Doctors are worried that without adequate protection, healthcare workers are at high risk due to persistent risk of exposure. "A healthcare worker, whether a doctor or a nurse, may encounter many positive patients — such repeated exposure increases the risk," Bhatti said.
In some hospitals, doctors have described receiving substandard protective equipment, including masks. "In one instance, the protective gear just tore off, while in use," said a senior resident in a government hospital.
A senior doctor in a government hospital who requested anonymity told The Telegraph: "It is worrying because you don't want your frontline people in the battle to fall sick. And when one healthcare worker gets infected, you have to trace all their contacts in the hospital, maybe 10 or 20 other workers with whom they had contact might need to be quarantined too."