Covid: BJP defends government's zero oxygen death claim
The saffron camp passed the buck to the states and accused the Opposition of playing politics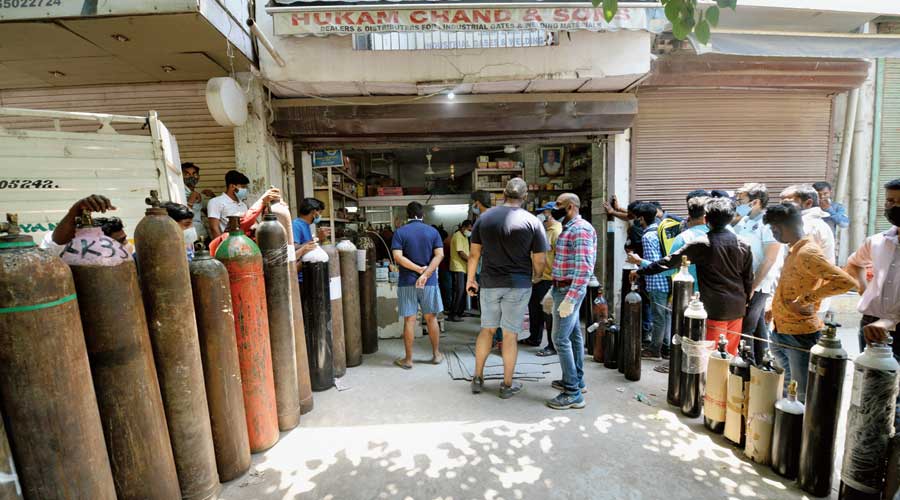 ---
New Delhi
|
Published 22.07.21, 01:26 AM
|
---
The BJP on Wednesday defended the government's claim that there were no deaths because of oxygen shortage, passing the buck to the states and accusing the Opposition of playing politics.
Spokesperson Sambit Patra blamed the Opposition-ruled states, saying if they did not report any deaths by oxygen shortage, the Centre couldn't be blamed.
Like health minister Mansukh Mandaviya on Tuesday, Patra said the states reported deaths based on a detailed guideline by the Centre. What he did not say was that the Centre's guideline did not ask for data on deaths caused by oxygen shortage.
"The data that was presented in Parliament was given by the states. If the Opposition says the data is not correct, then they should ask their own state governments," Patra said.
He was tasked with defending the government after claims of no oxygen-related deaths led to widespread criticism.
"It's completely false to say no one died due to oxygen shortage. If there was no shortage, why did hospitals go to Delhi High Court with desperate appeals?" Delhi health minister Satyendra Jain asked.
Jain accused the central government of trying to suppress deaths due to oxygen crisis in Delhi. "The Kejriwal government constituted an oxygen audit committee to assess deaths due to oxygen shortage and provide compensation, but Modi government through the LG (lieutenant governor) dismissed it to hide the truth," he added.
Delhi had witnessed an acute shortage of oxygen at the peak of the second Covid-19 wave early this summer. As many as 25 Covid patients had died on a single day at Jaipur Golden Hospital in the capital after the facility ran out of medical oxygen.
Patra sought to deny the oxygen-related deaths. He claimed that Delhi High Court had ordered a probe into the deaths and that a committee formed by the Kejriwal government had in its report made "no mention of oxygen shortage".
He accused the Delhi government of playing politics and asked why the committee constituted by them couldn't ascertain any oxygen-related deaths in the Jaipur Golden Hospital case.
Hitting out at Rahul Gandhi, Patra said no deaths due to oxygen crisis had been reported by any Congress-ruled state.
"Rahul Gandhi is acting like a Twitter troll, spreading lies and misinformation. Why states like Maharashtra and Chhattisgarh didn't report any deaths due to oxygen shortage?" he asked.
Along with Rahul and the Delhi government, Shiv Sena MP and spokesperson Sanjay Raut slammed the Centre's claim. "I am speechless. How would families who have lost their loved ones due to the shortage of medical oxygen feel after listening to this? These families should file a case against the government," Raut said.