Kejriwal changes tune, speaks of unity
'Hospitals-for-locals' blocked, CM to hit streets for beds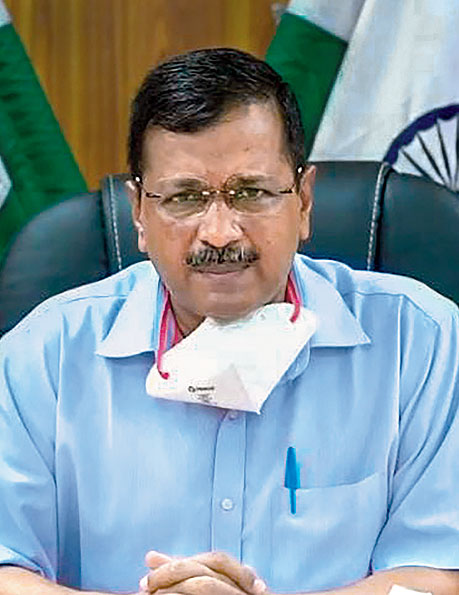 ---
---
After his failed attempt to reserve hospitals for residents of Delhi, chief minister Arvind Kejriwal sang a different tune on Wednesday by calling for a mass movement to "defeat corona" and vowed to hit the streets to ensure that more beds are available for patients.
An Aam Aadmi Party leader told this newspaper that the hospitals-for-locals push had been deliberate, even though it was bound to fail, as access to health care would only become scarcer as the virus peaks.
In a webcast on Wednesday, Kejriwal called for a ceasefire on politicking and said the orders of lieutenant governor Anil Baijal, who had struck down the Delhi government's decision effectively denying treatment to non-residents, would be fully implemented.
Echoing what an AAP source called an "unexpected backlash by our middle class base", Kejriwal said: "I keep witnessing that all the political parties are fighting with each other. The BJP, Congress and the AAP are blaming each other. I want to tell them all that this is not the time to fight and do politics. If we keep fighting, then the corona will win.
"A person who is suffering keeps thinking that these parties are fighting among each other and no one is thinking about me. This battle is a huge challenge and we all need to come together to fight against this pandemic."
Kejriwal added: "Just some months back, elections took place in Delhi and we won by bagging 62 seats. But I want to give the message to everyone in our party and the government that this is not the time for a standoff between the state and the Centre. LG sahib's directives will be implemented in letter and spirit, this is not the time for disagreements or arguments."
Kejriwal called for a mass movement, one in which citizens enforce norms without the government having to directly intervene. "We all have to ensure social distancing, wearing masks and washing our hands.
"We all have to also ensure that if someone is not following these norms then we have to tell them. Just the way we all worked together in the time of odd-even (vehicle rationing) where we would roll our window down and tell someone who has the wrong number plate to drive back home, this time also we need to transform this battle into a people's movement."
The chief minister added that assuming that almost half the Covid-19 cases would be from outside Delhi, 1.5 lakh beds would be needed by July 31.
"From day after tomorrow, I will start going to the ground to personally inspect and prepare stadiums, hotels and banquet halls for Covid-19 (patients). This is an unprecedented and huge challenge and one of the biggest challenges in the history of mankind. There can be shortfalls from our side but there will not be any shortfall in our willingness and preparedness."
An AAP source told this newspaper that cardboard beds, like those designed by Ahmedabad's Anant National University that are being used in Mumbai, would be used.
The makeshift facilities, the source added, may be staffed with paramedics and nurses due to a shortage of doctors.
The source added: "We know that we don't have enough beds, and we also knew that the court would overturn our move to reserve hospitals (for locals). We didn't expect the LG to do it though.
"Arvind's politics is thinking three steps ahead, and we feel that this discourse (sons of the soil) has to be started somewhere, and now is the best time.
"In a week's time when the spread increase, the same pseudo-liberals who condemned us will be desperate for beds. The reality is that the health infrastructure in Uttar Pradesh is crippled, and people are hiring taxis for Rs 15,000 to come here from as far as eastern UP for treatment."
He went on: "Demanding hospitals for Delhiites doesn't diminish our ability to expand out of Delhi in the long run. People in UP are being forced to ask why they can't access the kind of facilities that citizens here can.
"The lesson we learn from the Shiv Sena is that you can rule if even the 30 per cent Marathi population in Mumbai backs you."
On Wednesday, LG Baijal also ordered that boards displaying the number of vacant beds in each hospital be set up so that people cannot be turned away.Now, government liason officers have been deployed in private hospitals to ensure this.
The informal system of Citizen Volunteers, who are mostly AAP workers, at government hospitals had failed to resolve the issue of patients in need of treatment being turned away.