30-minute Covid-19 test result
ICMR has validated an "antigen" test that could be used as an alternative to the standard diagnostic test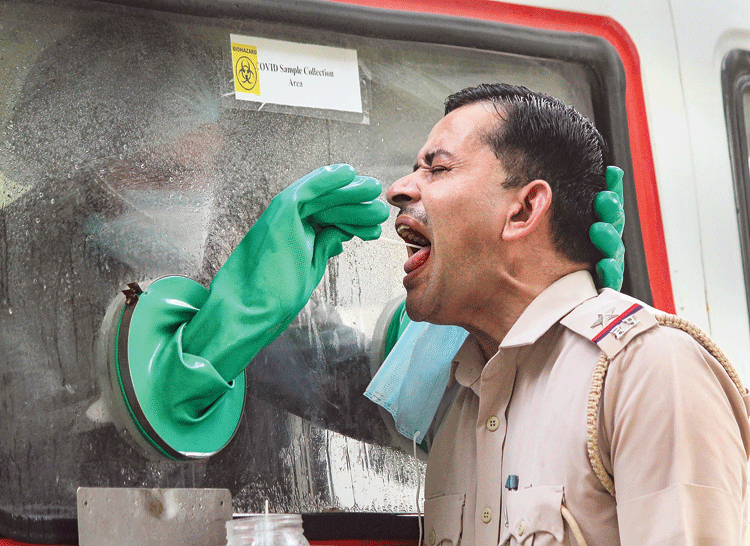 ---
---
India's department of health research has validated a new test for the novel coronavirus infection that yields results within 30 minutes at the point of care and could be used to scale up testing of suspected patients in multiple settings.
The Indian Council of Medical Research (ICMR) announced on Monday that it had validated an "antigen" test that could be used as an alternative to the standard diagnostic test that takes two to three hours and sophisticated laboratory facilities.
The test from a South Korean company will be manufactured at Manesar in Haryana, an ICMR official said. Officials from the South Korean company were not immediately available to say how many test kits it would supply in the Indian market.
The antigen test looks for tiny molecular fragments of SARS-CoV-2, the virus that causes coronavirus disease — in the nasal and throat swabs of suspected patients. It will facilitate routine and rapid screening of patients seeking hospitalisation, a major demand by sections of doctors.
The ICMR has recommended the use of the test to screen people with influenza-like illness symptoms and asymptomatic direct and high-risk household contacts of any confirmed cases within containment zones, delineated by local health authorities around positive cases.
The high-risk asymptomatic contacts in such containment zones would include people with underlying health disorders such as heart disease, diabetes, lung disease, kidney disease or blood or neurological disorders, the ICMR said, recommending tests on such persons once between day five and day 10 of contact.
The ICMR said the test could also be used to screen asymptomatic people who are seeking hospitalisation for any medical disorder. It could be used to screen other patients such as those undergoing chemotherapy, immunosuppressed patients, organ transplant patients, or elderly patients with underlying health disorders.
Infectious disease specialists said antigen tests could expand and speed up testing and decisions on patients through quick results at the point of care. A positive antigen test would not require a confirmatory test that looks for viral genetic material.
India on Monday recorded 11,502 new Covid-19 cases, raising the number of confirmed infections to 332,424, of whom 153,106 patients are under medical supervision, 169,798 have recovered and 9,520 patients have died.
Public health experts and doctors had pointed out last week that the ICMR's current testing strategy, while expanded from March, is still narrow and leaves out at least two categories of patients — people with influenza-like illness outside containment zones and patients seeking hospital admission.
India's drug regulatory agency has approved other antigen test kits, but they are not validated yet, an ICMR spokesperson said. "We have asked other manufacturers and developers to also seek validation," the official said.