'Vande Bharat' plea to PM for migrants
Petition stresses that govt has constitutional responsibility to ensure safe return of workers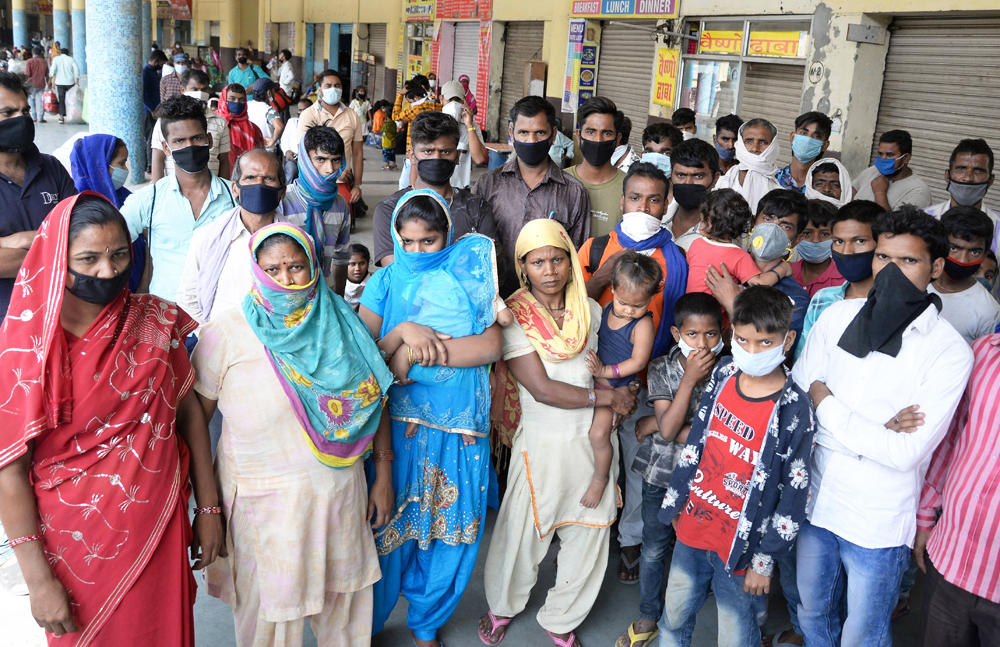 Migrants wait to board a bus to travel to the railway station, during ongoing Covid-19 nationwide lockdown, in Jalandhar, Thursday, May 28, 2020.
(PTI)
---
New Delhi
|
Published 28.05.20, 10:16 PM
|
---
Over 4,000 academics, retired bureaucrats, former judges and activists have urged Prime Minister Narendra Modi to deploy the central forces and use their facilities to help the millions of stranded migrant workers reach home.
A petition they have signed has been submitted to the Prime Minister's Office by a civil society group, Aajeevika Bureau, which works on migrant workers' issues in various states including Rajasthan and Gujarat.
Among the signatories are IIM Ahmedabad director Errel D'Souza, former UGC chairperson Sukhadeo Thorat, labour economist Ravi Srivastava, economists K.P. Kannan and Abhijit Sen, activists Aruna Roy and Nikhil Dey, retired Allahabad High Court judges such as Justice Janardhan Sahai and Justice Het Singh, and former Union health secretary Sujatha Rao.
Srivastava told The Telegraph the government should use the central forces' vehicles, hospitals and bases for the transport and quarantine of the migrants, just as it had used ITBP, navy and air force vehicles and facilities to bring back Indians from abroad and quarantine them.
The petition stresses that the government has a constitutional responsibility to ensure the safe return of the migrant workers, who are stranded at various places without enough food or are walking hundreds of kilometres in scorching heat.
"The ongoing situation is a humanitarian crisis that is unprecedented in our history. The predicament of our internal migrant workers has only deteriorated with each passing day," it says.
"Instances of police brutality, infighting over resources at shelters, harassment on inter-state borders, starvation, illnesses, and rail and road accidents are only escalating every day. Many migrants have also died as a direct result of these chaotic developments."
It adds: "Noting that inter-state migration and inter-state quarantine are listed on the central list of the Constitution, and how quickly this crisis has escalated across the country, we appeal with great urgency that the Government of India takes leadership and responsibility for transporting millions of inter-state migrants who are stranded or are en route home in the aftermath of the nationwide Covid-19 lockdown."
The petition says the Shramik trains alone cannot bring the millions of stranded workers home.
A media note issued by Aajeevika has referred to reports that the Shramik trains have ferried over three lakh migrant workers in the past one week.
But Srivastava said nearly one core workers were estimated to be still stranded outside their states and that counting the family members who are with them, "the number would be two to three crore".
Apart from the inadequate number of trains, the absence of clear information about them has led to the workers running about to make enquiries and getting fleeced by touts.
The migrant workers are asking their families back home to send them money to pay for their train travel. In addition, trains are being cancelled, diverted or delayed, and reports have been published about passengers old and young dying on trains without food or water.
State governments lack the resources or the capacity to successfully handle the transport of this large population of migrants, Aajeevika said.
The petition asks the government to deploy the central forces to work in close coordination with the state governments under the provisions of the National Disaster Management Act.
It seeks for the migrant workers a programme similar to the Vande Bharat Mission, which brought back Indians from abroad.
Srivastava said the central forces had a lot of vehicles at their disposal, which could be used to transport the workers. Their hospitals and bases can be used for quarantine and check-ups.
Aajeevika's media note said 205 migrant workers had died while travelling home on foot or by vehicle — falling to hunger, exhaustion or accidents — while 114 had died of starvation or other causes triggered by financial distress at places they were stranded in. Several migrants have reportedly committed suicide.