Long hours, same wage rate: Uttar Pradesh government
Earlier, the notification on increasing work timings that Gujarat had issued also provided for proportionate payment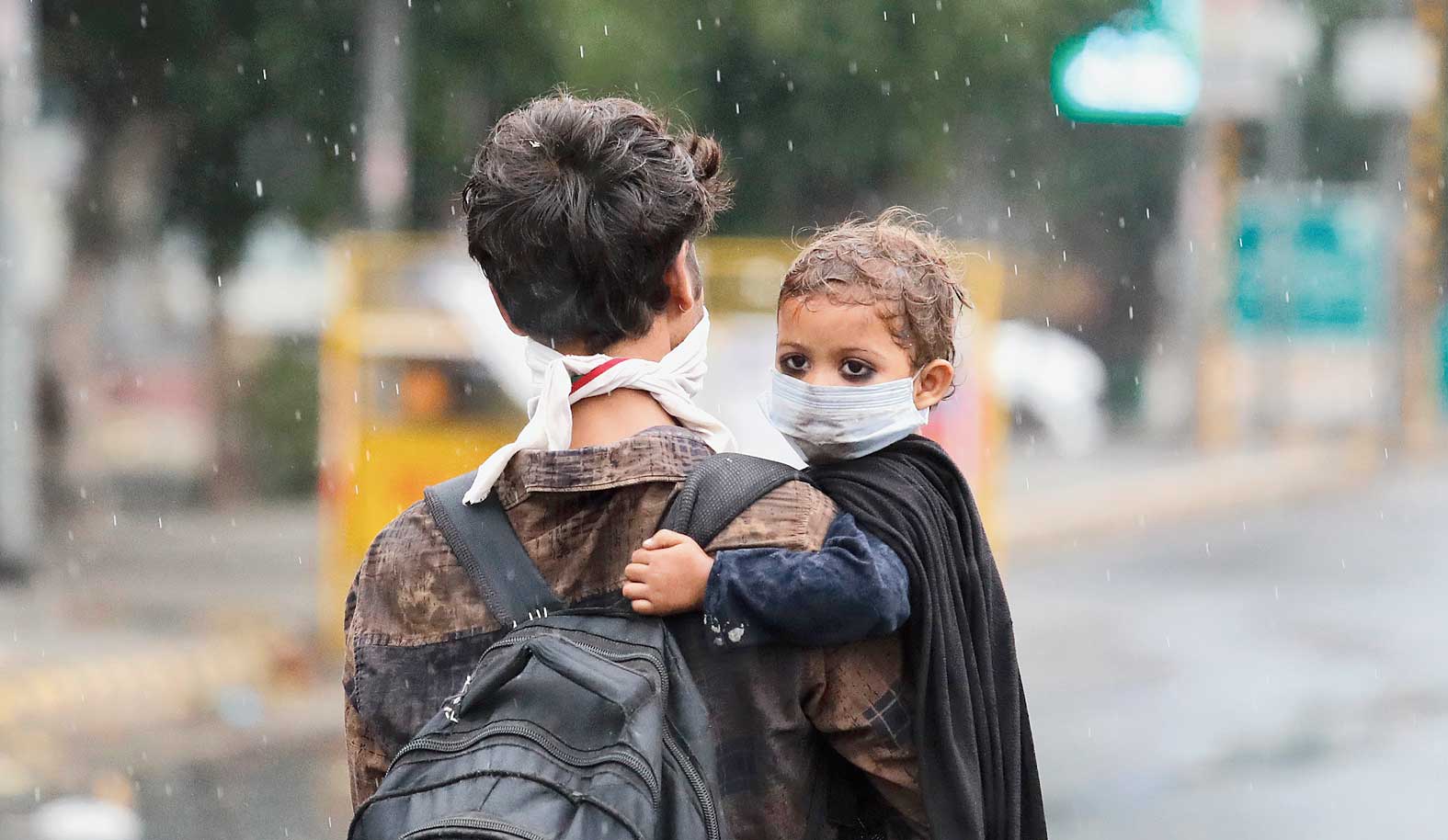 A migrant labourer from Uttar Pradesh walks with his child towards a bus terminus in New Delhi on Sunday to return to his village.
(AP)
---
New Delhi
|
Published 10.05.20, 09:20 PM
|
---
The Uttar Pradesh government has raised working hours for labourers from eight hours a day to 12 hours but would pay wages at the same "proportionate" rate for the extra period.
Workers have to be paid double the rate for the extra hours under the Factories Act, but the state invoked emergency provisions in the law, following in the footsteps of Gujarat.
The notification says: "Wages shall be in proportion of the existing wages (e.g. If wages for eight hours is 80 rupees, than proportionate wage for twelve hours will be 120 Rupees)."
The Factories Act provides for eight hours of work a day and 48 hours a week but provides for engaging workers for up to 60 hours with payment of twice the wage rate for the overtime period. The act also empowers states to waive any provision during public emergencies arising out of external or internal threats to the country's security, which Uttar Pradesh has done.
Earlier, the notification on increasing working hours that Gujarat had issued also provided for proportionate payment. Rajasthan, Punjab, Himachal Pradesh, Haryana and Odisha too have issued executive orders to relax provisions related to working hours in the act. Odisha allowed the relaxation in an order issued on Friday as states move to keep production units running with a limited workforce at a time most workers are going back to their native places and also to maintain social-distancing norms during the Covid-19 crisis.
But except for Rajasthan, all the other four states have said workers would be paid double their normal wages for the extra period of work. The order issued by Rajasthan is silent on the payment.
Madhya Pradesh too has passed an ordinance to keep in abeyance two state-level labour laws.
G. P. Bhatia, former labour welfare commissioner, defended the relaxation in working hours. "In my view relaxation in working hours for a temporary period was required," Bhatia said.
Amitabh Kant, CEO of the government's policy think tank NITI Aayog, too has supported the measures taken by Uttar Pradesh and Madhya Pradesh. The reformist zeal to push through structural reforms will alone lead to "sustainable growth", Kant tweeted on Friday. "UP & MP emerging as big reformers."
Leaders of several opposition parties, including the CPM and the CPI, have submitted a memorandum to President Ram Nath Kovind protesting against the changes being brought to labour laws.
"Using the pretext of battling the Covid-19 pandemic, drastic changes are being made to the existing labour laws of the country which further jeopardises the lives and well-being of the working people," the memorandum said.