Trolls target online teachers in Kerala
Vulgar and derogatory comments and videos on social media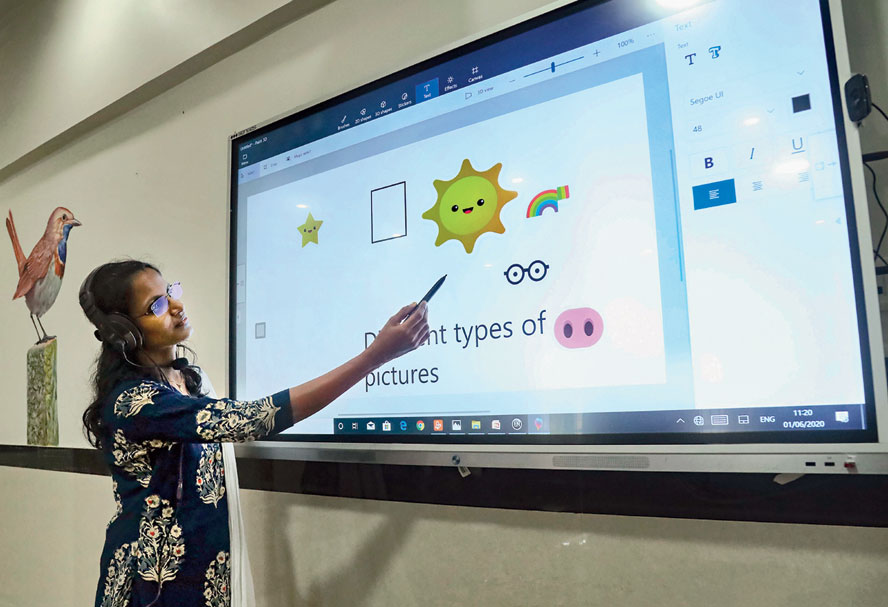 ---
---
Teachers in Kerala whose videos taking online classes for little children had been uploaded on social media have been targeted by trolls who have made vulgar and derogatory comments online, prepared objectionable videos and opened Facebook pages with pictures of the teachers to propagate obscenity.
Police on Tuesday booked several social media users, following which they themselves deleted the comments and took down the insulting videos and pages. No arrests have been made yet.
The virtual classes kicked off the Kerala government's initiative to begin the academic year for schools on Monday amid the pandemic and the lockdown that have kept educational institutions closed.
The trolls, however, spoilt an otherwise good day of the online classes called "First Bell".
A source at the state police headquarters in Thiruvananthapuram said a case related to cyber abuse was registered on Tuesday. The accused have been booked under IPC Section 500 (defamation) and Section 67 of the Information Technology Act that deals with publishing obscenities.
The source said the teachers were body-shamed, apart from being subjected to offensive comments on Facebook. The case was lodged based on a complaint by K. Anvar Sadath, the CEO of Kerala Infrastructure and Technology for Education (Kite) that produced and broadcast the online lessons. Kite is a state government initiative to "foster, promote and implement modernisation of educational institutions", according to its website.
Sadath wrote on Facebook: "Saw some people crossed all limits of decency in circulating videos presented by First Bell meant for little children in a very derogatory manner. This is extremely painful. We will go ahead with strict action against this."
The videos of teachers taking classes are broadcast on the Kite Victers channel on the outfit's website, various satellite and cable TV networks, Facebook and YouTube.
Apart from making disparaging and crass comments on the teachers' videos on social media, the trolls also prepared offensive videos and circulated them. In one of the clips, a group of men can be heard yelling in the background as one of them captures a video of a teacher taking a Class I lesson.
Others clips were outright vulgar and laced with sexual innuendos.
Sai Swetha, one of the teachers who has won widespread appreciation for the manner in which she conducted online classes for small children, was badly trolled for an otherwise popular video in which she narrated the story of a monkey and two cats.
A classical dancer, Swetha's class had gone viral for her creativity in teaching tiny tots. But the troll army made coarse references to the cats she had introduced to the kids.
She told a Malayalam channel on Tuesday that her aim was to be creative in teaching children. "The only thing I wanted to do was to be creative in my class. I felt sad about the negative trolls," she said.
Swetha, however, drew inspiration from the hundreds of positive comments she received for her class.
"As far as I am concerned, I took a class for the tiny tots of Kerala. I have reasons to feel good since I got a video clip of a five-month-old infant watching my class on TV," the teacher said.
Another lady teacher who took an English language tutorial for Class VII also came under attack with the trolls creating Facebook pages on her, with screenshots from her video and vulgar comments.
The director-general of education in Kerala, K. Jeevan Babu, told The Telegraph that the lessons were the result of tremendous effort by teachers and the production team.
"People need to realise that these teachers had never spoken on camera until their first online class. But I must congratulate them for doing so well in their first video lessons," he said.
"Everyone in our state must appreciate the cooperation of the teachers who travel to our lone studio in Thiruvananthapuram to record the classes," Babu added.
The schedule for each day consists of 30-minute video capsules on various subjects for Classes I to XII.
"As per the information we have received, students from other boards like the CBSE are also watching our classes," Babu said.
More than 41 lakh students from Classes I to XII from 12,000 schools are attending the classes.
The education department has said the virtual classes will continue till the government allows regular classes to begin.