Lockdown triggered a drop in human-made noise, says scientists
Fall in high-frequency seismic waves attributed to reduced industrial activities and traffic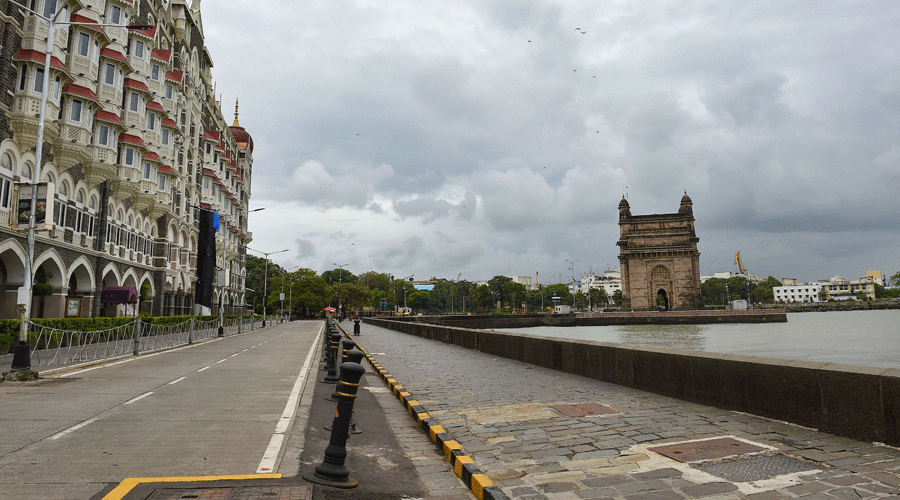 City street wears a deserted look near Gateway of India in Mumbai on Thursday.
PTI
---
New Delhi
|
Published 24.07.20, 04:33 AM
|
---
The coronavirus pandemic and the resulting worldwide lockdowns triggered the longest and most pronounced drop in human-made noise in recorded history, an international team of scientists said on Thursday.
The scientists have estimated that the global average human-made seismic ambient noise dropped by 50 per cent from March to May as people worked from home, industrial activity and traffic reduced, fewer aircraft flew and tourism ceased.
Human activity causes vibrations that travel through the ground as high-frequency seismic waves. These waves have increased worldwide over the past decades, driven by industrial, economic and human population growth, and are most prominent near areas with large populations.
In their study, researchers at the Royal Observatory of Belgium and their collaborators in other countries observed a worldwide reduction in this high-frequency seismic ambient noise, starting in China in late January 2020 and extending to Europe and the rest of the world in March and April.
"This period of quiet is the longest and biggest reduction in human-caused seismic noise since we started monitoring the earth with networks of seismometers," said Stephen Hicks, team member and research associate at the department of earth sciences at Imperial College, London.
The reduced vibrations allowed scientists to detect previously concealed earthquake signals that they believe will allow them to differentiate better between human and natural seismic noise. Earlier, human noise used to interfere with such weak earthquake signals.
India's earthquake observatories have also in recent weeks recorded several small earthquakes across India — a 3.5-magnitude quake near Delhi on April 4, a 2.1-magnitude quake also near Delhi on June 8 and a 3.5-magnitude quake in Kutch (Gujarat) on June 15.
"For earthquake monitoring, we'd like to get as far away as possible from this human noise — but in normal times, it's hard to get away," Hicks told The Telegraph over the phone. "In the last few decades, the noise has grown across the world."
But as the coronavirus expanded, human activities decreased worldwide. The scientists observed the high-frequency seismic ambient noise reducing in tandem, with the strongest reductions occurring in the most populated localities.
In New York's Central Park, for instance, the noise was 10 per cent lower during the city's lockdown period, the researchers reported.
In Barbados, a Caribbean holiday destination, the noise decreased by around 50 per cent from March 28 through April compared with earlier months, possibly from lower tourist footfall.
The researchers also observed reduced noise levels at tourist destinations in Europe and the US. Their study was to appear in the US journal Science on Friday.
Thomas Lecocq at the Royal Observatory in Belgium and his colleagues used datasets from 268 seismic stations worldwide — including Port Blair and Shillong in India — to track the changes in the high-frequency human-induced seismic noise.
The scientists said a magnitude-5 earthquake in Petatlan, Mexico, was an example of one that would otherwise have been difficult to detect without special filters. But a 40 per cent seismic noise reduction allowed the monitoring stations to pick up the event.
"With increasing urbanisation and growing global populations, more people are living in geologically hazardous areas," Lecocq said in a media release.
"Therefore, it will become more important than ever to differentiate between natural and human-caused noise so that we can listen in and better monitor the ground movements."