Coronavirus stress on landlord-migrant ties
The dispute has shed light on how the pandemic is bringing under stress a squalid cottage industry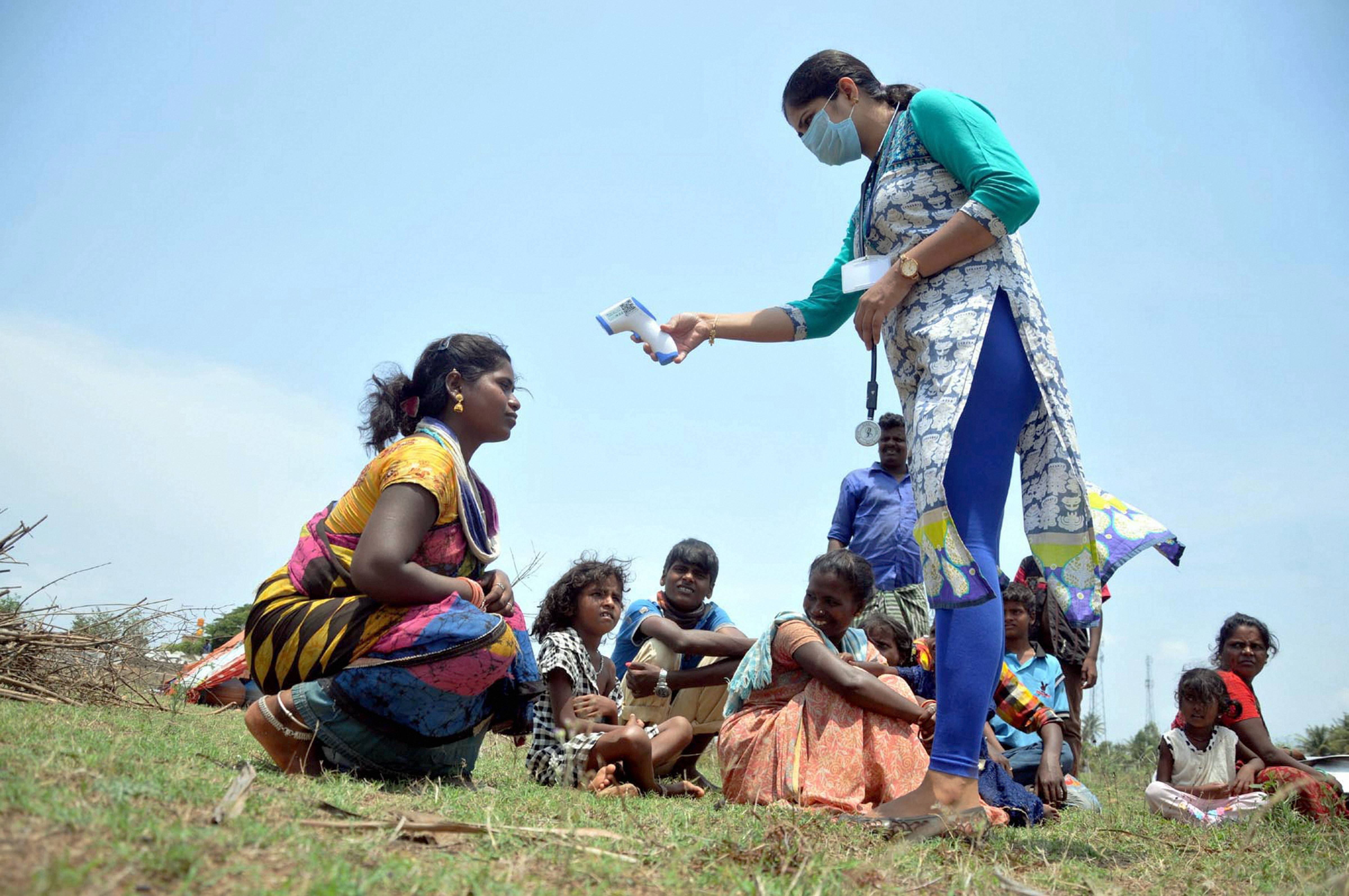 A medic checks the temperature of a migrant worker, during the nationwide lockdown to curb the spread of coronavirus, at Hiremagalur near Chikmagalur
(PTI)
---
Bangalore
|
Published 26.04.20, 10:53 PM
|
---
More than a hundred migrant workers, most of them from Bengal, have been thrown out on to the streets in slum here after their landlord accused them of complaining to the authorities about his frequent threats to evict them.
The dispute has shed light on how the virus outbreak — along with perceived misinformation as well as lack of awareness — is bringing under stress a squalid cottage industry that supports and draws sustenance from migrant labour.
The workers accused landlord Manjunath Gowda, who was later booked, of barging in on Saturday night and asking them to vacate the rooms in the Thubarahalli slums.
"He came last night (Saturday) and gave us 10 minutes to pack up and leave. He came again in the morning and lost his temper on finding that we had not vacated. He then threw out belongings and forced us out of the rooms," Chand Mohammed Sheikh from Calcutta told The Telegraph on Sunday.
The Thubarahalli slums house around 5,000 migrant workers from northern and eastern states.
"He said some official from the BBMP (the city corporation, Bruhat Bengaluru Mahanagara Palike) called him and told him not to take rent for one month because of the lockdown. So he thought we had informed the officials that he was taking rent and threatening to evict us," Sheikh said.
Activists helping the workers have approached police with a complaint as Gowda's alleged action went against the orders by the city corporation not to evict tenants during the lockdown.
Ailing for more than a year, Sheikh has been earning his livelihood by sub-letting one-room tenements he took on rent from the landlord.
"The landlord threatened my wife that he would beat up even women if we didn't vacate the rooms. He was walking around with a stick threatening to beat all of us," said Sheikh.
That's not the only reason Gowda has been allegedly harassing his tenants.
"He doesn't like us gathering outside our rooms and threatens to report us for violating social distancing," said Sheikh.
"A few days ago, he beat our women with a stick when they went out to collect water from the tanker that comes only a few times a week. How can we spend the lockdown inside a small room with tin roof in this summer heat?" asked Sheikh.
R. Khaleemmullah from Swaraj Abhiyan that helped the workers reach out to the police and file an FIR, said Gowda treated the tenants well until the Covid-19 outbreak.
"He was quite a decent man. But since the lockdown, he has been forcing the tenants to remain indoors," said Khaleemmullah. "These workers are so poor and ignorant that they don't even know what is leading to these problems. This started 10 days ago when this landlord went about telling his tenants not to step out because of the corona and social distancing," he said.
"He had beaten a pregnant woman with a stick because she came out to fetch water. So I warned him not to touch workers who have no place to go because of the lockdown. He quickly apologised and promised not to trouble them," said Khaleemullah.
He said women residents of the slum had been complaining about Gowda. "He has been abusing women of late whenever they come out. I think he is falling for too much of fake news about Covid-19," he said.
Based on Sheikh's complaint, the police filed a case against Gowda under IPC 506 for criminal intimidation, 504 for intentional insult to provoke breach of peace, 448 for trespass, 341 for wrongful restraint and 323 for voluntarily causing hurt.
He could be punished for up to two years, if found guilty.
One of the biggest hubs for migrant workers, Bangalore has several slums like the one in Thubarahalli where they lack basic amenities.
Landlords like Gowda who own or have taken on lease large tracts of open land or lease them rent out to migrants tiny huts, usually with common toilets.
Due to the prohibitively high rents in the city and its suburbs, these workers usually live in such places.