Protest at Mangalore rail station
Over 1000 migrants had assembled here to return home only to realise that the Karnataka govt had not arranged for any trains yet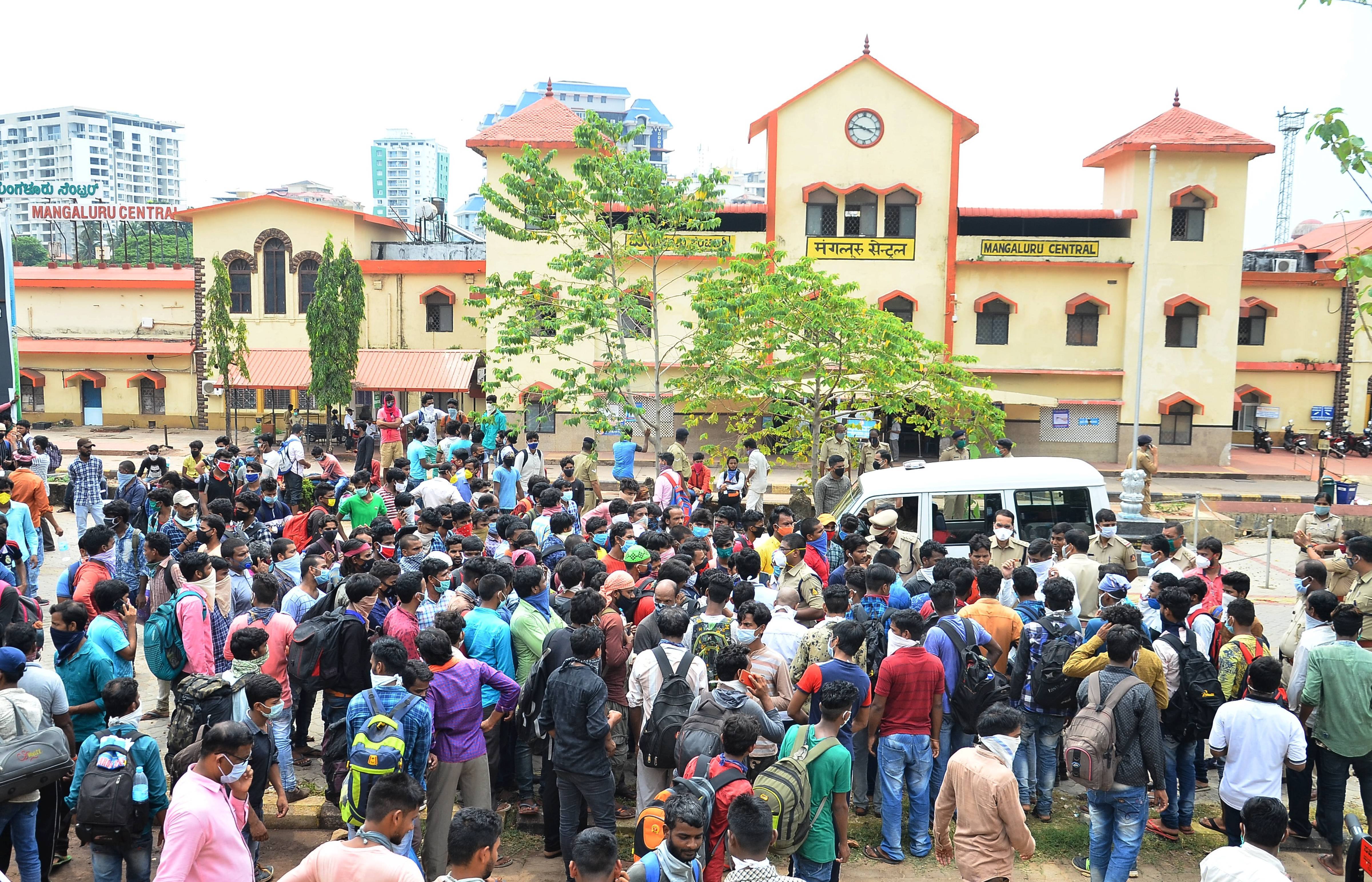 Migrant workers from Jharkhand gather near the Mangalore Central Railway Station
(PTI)
---
Bangalore
|
Published 08.05.20, 11:34 PM
|
---
Over 1,000 migrant workers thronged Mangalore railway station on Friday morning for trains to go home and resorted to a five-hour protest when they realised that the Karnataka government had not arranged for any.
The migrants were carrying a state government notification that had details of how many trains had been planned to nine different states in north and east India, mistaking it as a schedule of the special services to ferry stranded workers back home.
Sources said the workers had also been misled by social media rumours that trains would leave Mangalore on Friday.
The Karnataka government has restored the special trains — the Shramik Express — on Thursday after abruptly cancelling them on Tuesday. The cancellation was done soon after a builders' lobby had met chief minister B.S. Yediyurappa.
An impression had gained ground that the builders' lobby had piled pressure on the government to make the migrants workers, stranded because of the lockdown, stay back, inviting allegations that the administration was treating the labourers as "slaves".
The Mangalore railway station authorities could do little to stop the workers, who had come in large numbers and squatted outside the entrance early on Friday.
While most of them were from Jharkand, there were others from Bihar, Uttar Pradesh and Rajasthan as well.
In a well-coordinated move, the workers began walking from various places in Dakshina Kannada district around 3am. Once they converged in Mangalore city, they walked in small groups to the railway station.
The first groups arrived at the station around 7am and gradually the numbers swelled to over 1,000. They chanted slogans demanding trains.
Realising there were no trains leaving Mangalore, the migrants sat down in protest, holding up sheets of white paper on which were printed "We want justice" and "We want to go home".
Railway officials and police tried their best to convince the workers to return to their accommodations, but they refused to budge.
The protest continued for close to five hours. The workers began leaving after getting an assurance that they would be informed and transported to the railway station once the trains are scheduled.
Additional deputy commissioner M. Roopa met the protesting workers and told them that trains would be run once their home states gave the clearance.