Left idle by Covid-19 and made busy by Amphan
Cyclone lifeline for construction worker Ananta Kamila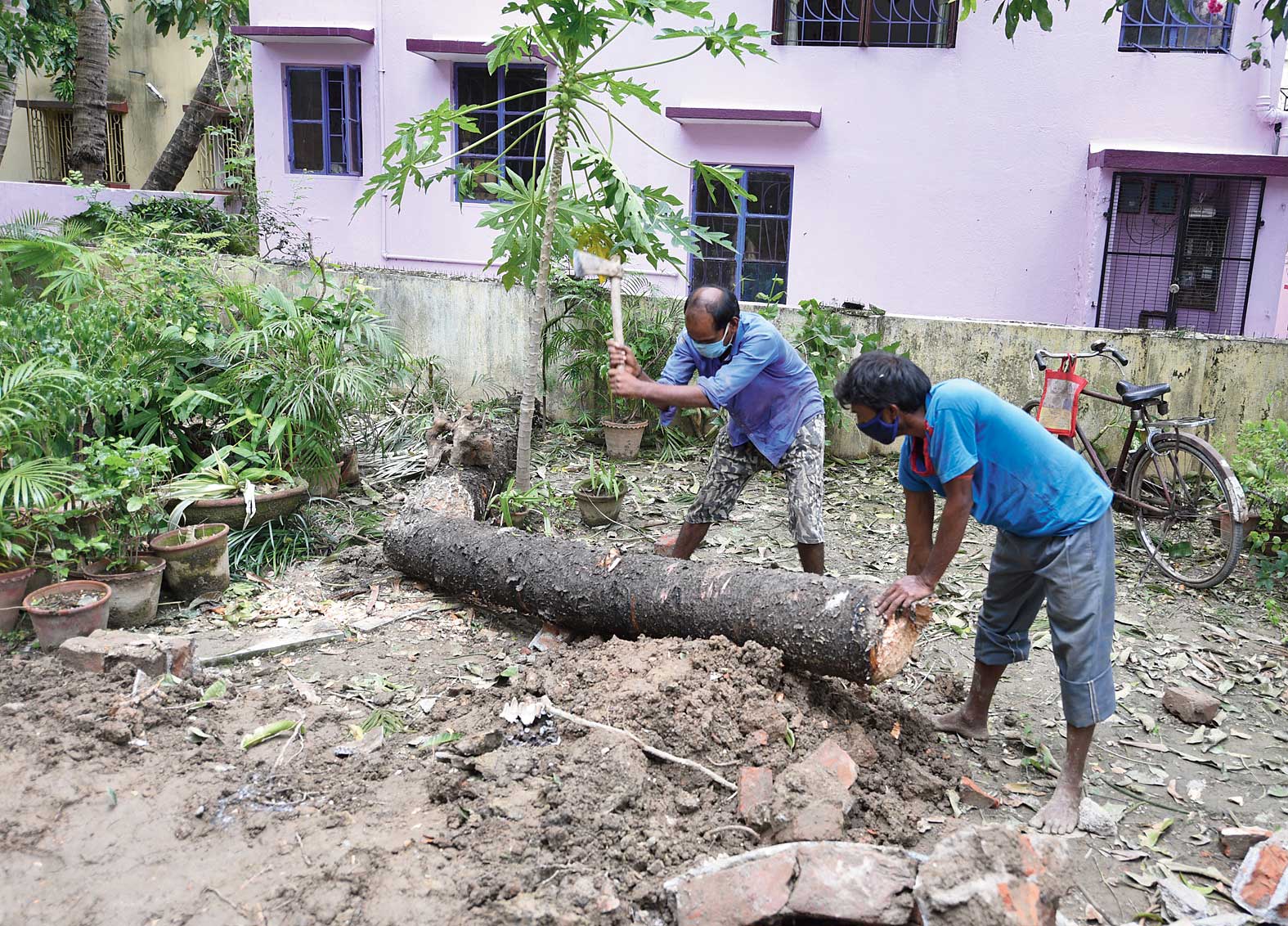 ---
|
Calcutta
|
Published 24.05.20, 08:58 PM
---
Out of work for nearly two months, then super busy for three days. Cyclone Amphan has thrown a lifeline to Ananta Kamila, a construction worker who has been clearing homes of fallen trees and foliage in a pocket of Behala.
Kamila, 38, did small repair jobs for a contractor till the Covid-19 lockdown, beginning March 25, put him out of work.
"My contractor hasn't given me any work since the lockdown began. People who used to hire me for small jobs are saying they have odd jobs pending but don't want to risk calling an outsider into their homes now," Kamila said.
Since Thursday, however, he has had his hands full. Armed with an axe, a shovel and garden shears, Kamila has been knocking on doors at homes with fallen trees or branches.
He offers to clear the debris and charges between Rs 1,500 and Rs 2,000, depending on the scale of the task.
"I look for houses with gardens. I'm not equipped to handle big trees or trees entangled in a mesh of wires," Kamila told The Telegraph.
On Sunday, he was working at a two-storey house on Fakirpara Road, a five-minute walk from Behala Blind School along Diamond Harbour Road.
The house has a small garden. A part of a mango tree, a eucalyptus tree and a small conifer had toppled over in Wednesday's cyclone.
The conifer, planted on a raised concrete platform, had stripped chunks off the concrete while falling and damaged a portion of the tarred walkway too.
Kamila had brought along his 11-year-old son, Ajay, and another labourer, Biswanath Mondal. "The past few days have brought me some cash after a long while. I had run up debts everywhere. The local grocer had warned my wife he would stop supplies if I didn't clear his dues," Kamila said.
He said he used to work "around 20 days a month" before the lockdown, earning around Rs 450-500 a day.
Since Thursday morning, he has worked at three houses. "I'm not trained for this kind of work but if you have lived in a village, these things come naturally. The equipment, like the shovel, are familiar too," he said.
Frustrated at the lockdown, Kamila was planning to leave his rented accommodation in Behala and return to his village near Contai. "Now I think I'll stay on a while longer," he grinned.