Economy in doghouse, balance cry
Lockdown losses put at Rs 8-9 lakh crore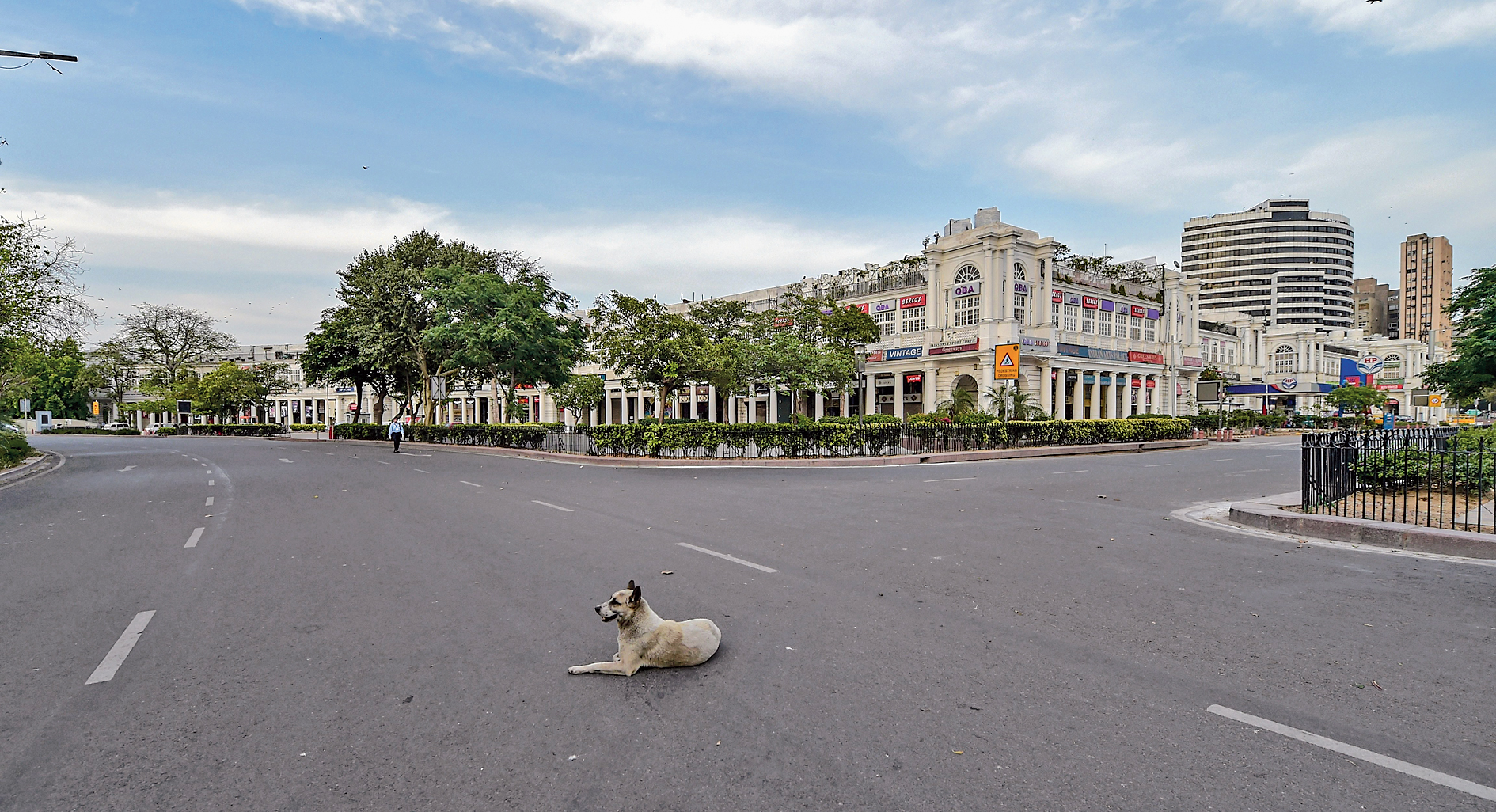 A dog lords it over a deserted road at Connaught Place in New Delhi on Monday.
(PTI)
---
New Delhi
|
Published 13.04.20, 10:10 PM
|
---
The lockdown restrictions are expected to be relaxed tomorrow for certain sectors of the coronavirus-ravaged economy as Prime Minister Narendra Modi wrestles with the competing compulsions of saving lives and preserving livelihoods of the country's 1.3 billion people.
Economists and industry experts have started toting up the losses of the 21-day lockout with estimates ranging between Rs 8 lakh crore and Rs 9 lakh crore.
The Centre is hoping to restart several manufacturing plants and factories after April 15 to limit the damage to the economy and its finances even as it considers extending some restrictions on the movement of people and materials.
The industries ministry has already suggested the need to reopen manufacturing plants in the automobile, textiles, defence and electronics sectors and a couple of other job-creating sectors.
"A back-of-the-envelope calculation taking into account the contribution of different sectors of the economy indicates that about 60-70 per cent of the goods and services produced in the country have been lost," former finance secretary Subhash Garg wrote in his blog.
"Roughly 8-9 per cent of GDP gets produced in a month on an average. Our annual GDP is approximately Rs 210 lakh crore. One month of total loss of GDP amounts to Rs 17.50 lakh crore. A 21-day lockdown with two-thirds of production lost means that India would lose about 4 per cent of GDP during the period of lockdown. This amounts to a loss of about Rs 8 lakh crore."
Barclays, the British brokerage, estimated that "up to Rs 9 lakh crore could be lost due to the Covid-19 impact and the lockdown" as it revised India's GDP growth forecast this fiscal to 3.5 per cent from 5.2 per cent earlier.
Not everyone is playing Cassandra. Some analysts felt that a part of the loss could be recouped in the second half of the fiscal year as demand starts to kick in.
"As things stand now, there is no clarity yet on how long this lockdown will continue…. There has to be a balance in dealing with the pandemic," said Arvind Singhal, chairman of Technopak, a management and retail consultancy.
"The government has to consider a longer-term goal: it must choose between a prolonged lockdown that would bring the economy to a grinding halt with the risks of raising unemployment, spurring inflation, and a phased resumption of economic activity which would ease some of the hardship. The lockdown costs need to be worked out."
Sharad Kumar Saraf, president of the Federation of Indian Export Organisations, said: "There is need for a fine balancing between lives and livelihood; opting for only one course of action can be disastrous for the country."
Small businesses have been among the worst hit by the lockdown. The National Restaurants Association of India said its members were faced with the stark prospect of failed businesses and massive job losses.
"If the government does not provide some interim relief now, the situation could spark social unrest," the association said. Even if these businesses were allowed to reopen now, it would take nine to 12 months before they stabilised their operations, it added.
The department for promotion of industry and internal trade (DPIIT) has suggested that the home ministry permit limited activity in certain sectors such as heavy electricals and telecom equipment while ensuring reasonable safeguards.
Industry association CII suggested a "slow and staggered" approach to reopening various sectors based on colour-coded classification of various geographies — red, amber and green — depending on the intensity of the Covid-19 outbreak.
"It is felt that certain more activities with reasonable safeguards should be allowed once a final decision regarding extension and the nature of lockdown has been taken by the Centre," DPIIT secretary Guruprasad Mohapatra wrote in a letter to home affairs secretary Ajay Kumar Bhalla.
The letter suggested that major manufacturing units could be allowed to run at 20-25 per cent of employee capacity in a single shift in sectors like textiles, automobiles and electronics manufacturing.
The DPIIT said only businesses that ensure a single entry point for workers, space for social distancing, separate transport for ferrying workers or necessary accommodations, along with regular sanitisation of the premises should be allowed to reopen now.
Ficci secretary-general Dilip Chenoy said: "We should consider opening up selectively in those districts where there is no spread of Covid-19… while ensuring social distancing and following certain standard operating procedures."
The suggestions also call for limited train and bus services to allow workers, especially migrants, to return to their workplaces, and relaxations for retailers and e-commerce companies to allow the wheels of commerce to rumble again.
All India Motor Transport Congress secretary-general Naveen Gupta said the accumulated losses for truckers during the first 15 days of the lockdown amounted to roughly Rs 35,200 crore, given an average Rs 2,200 loss per truck per day.
The National Real Estate Development Council — a body of realtors — estimated the loss in the sector at Rs 1 lakh crore.
The shutdown has left millions of people without work and the World Bank forecast of India's economic growth could drop to 1.5 to 2.8 per cent in the fiscal year 2020-21, the weakest pace in over three decades.
Most economists have cut the forecasts for GDP growth for this fiscal.
While Goldman Sachs forecasts India's GDP growth will fall to 1.6 per cent, Fitch Ratings expects it to settle at 2 per cent.
ICRA Ltd has pegged its growth forecast at 2 per cent, while S&P and Moody's have capped their forecasts at 3.5 per cent and 2.5 per cent, respectively.