Belated antibody kit caution
India suspends rapid tests for two days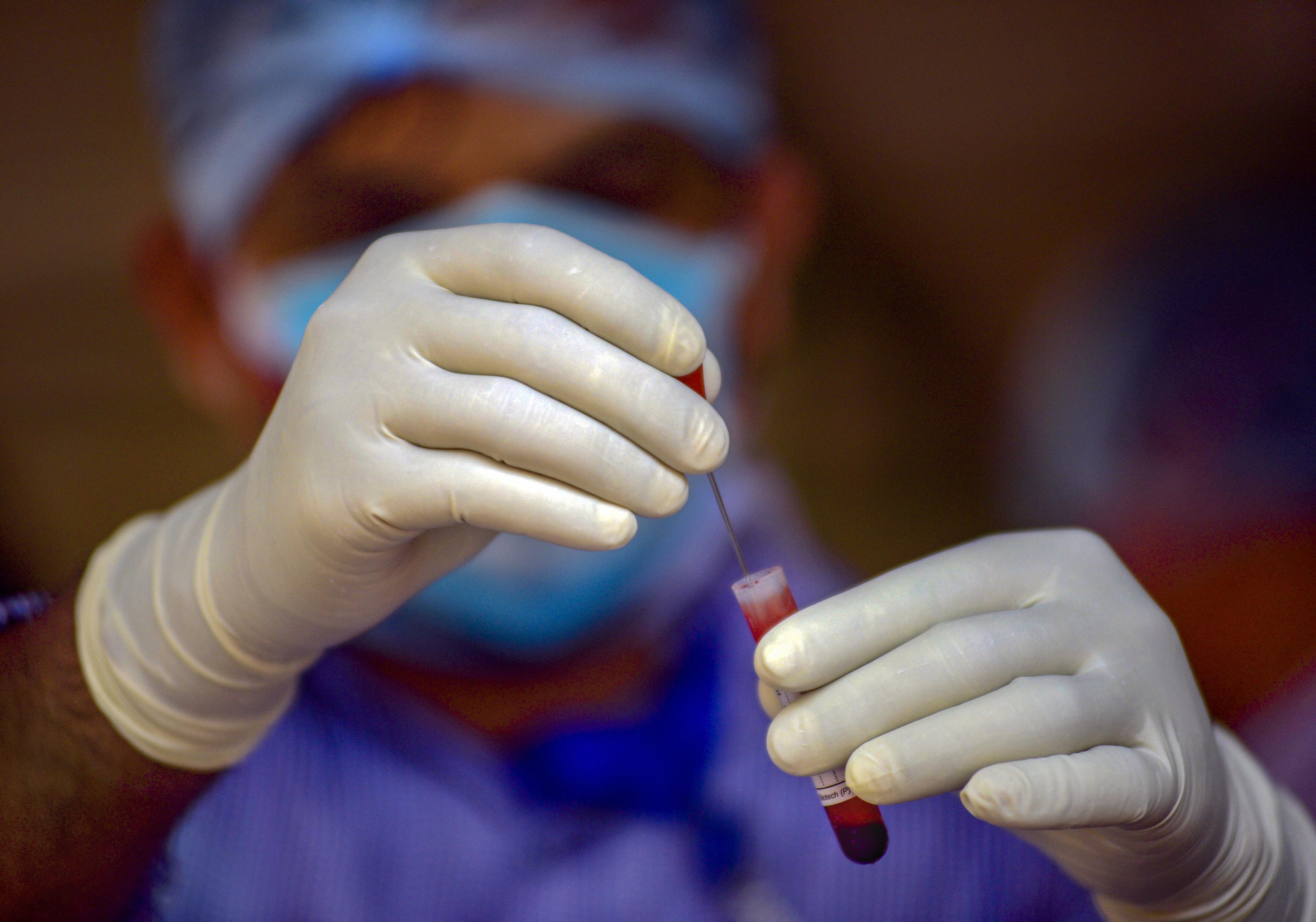 A medic works on a sample for Covid-19 Rapid Test at a camp in Bhubaneswar on Monday.
PTI
---
New Delhi
|
Published 21.04.20, 09:37 PM
|
---
India's health research agency on Tuesday suspended for two days the use of rapid antibody test kits for the coronavirus that the country had procured from China despite warnings about their unreliability from authorities in the UK, the US and other countries.
The Indian Council of Medical Research (ICMR) has asked states not to use the antibody test kits for two days after feedback from three states on Monday indicated wild swings in their reliability from 6 per cent to 71 per cent, officials said.
"Over the next two days, we will ask our institutions to test and validate these kits in the field," Raman Gangakhedkar, the head of the ICMR's epidemiology division, said. "After two days we will be in a position to give a clear advisory. If the batches have problems, we can order replacement from the company."
The Telegraph had reported on Saturday that India had decided to go ahead with the tests despite reports of the unreliability of the kits.
The ICMR decision to "validate" the kits now has prompted some scientists to ask why field validation was not attempted before India imported 500,000 kits for distribution to states amid reports of their unreliability from multiple countries.
"There was an abundance of evidence for the lack of reliability of these tests — it should have been clear that they could cause clinical chaos," said Koustabh Panda, professor of biotechnology at the University of Calcutta. "It's hard to understand why they chose to deploy them without validation." The tests that take less than half an hour are supposed to spot antibodies against the coronavirus that are generated by the human body in the bloodstream in response to the infection. In contrast, the standard diagnostic test looks directly for viral genetic material in throat swabs but take around three hours.
But even before India had received shipments of antibody test kits, researchers and health authorities in the UK and the US had issued alerts about their lack of dependability.
The UK government had learnt earlier this month that none of the 17.5 million antibody test kits it had ordered were good enough for use. In the US, Stephen Hahn, the Food and Drug Administration commissioner, had warned that the antibody test kits were not as accurate "as we'd like them to be".
The World Health Organisation had also earlier this month recommended that rapid test kits should used only in research settings. "They should not be used in any other setting, including for clinical decision-making, until evidence supporting use for specific indications is available," the WHO had said.
The ICMR had contended that India would use the test kits only to assess the extent of exposure to the virus in hotspots over time and slight variations in reliability would not matter.
One official had even cited the example of a weighing machine, saying even a faulty machine could be used to track changes in weight over time.
But Panda and a senior virologist said this argument was invalid if the kits could not be used even to detect the very presence of the antibody - the qualitative aspect of the test.
"A test has a qualitative and a quantitative component — if it fails even qualitatively it is just no good. You can't use a weighing machine for anything if it shows zero all the time," Panda said.
Virologists said the problems might emerge not just from flawed test design but even the nature of this coronavirus infection itself. Studies have suggested that some infected persons may not develop antibodies in time for the antibody tests to detect them.
A senior virologist who is a member of an ICMR panel examining diagnostics said it was unclear why the kits had performed so poorly. "These are first-generation tests, it is just three-and-a-half months since we've known this virus, and we're working against time," the virologist said.
The virologist said it could take weeks to months before kits are refined and become as reliable as the antibody test kits that are routinely used now for hepatitis or dengue.
An ICMR official said the range of variations reported by the states was unexpected. "If the variation is high between states, it is difficult to make inferences even of trends," the official said. "As of now, there is no rethink — we would like to use antibody tests for surveillance alone."
Virologists point out that antibody tests are intended to be point-of-care tests relatively inexpensive and easier to do than the diagnostic genetic test that requires a sophisticated laboratory. "But a bad test is worse than no test," Panda said.
Under the test algorithm proposed by the ICMR, the antibody tests are intended for use only in hotspots to determine what proportion of persons are infected with the virus. An ICMR panel had also wanted to use them for district-level random household surveys once every two weeks.