'Frog' insult on long walk home for jobless
Badaun senior superintendent of police has regretted the 'foolish' action by an 'inexperienced' policeman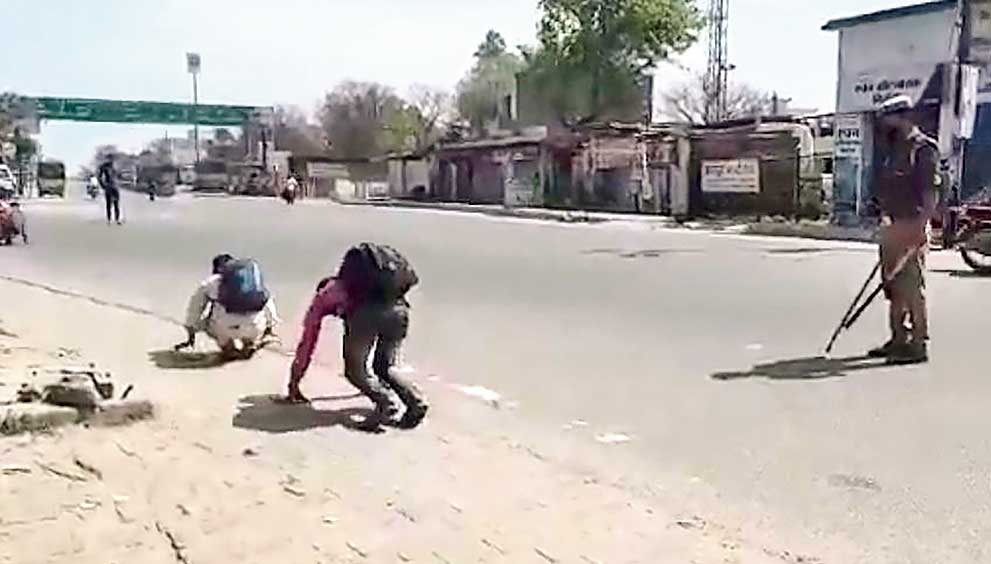 Youths are made to hop on the road by policemen for violating prohibitory orders during the lockdown in Badaun on Thursday.
(PTI)
---
Aligarh
|
Published 26.03.20, 08:42 PM
|
---
Police forced a group of jobless migrant workers, making the long journey home on foot in the absence of public transport, to hop like frogs on a Badaun road for "violating" lockdown orders.
The "punishment" to the young men, captured in a video, reflects the ordeals migrant labourers are facing at a time the measures against the coronavirus pandemic have left them jobless and stranded.
Hordes of these workers who have lost their jobs in places like Delhi, Noida and Ghaziabad have over the past few days been walking to their homes, sometimes hundreds of miles away in Bundelkhand or Bihar.
The youths "punished" in Badaun, for which a policeman is facing departmental action, were returning to their villages in Gwalior district of Madhya Pradesh. Badaun is about 250km from Delhi and 300km from Gwalior.
Some other pedestrians and motorcyclists too are seen in the video, but the policeman appears to be focusing only on the migrant workers, waving a stick at them.
Badaun senior superintendent of police Ashok Kumar Tripathi has regretted the "foolish" action by an "inexperienced" policeman.
Many migrant workers from Delhi, Noida and Ghaziabad have been trickling into Aligarh, having covered the nearly 150km distance on foot and still left with hundreds of kilometres to cover.
Twenty-something factory worker Vaqil said he had begun his long walk home after his employer in Dadri, over 100km away, told him there was no work for him.
Amal Kumar had headed home from Noida to Etah, 250km away. His employers had told him to stay put in his room but did not say whether he would be paid anything.
He had already eaten whatever food he had prepared for the journey, he said in Aligarh, and needed help to reach home, a further 100km on.
Another man was hoping to walk the 350km to Jhansi from Aligarh "in a week".
"We are about 30 people; we'll cook our own food on the way," he said.
Reports said some workers were headed home from Delhi to Banda, about 600km away. One group of 16 had covered nearly 450km and reached Jhansi on way to Banda.
Another group, travelling from Delhi to Muzaffarpur in Bihar — about 1,100km away —is said to have reached Agra. The local administration has provided them with food and water.
Pradip Kumar, a tailor with a Noida company, was asked to leave soon after the lockdown was announced. "I have been walking for a day and a half now," he said. He was headed to Kasganj, 180km from Noida.
Some others were seen asking local people in Aligarh to help them contact their families in neighbouring districts.
Uttar Pradesh chief minister Yogi Adityanath has directed the administration to provide food and transport to the returning migrant labourers, a government spokesperson said. He said Adityanath had learnt about their plight from media reports.