Congestion on Bihar, UP train routes
Railway explains Shramik Special diversion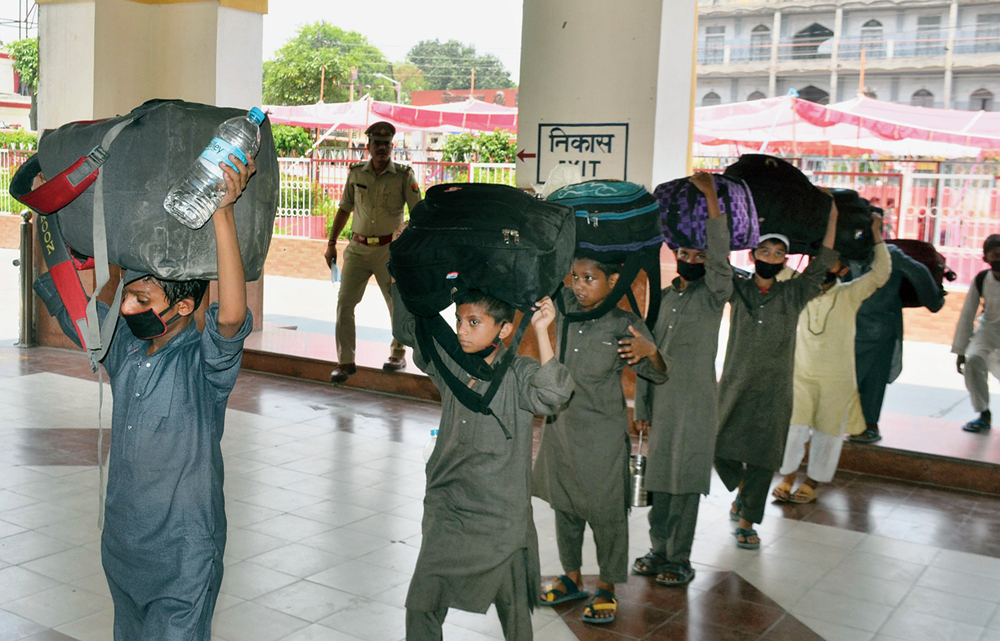 ---
---
A Gorakhpur-bound train that left Vasai Road in Maharashtra ferrying migrant workers two days ago reached Rourkela, Odisha, on Saturday morning after it was rerouted due to congestion along tracks in Uttar Pradesh, India's top railway official said.
Vinod Kumar Yadav, chairman of the Railway Board, said 80 per cent of train traffic carrying workers trying to get to home is bound for destinations in Bihar and Uttar Pradesh and some have been rerouted to avoid network congestion.
The train's arrival in Rourkela had triggered reactions on social media with video complaints from some passengers alleging that they have not had access to food for hours.
"Senior officers are monitoring the movement of all trains 24 hours and to avoid congestion, sometimes trains need to be diverted along longer routes," Yadav said. "This is normal practice."
"Most of the trains are going to only one or two routes to Uttar Pradesh and Bihar so there is route congestion," Yadav added.
The Western Railways also said on Saturday evening that due to heavy congestion on the Itarsi-Jabalpur-Mughalsarai route, the board had decided the train would reach Gorakhpur via Rourkela, Adra, and Asansol.
The railways have already ferried around 35 lakh migrant workers between different states and around 10 lakh migrant workers within states and estimates to carry 36 lakh workers on 2,600 trains over the next 10 days, Yadav said.
He said an analysis has revealed that the vast majority of migrant workers' destinations are in Uttar Pradesh, Bihar, Madhya Pradesh, Jharkhand and Odisha.
Yadav said around 105 trains had been approved to travel to Bengal up to June 15. Services to Bengal are likely to be enhanced once post-cyclone restoration work is complete.
The railways has established 5,000 beds in 17 railway hospitals across the country and prepared nearly 10,000 quarantine beds, Yadav said, outlining the railways' contribution to increasing available health infrastructure for Covid-19.
Yadav said protocols adopted by the railways and state authorities are intended to minimise the chance of migrant workers carrying the coronavirus with them. Workers are screened for symptoms at the origin station as well as at their destinations. He said health authorities at each destination have specific protocols to place arrivals either under quarantine or home isolation.