Cases with no exposure history data
ICMR study suggests 'poor record-keeping' on virus spread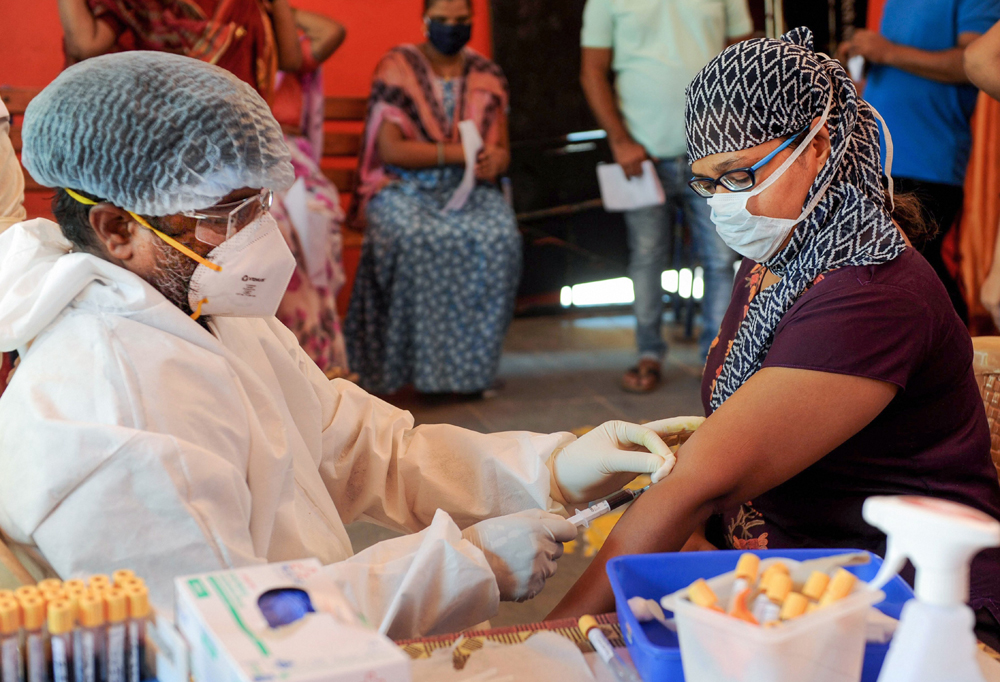 A medic takes a sample of a woman for herd immunity study at ICMR, during the ongoing Covid-19 lockdown, in Mumbai, Saturday, May 30, 2020.
(PTI)
---
New Delhi
|
Published 30.05.20, 11:06 PM
|
---
Over 44 per cent of the 40,000-plus Covid-19 patients detected during the first two months of the epidemic's growth in India have no documented history of exposure to the infection, suggesting poor record-keeping, health researchers have said.
Their study has found that 5,403 (13 per cent) of 40,184 patients had an influenza-like illness (ILI) or severe acute respiratory infections (SARI) with no known contact with other confirmed patients, while another 17,759 (44 per cent) show no documented exposure history.
The researchers say that apart from ILI and SARI cases, only those suspected to have had contact with positive cases were tested, so the lack of documented exposure history in these 44 per cent suggests large-scale poor record-keeping.
The researchers said the SARI and ILI cases likely reflect the silent spread of the virus across the patients' communities, causing infections in people without known contact with positive cases.
The study by the Indian Council of Medical Research found that 4,204 (10 per cent) of the 40,184 were hospitalised SARI patients and 1,199 (3 per cent) were patients with ILI symptoms who were tested because they lived in coronavirus hot zones.
"These proportions of patients found positive among ILI and SARI provide insights into the extent of infection spread in the community," said T. Sundararaman, a community medicine specialist who was not associated with the ICMR study.
The much larger proportion of coronavirus-positive patients without documented exposure history is surprising but can be explained as shoddy record-keeping, health researchers said.
"It is what we call missing data," said a senior ICMR clinician-researcher and co-author of the paper, published in the Indian Journal of Medical Research.
Whenever people are tested for the coronavirus, the lab and follow-up health department staff are expected to classify them into one of seven categories: symptomatic people with a foreign travel history, symptomatic contacts of confirmed cases, symptomatic healthcare workers, asymptomatic healthcare workers, asymptomatic household contacts of confirmed cases, hospitalised SARI patients or people with ILI symptoms living in hot zones.
The ICMR study has found that 17,759 patients were not placed in any of these categories. "Either it was not asked by those collecting samples or not noted by them in the specimen collection form or not entered into the database in the labs," the ICMR researcher said.
"It is likely that some of these individuals did not fit into any of the seven categories listed."
The study analysed the profile of positive cases recorded up to April 30. The researchers say some of the parameters they had studied could well have changed over the past month as the epidemic has grown exponentially.
India on Saturday recorded 7,944 new coronavirus infections, a fresh highest-yet overnight spike, raising the confirmed cases to 173,763, of whom 86,422 are under medical supervision, 82,370 have recovered and 4,971 have died.
Health authorities recorded 265 deaths on Friday — the highest so far in the country on a single day.