Whamdemic: 10 weeks, 10 things
From PM CARES that can't be audited to numerous migrant deaths, here are what the pandemic gave us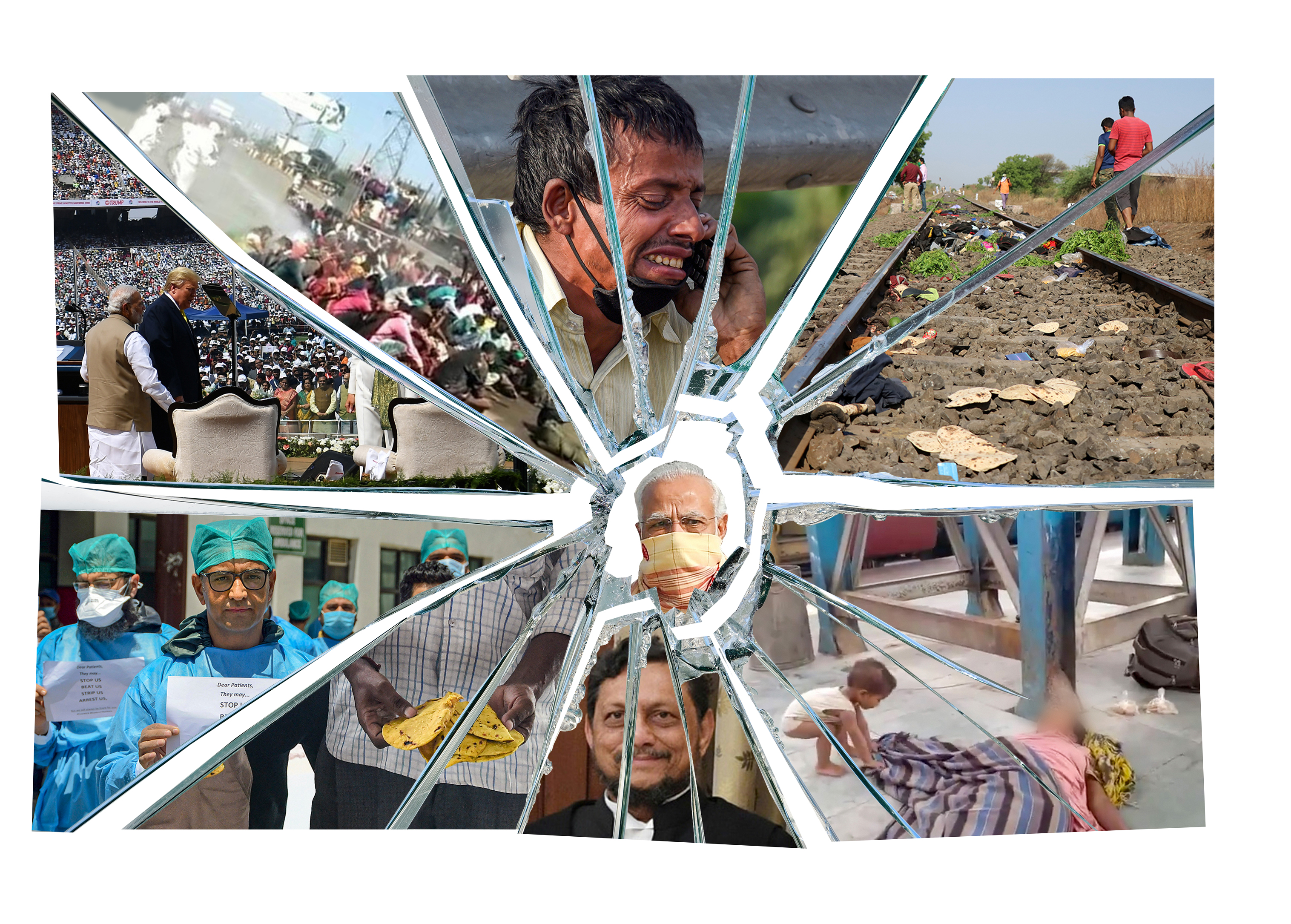 As we close on 10 weeks of lockdown, 10 things we will do well not to forget.
Sabyasachi Kundu
---
Published 06.06.20, 09:10 PM
|
---
As we close on 10 weeks of lockdown, 10 things we will do well not to forget

1. The Celebration
The coronavirus was already leaping about perilously and the first cases had popped up in India, alarm blips warning of the oncoming storm. It was a time the nation should have been putting up the barricades, instituting contingency measures. At such a time was staged an imperial-scale Rs 100-crore extravaganza at the heart of which were two leaders equally and cynically in denial of the pandemic: Prime Minister Narendra Modi and US President Donald Trump. More than a hundred thousand attended the Namaste Trump open-air gala at Ahmedabad's Motera Stadium on February 24; more thousands lined the streets for the spectacle, probably exposed to contagion. Ahmedabad was slammed hard for its lavish party. When the Trumps sat down for their elaborate Rashtrapati Bhavan banquet, having walked the precincts of the Taj Mahal like royals, a part of Delhi was aflame with instigated sectarian violence.
2. The Guillotine
It was a whammy as hard, if not harder, as the demonetisation shock. Modi came on to television late evening on March 24 and issued a firman that flung the nation in a hard lockdown at less than four hours' notice. He hadn't consulted chief ministers, his government hadn't worked on any follow-through. He didn't afford people time or opportunity to shore up daily requirements, much less plan for a longer closure during which there would be no travel, no local movement, no access or availability of essential supplies. People were left stranded, at home or away from it, with dwindling means and supplies, or none. To many, it brought back the nightmares of demonetisation, only this seemed many times worse.
3. The Subversion
It was entirely possible for Modi to have given notice to prepare. To stock up on essentials. To acquire contingency cash. To take care of the requirements of the ill and the elderly. To see after how livelihood would proceed thereon. For those away from home, just time to reach home. But until the moment of Modi's television appearance, nobody in government dropped a hint that a lockdown was in the works. It even kept Parliament open at the risk of compromising the nation's top assembly of lawmakers. But why? Because Project Topple was nearing completion in Madhya Pradesh, defection deals were being brokered. Jyotiraditya Scindia crossed sides eventually, Kamal Nath had to quit. Shivraj Singh Chouhan returned as chief minister, defying lockdown norms with gay abandon.
4. The Injustice
What did S.A. Bobde, Chief Justice of India, even say when a plea for workers' wages came up before his bench?
"If they are being provided meals, then why do they need money for meals?" Ponder the unfeeling of that.
How did the Supreme Court bench respond to the unspeakable tragedy of 16 migrant labourers being mowed down on a railway track in Maharashtra?
"How can anyone stop this when they sleep on railway tracks?" Ponder the heartlessness of that.
What did solicitor-general Tushar Mehta tell the Supreme Court on March 31, when hundreds of thousands of hungry, hapless migrant workers were criss-crossing the country, walking the length and breadth of the subcontinent to somehow get home?
"I have instructions to state that no one is now on the road." Ponder the subterfuge of that.
5. The Heist
In the first week of lockdown, as a nonplussed nation was figuring how to cope and as Covid revealed expansionist intent across India, Modi unveiled PMCARES, a new fund that quickly put the Prime Minister's National Relief Fund (PMNRF) in the shade and out of reckoning. It immediately gobbled up the constituency funds of MPs for two years, soaked up generous donations from public and private sector companies, funnelled in smaller mandatory and voluntary contributions, and soon became a bloated kitty worth Rs 10,000 crore. Nobody enlightened the nation on why it was required when PMNRF already existed. It later came to light that the fund, and its purposes, were beyond public scrutiny, more like a tightly-held treasure chest that nobody was allowed a peep into.
6. The Extravagance
At the same time, as the economy took daily blows and Covid combat lacked visibly for financial support, plans proceeded for Modi's dream of fashioning an elaborate new seat of power along New Delhi's imperial-era Central Vista — a new parliament, new residences for the prime minister and vice-president, new administrative and office blocks. The estimated cost: Rs 20,000 crore. Critics have decried the project as violative on multiple counts. And there is the squandering of public money. Really? But the government is also buying state-of-the-art super-luxury Boeing 777-300ER liners for the president, vice-president and prime minister. The bill: Rs 8,458 crore.
7. The Truancy
Never mind. Governments work on scales way beyond our imagination, they work with budgets that seem abstract to the ordinary. But people should be able to see government, especially at times of crisis, a crisis that Modi himself described as bigger than the World Wars. Modi made four television appearances — beyond announcing the shock of immediate lockdown, he exhorted people, variously, to bang thaalis and light candles at magically considered hours. Home minister Amit Shah, who, as boss of disaster management, should have fronted preparations, vanished for long periods; he appeared briefly to commandeered TV cameras, only when speculation over his absence seemed to get out of hand. Health minister Harsh Vardhan was pictured playing ludo with his wife at home, an exemplar of social distancing. Health secretary Preeti Sudan, who earned an extension as the crisis turned grimmer, rarely made an appearance. The brief of being public interface was left to Lav Agarwal, a joint secretary, who often, and bravely, earned a poor name for the behind-the-scene bumbling of his bosses.
8. The Obfuscation
What did Lav Agarwal tell us about the Covid crisis that facts on the ground, and often he himself, did not contradict? An eminence at the Niti Aayog announced India would flatten the Covid curve mid-May, give or take a week. The daily count at that juncture was rising vertically on the graph. Initially the Indian Council of Medical Research (ICMR) was part of the daily Covid briefings. They were suddenly and inexplicably bundled out. The daily updates trailed way behind the real numbers of the afflicted. The daily discourse on preparations belied what health reporters saw on the ground. The daily response to questions on lack of facilities, especially for frontline doctors and health workers, was stock stonewalling. It is still not clear why hydroxychloroquine (HCQ) continues to be recommended as a preventive despite credible research and advice to the contrary.
9. The Tribulation
Desperate millions, suddenly thrown out of work and shelter and left without means of sustenance, saw no option but to head home. The cities had been suddenly stilled. Industry groaned to a halt, traffic vanished, households ejected help, there was nothing to be earned off the street. They wanted to go home. They were thwarted — held hostage by security forces in their suffocating warrens, tear-gassed and lathicharged. When they broke those barriers, they were chased and beaten. They were afforded no help — no transport, no food, no water, no shelter. They were treated like hordes of pestilential insects, sprayed with anti-corrosives and insecticides.
10. The Tragedy
By the time the powers realised it was impossible to hold back the poor millions, a health emergency had morphed into a monumental humanitarian tragedy the world watched in horror. Men, women, children, the elderly, all crawling this way and that across the baking earth of India. Hungry, thirsty, tired, ill, suffering, dying. Two hundred and five lives were claimed by accidents, including the 16 lives gruesomely snuffed on that railtrack. Forty-two died of exhaustion along the way, 114 of starvation. These numbers need updating by the hour because these odysseys have not ended as we go to press. Buses and special trains were eventually ordered to ferry them, but all of it was devilishly disorganised and haphazard. More than 50 of these special trains strayed and reached unintended, faraway destinations — a function of "congestion" on the tracks, we were told. What? When the great Indian Railways were running barely five per cent of daily capacity? They couldn't care where the famished human load was being ferried to, and how long it would take; they were goods, no more. The Supreme Court did decree that migrant workers were not to be charged fares. But by that time, the price had been paid. It was a heavy price, only a part of it could be counted in currency notes.