Cop to pro-CAA group: 'Go ahead and throw stones'
Not Trump's limo but protected thugs roam parts of Delhi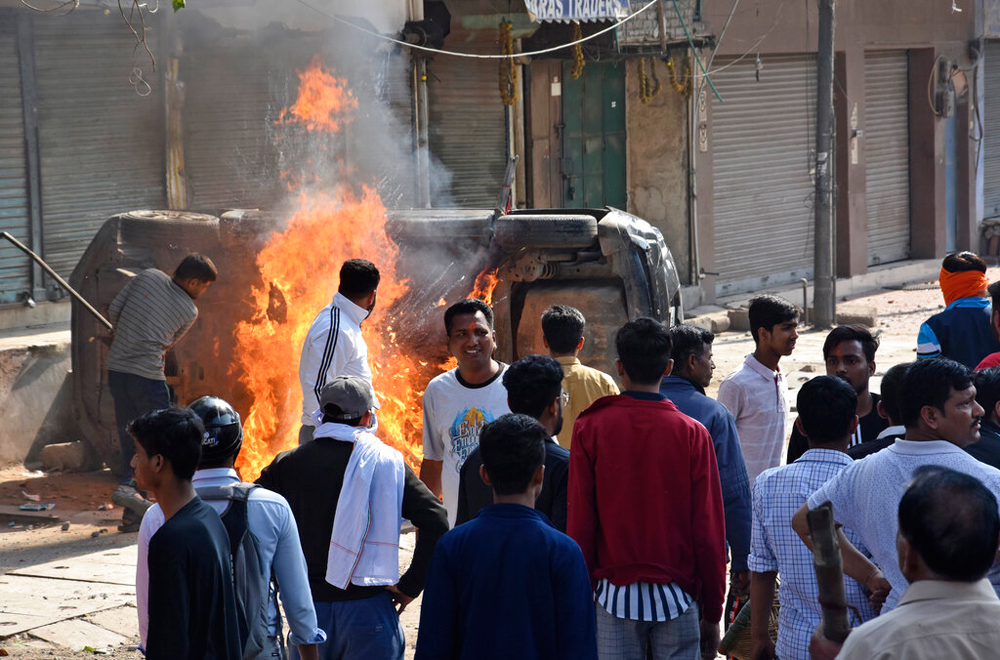 A crowd vandalises a car in New Delhi on Monday
(AP photo)
---
New Delhi
|
Published 24.02.20, 08:56 PM
|
---
President Donald Trump landed in a Delhi whose peripheries smouldered with violent disorder on Monday.
Four people, including a Delhi police head constable, were killed and over 40 injured in the worst flare-up in the capital in over three decades as violence broke out in northeast Delhi when so-called supporters of the Citizenship Amendment Act (CAA) clashed with those opposing it.
The stage had been set on Sunday night when a controversial BJP leader led a procession in Jaffrabad, where women and children had been protesting against the CAA. Subsequently, the first round of clashes had broken out.
Prime Minister Narendra Modi and Union home minister Amit Shah, who have not held talks with the CAA protesters, were silent on the violence till Monday night. Congress president Sonia Gandhi appealed for peace.
A snapshot of the turn of events:
On Sunday night, video clips of a group chanting "Jai Shri Ram", collecting stones and loading on to a truck surfaced on social media. In one clip, the group could be seen and heard cheering and sloganeering just as a tractor full of stones and brick was unloaded. Police said they were yet to verify the video.
The clashes were first reported on Monday in Jaffrabad, which has a sizeable Muslim population, and Maujpur, a predominantly Hindu neighbourhood. The trouble later spread to adjoining areas.
Residents said on Monday night that a crowd, in the presence of the police, was raiding the area and torching shops. Zafarul-Islam Khan, chairman of the Delhi Minorities Commission, tweeted at 11.56pm on Monday: "Several parts of Delhi, especially northeast Delhi, are burning. Armed goons are attacking… Muslim localities, markets, shops, mosques…."
Both Hindus and Muslims blamed police inaction for the escalation on Monday. Some openly accused the police of siding with the pro-CAA groups.
A protester, who the police identified as Shahrukh, was seen opening fire right in front of a policeman.
No one is known to have been injured in the firing. The gunman was detained at night.
For several hours, Reuters news agency witnesses saw the outnumbered policemen mostly stand beside those backing the citizenship law and do little to quell the violence. The police also stood by as a mob vandalised a store with a Muslim name, pulling out vehicles and setting them alight. "Go ahead and throw stones," a policeman shouted to a group backing the law, during one of the running battles.
On side streets, young boys drained fuel from motorcycles to make petrol bombs, and some pulled up paving stones and flung construction material at opponents, Reuters reported. "We are in support of the CAA. If they want to protest, they should go somewhere else," said a person who gave his name as Amit.
A Reuters witness saw at least one Muslim man and a burqa-clad woman being beaten by dozens from a pro-law group with sticks and iron rods.
Eyewitness after eyewitness said chants of "Jai Shri Ram" and religious slurs were being hurled at the anti-CAA protesters to provoke them.
The violence escalated a day after BJP leader Kapil Mishra had taken out a procession near the epicentre, Jaffrabad.
Mishra had shouted religious slogans and issued an ultimatum to police to clear protest sites within three days. Soon after, clashes had broken out between the two groups. On Monday, pro-CAA groups and those protesting against the law threw stones, set vehicles and shops ablaze and transformed parts of the national capital into a war-zone.
Youths belonging to both groups were seen zipping around on bikes, asking shops to be shut even as the police looked on. A group of pro-CAA supporters were seen chanting "Jai Shri Ram" and a religious slur, threatening to punish the protesters for causing inconvenience to common people.
Shops and vehicles were set on fire and, in a video, police personnel can be seen throwing stones. Some shops and a fire-tender were torched in Maujpur.
Eyewitnesses said the violence escalated on Monday after a pro-CAA group attacked some anti-CAA protesters with stones and damaged the window of a car near a Maujpur traffic signal. The rival group, however, blamed the protesters for triggering the violence.
Saffron flags were seen hoisted on the houses and shops belonging to the majority community in the neighbourhood — Seelampur, Maujpur and Jaffrabad. The attempt is being seen as an effort to mark the houses and shield them from pro-CAA groups during rioting.
"Why are these groups hoisting saffron flags on Hindu households? This violence is well planned and organised and is the direct result of incitement by BJP leader Mishra. The police did not take any action against him when he held a procession on Sunday provoking his supporters to clear the peaceful protest," said Amin Subhan, a schoolteacher in Jaffrabad.
The violence, he said, had been engineered by groups who have the support of the ruling dispensation. "The violence is part of the bigger conspiracy to defame anti-CAA protesters and clamp down on all such peaceful protests by delegitimising them."
Terror was writ large on the faces of common people and shop-owners belonging to both communities in the area. "We are living in terror because of the riot-like situation and widespread violence. Police inaction is entirely to be blamed for this communal conflagration which has become very serious. It seems the BJP is in a mood to punish the people of Delhi for not voting for them in the Assembly election," said Kamlesh Kumar, a resident of Seelampur that adjoins Jaffrabad.
His friend Faizal, who owns a laundry shop, said the police needed to act immediately to prevent loss of life and further escalation of violence. "Are they waiting for a full-fledged riot between Hindus and Muslims? Who will benefit from this?" he asked.
Civil rights groups said that a large number of Bajrang Dal activists had entered Delhi from Loni in Haryana and were involved in the violence.
"Bajrang Dal activists joined hands with the crowd and created a reign of terror in the areas which witnessed violence. The police remained mute spectators and in a way aided and abetted the violence in the Muslim pockets," said Radhe Shyam, a minority rights activist.
Raghuvir Singh, a local BJP supporter, dismissed the charge and blamed Muslims for the unrest. "Look, they have turned this area (Jaffrabad) into a semi-Pakistan by holding protests at several places. They are perpetrating violence in the name of protests with the help of the Arvind Kejriwal government and Rahul Gandhi. We will not tolerate this mockery of democracy in India under the leadership of Modi and Amit Shah."
In the adjoining Noor-e-Ilahi locality, several Muslim families fled their homes in panic amid reports of police entering Muslim homes with rioters. "Muslims are leaving their homes with their families out of fear," Ikram Ali said.
Delhi police later in the day appealed to the people to maintain peace and not to believe in rumours in the wake of violence. Prohibitory orders under Section 144 CrPC, which bans the assembly of four or more people, have been imposed in the affected areas.
"Some incidents of violence and arson have been reported in areas of the northeast district, particularly in the areas of Maujpur, Kardampuri, Chand Bagh and Dayalpur," the police said.
"What can we do? We are outnumbered by people who have transformed the neighbourhood into a battleground," said a police official of Jaffrabad police station.
In the evening, additional companies of paramilitary forces were deployed.
Junior home minister G. Kishan Reddy said the violence was a "conspiracy to shame India globally" during Trump's visit.
In the evening, Union home secretary Ajay Bhalla told reporters that the situation in the capital was "fully under control" and sufficient forces had been deployed on the ground to avert any untoward incident.