Cop 'assault' on J&K reporter
The Srinagar journalist was allegedly beaten and abused for writing a news report accusing the police of silencing social media users critical of the govt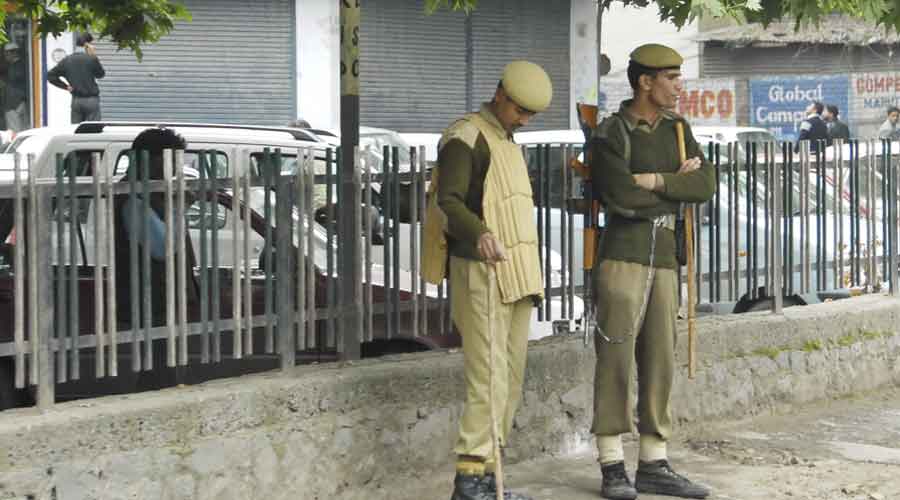 ---
|
Srinagar
|
Published 22.09.20, 12:50 AM
---
A Srinagar journalist was summoned by Kashmir's cyber police chief and allegedly beaten and abused at a police station for writing a news report accusing the cops of silencing social media users critical of the government.
Auqib Javeed, the journalist, spoke out on Monday after initially deciding to stay silent as Saturday's experience had left him "traumatised, anxious and nervous".
"I was awake most of that night, haunted by the physical assault and their abuse," he wrote in Article-14, the same news portal that had published the report that had angered the police.
"But later, I realised my silence would set a precedent and embolden the police to treat other journalists similarly. So I write this, for myself and for my colleagues who often work on the razor's edge -- that is journalism in Kashmir."
Javeed has since tweeted that he fears for his life. "If anything happens to me they (the police) will be responsible," he said.
The cyber police, who play a key role in counter-insurgency operations, said the journalist's "allegation of excesses" was "factually incorrect". The unit has summoned several journalists in recent months in connection with their professional work, and the police have booked two journalists under the anti-terror law UAPA.
Javeed's ordeal came a day after the cyber police chief, SP Tahir Ashraf, had publicly warned him of "legal action" for writing a "fake and misleading story" that was "jeopardising the good work done by Cyber Police Station Kashmir".
However, talking to The Telegraph on Monday, the only specific factual mistake in the report Ashraf could identify was a detail about the exact location of the cyber police station.
Javeed's report, published last week, had claimed the cyber police had dubbed 300 social media accounts the "cyber-bullying group". Its headline read: "The real cyber bully: Police in Kashmir question Twitter users".
The report had claimed that social media users were being "questioned, hectored by police and left off only after promising not to issue posts against the government and its policies".
Javeed said that after being summoned, he had travelled 60km from his home in Bandipora to Srinagar on Saturday, accompanied by two journalists from the Kashmir Press Club, to meet Ashraf.
He said the trio were frisked and their phones taken away. A policeman asked Javeed to accompany him while his two colleagues waited in another room.
"(Thereafter) a masked policeman slapped me hard on my left cheek. He did sound like a local. 'Kis liye aaya hai tu (Why have you come)?' he demanded," Javeed wrote.
"Once I recovered from the shock of the slap, I said, 'SP saab has called me.' He slapped me hard again and left."
Javeed was taken to Ashraf's room, where the officer reportedly asked him how he had dared write that the cyber police were "bullying people?"
"He started abusing my mother and sister and kept up the shouting," Javeed wrote.
He said Ashraf told him: "Ab mai tujhe dikhavu ga saalay (I shall now teach you a lesson)."
Javeed said that from the police station, he called his editor Samar Harlankar who reluctantly agreed to change the headline, given his ordeal.
But, Javeed said, he and Article-14 refused to accept Ashraf's claim that the report was "fake and baseless" and there should be a retraction.
Ashraf told this newspaper he had objected to the headline as well as the report's claim that the cyber police were operating from the "notorious" Cargo Centre, headquarters of the counter-insurgency Special Operations Group.
"This story, accompanied by a picture of that building and mentioning that a cyber police station has been established inside the notorious detention centre, was fake and misleading," Ashraf said.
The cyber police unit is located near the Cargo Centre. Before being upgraded into a full-fledged cyber police station last October, it had operated out of the Cargo Centre for years.
In a statement, the cyber police said Javeed had regretted the "incorrect details and assured that the story will be tweaked accordingly".
"The allegation of excesses by police officials/ officer, published subsequently by Article-14 and other social media handle are misleading and factually incorrect, hence refuted," it said.