Conversations with Mr Modi
Could the verdict of 2019 mean that the Prime Minister is now interrogating India rather than the other way round?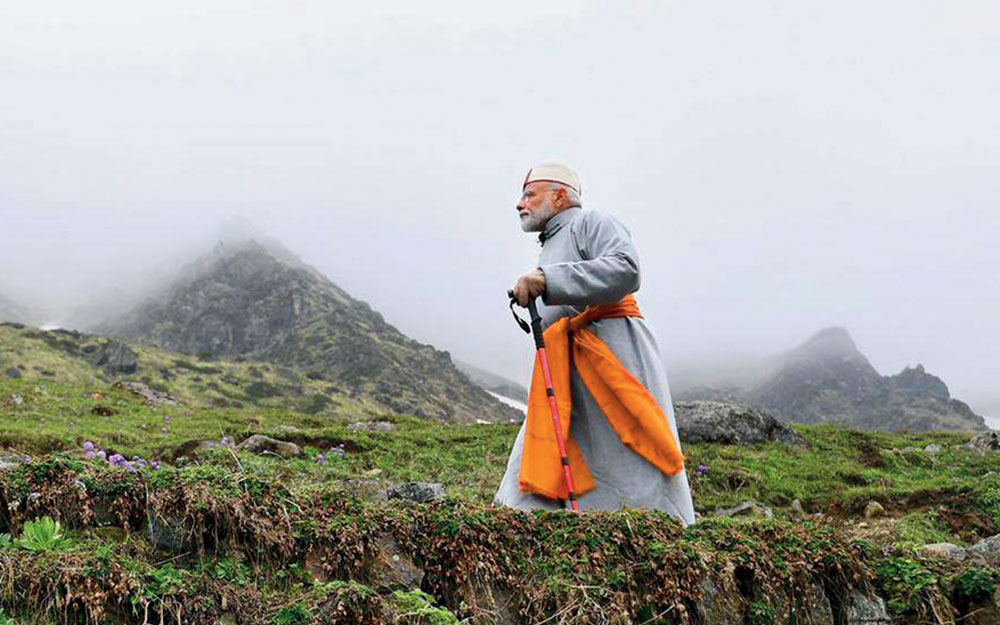 Prime Minister Narendra Modi after paying obeisance at Kedarnath Temple, during his two-day pilgrimage to the Himalayan shrines
(PTI)
---
Published 25.05.19, 06:50 PM
|
---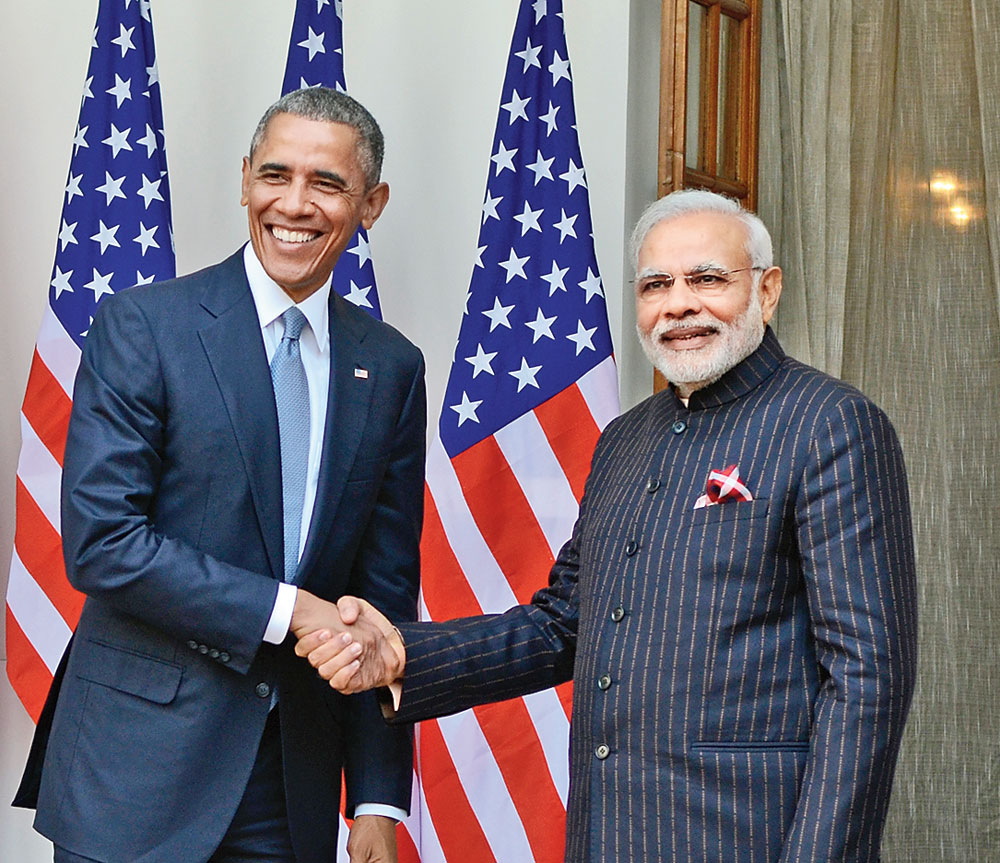 In the midst of the Modi mayhem that May 23 was, an alert sounded on my phone. It was a text from a politically engaged friend. It read: "If these are the results then this is not politics. This is not an election. This is a cultural revolution and it cannot be defeated. It will play out and do whatever it has to do."
The image you see above was rapturously lampooned.
The images from around the time and locale of the image above were rapturously lampooned. Why is this man behaving as if he were walking the red carpet at Cannes? Who meditates with cameras all around? How could you be meditating wearing glasses? Meditation in a 5-star cave? You must be joking. But there you are, what a joke this whole thing is!
All those years ago, when he began to stir tea for Barack Obama on the lawns of Hyderabad House dressed in a suit pin-striped with the fullness of his name — Narendra Damodardas Modi — he was lampooned. What low megalomania is this?
When he said, having announced himself "no expert" on the subject, that he gave the go-ahead for the Balakot airstrike because he thought cloud cover would mask radar detection, he was lampooned.
When he screamed for votes in the name of jawans massacred at Pulwama, he was lampooned.
When he chose filmstar and treacly acolyte Akshay Kumar for an intimate interview — his first during the election campaign — he was lampooned.
When he returned from that copiously photographed and filmed getaway in Kedarnath at a press conference in New Delhi and said not a word, he was lampooned. This man, he thinks he is not answerable?
He isn't. Not to those who believe he should be answerable to them.
Modi cared a lemon for all the lampooning.
He lumped it, although secretly he may even have loved it. The more he is lampooned by some, the more he is lavished by others. Modi is wise to that. Give to him the genius of the populist. Modi is wise to the merits of playing anti-hero just as Lalu Prasad of Bihar once was. His adversaries had nailed into him the ignominy of "jungle raj"; Lalu wrenched it off his chest and fashioned it on his head like a crown. "Jungle Raj? They are calling Biharis junglees? Are you junglees?" Bihar voted him back, against the run of play.
So too Modi, as he arrived at the press conference to potentially defy the dare that he had spent an entire term in office without opening himself to a press conference. He had his say. Thereafter, he sat there chewing on his jaws, mussing his manicured beard, surveying the field for who might hold his stare. Mocking it with his animated silence. You will ask me questions? You? And you think I will answer? Me? Chaliye, dhanyavaad, namaskar. The tone was vanakkam, or the obverse metaphor he has created of the word, buzz off.
Most of the lampooning of Modi has been legitimate lampooning. Prime Ministers should not be turning out in public like fancy-dress exhibitionists. Prime Ministers should not resort to patently unrealistic brags. Prime Ministers should not serve out myth as science. Prime Ministers should not be invoking the armed forces as political ancillaries. Prime Ministers in democracies should take questions and furnish answers. What sort of Prime Minister is this? Legitimate question. Normal, and, in fact, right and necessary in the democracy to raise it.
But no. Who set these rules and standards? Off with them. There is a new setting of things — a new right, a new just, a new normal, a new playing field that is not level, it is majoritarian and it demands obedience: Bharat Mata ki Jai!
Modi has gone along inventing a new language and grammar of public and political ethics and exchange. Its first rule is to put inverted commas on words as they were previously understood. Legitimate — "Legitimate". Normal — "Normal". Necessary — "Necessary". Right — "Right". Question — Depends on whether I framed it.
His conversations are with those that understand the new language and grammar of his crafting. He stopped conversing with those that cannot, or would not, comprehend it. They are not worth his while. He has talked at them, not with them.
The outcome of May 23 is probably proof to him that the stoppering of some conversations paid off. And not only because it opened a new and robust one. The one that was happy to let it be one-sided. The one that was merely happy to listen. The one that did not ask questions of him. The one that allowed him to raise questions that he best answers. The one that believed what it is hearing is music. The one that wanted more of it. The one that will give more of itself to Modi if he goes on the way he has been going: "Ek kaam 70 saal mein nahin hua thha, woh ek kaam Modiji ne kar diya." (There was one job left undone in 70 years, that job Modiji has done.)
There's no code to understanding what job; it's an open-code thing, it's the thing that chorused from the rostrums throughout the campaign just gone. But if it still needs explaining, that was Durgesh Jaiswal speaking in a recent report in this newspaper. Dateline: Varanasi, parliamentary constituency of Prime Minister Narendra Modi; Durgesh also calls Varanasi Pakistan because there are so many of "them" in Varanasi.
No need to specify what's that one thing; everybody knows. It's the pointed exclusion and othering of India's largest minority, their formal notarising as the unwanted and dispensable ones, even as the ones that constitute the enemy.
But Durgesh is not happy to stop at that, the othering is the first step, it cannot end here, it has to be taken forward. "Hum log kuchle jaa rahe hain apne hi desh mein, abhi bhi ghulam hain, iska kuchh karna hoga. Isiliye Modiji ki zaroorat hai. (We are being crushed in our own country, we are still slaves, something will have to be done. That's why we need Modi.)"
Durgesh must be introduced again. Durgesh is in his mid-twenties. He is unemployed. He works for the Samajwadi Party. He is an undying dyed-in-the-wool Modi-bhakt. For that one reason. For that one "job" Modiji has done. Durgesh might just explain to us the meaning of what my friend jumpily texted to me as the Modi numbers became a blizzard on May 23 — "…this is not politics. This is not an election. This is a cultural revolution and it cannot be defeated. It will play out and do whatever it has to do…"
The underpinnings of this election do really go beyond just the political. They are about the cultural. They probably even are about the civilisational. They must necessarily take us back to Modi's triumphal proclamation when he emerged the victor in 2014. That India had emerged, with his arrival in power, from 800 years of slavery. His liberation date was not August 15, 1947; it was May 16, 2014. The marker for India's enslavement well predated the takeover by the British crown, his marker was closer to the last battle of Prithviraj Chauhan and the arrival on Muhammad of Ghor. Modi's narrative of India is steeped far deeper in history than the history of what came to emerge and be known, much later, as India. Modi's narrative of India enslaved begins with the defeat of the last Hindu king of Delhi before him.
Back, briefly, to Durgesh, for he must be allowed an explanation to why he believes he requires Modi. And we may want to listen, if only because that may allow us to better understand why what happened this week happened more emphatically than it happened in 2014.
"Hum log apne hi desh mein ghir gaye hain, saans nahin le sakte. Isse bachne ke liye Modiji kaa hona bahut zaroori hai, aur woh kuchh karen, nahin karen, isse koi matlab nahin. (We have been encircled in our own country, we can't breathe. For this reason it is essential that Modiji remains there, whether he does anything else or not, I am not bothered)."
Durgesh and Modi have never met, but they have a conversation. This verdict, in preponderant part, was a consequence of that conversation. It was an act, too, of furthering that conversation.
When I met Durgesh, he was engrossed with his smartphone, listening in to Modi's conversation with Akshay Kumar. It cannot be mere coincidence that across three weeks on the campaign trail in Bihar and Uttar Pradesh, I came across at least a dozen people similarly engrossed in that conversation between Modi and Akshay Kumar. It cannot be mere coincidence that all of those people felt they were watching something endearing and intimate; they hadn't seen a Pradhan Mantri open up — to Akshay Kumar and, through him, to the people — so casually, so next door-neighbourly. "Kamaal hai, dekhiye toh, Modiji khud bol rahe hain, hum log jaise…" (What a wonder, just watch. This is Modiji himself talking, just like us."
There you are, that is why Modi cares a lemon for being lampooned.
Monogrammed suit? "Why, you think Modiji, our Prime Minister, cannot afford an expensive suit?" Kedarnath showman? "Why, do you want to come between the leader and his followers, does he have no right to convey what he is doing? And he is doing what few leaders do, he is meditating." Modi behaving like an autocrat, not willing to take questions? "But why must he give you the rank of middle-man, Modi is in direct conversation with us, you think you are more important than us?"
Modi delivered the whimsical shock of demonetisation. Modi hectored a complicated GST. Modi presided over rural distress. Modi produced no jobs. Modi took away jobs. What did Modi do? "Modi kept us safe. He said dushman ke ghar mein ghus kar maarenge and he did that. Desh ko bachana hai, Modi ko jitana hai. Modi hai to desh surakshit hai. Aur koi hai kya, is there anyone else?"
Do not for a moment be persuaded that those questions are all unattributed, words put into anonymous mouths. They are all questions being asked by Modi. Well, perhaps by his huge league of proxies that have handed him 303 seats in the Lok Sabha, but those amount to Modi interrogating India through the India that he has chosen to converse with.
His most insistent question may be this: So what do you make of Pragya Thakur in the Lok Sabha on a four-lakh-plus victory margin? Pragya Thakur, accused of terror, in the crosshairs for premeditated and sectarian murder, espouser of the man who assassinated the Father of our nation. Pragya Thakur, honourable member of Parliament on a Modi ticket and a double-decker ride of a mandate. Pragya is a deeper Modi probe into India — where are you really located, how far might I go, how far might you yield?
Modi's conversation with India isn't over yet, in fact it has just begun. Stay tuned. Isn't Mann ki Baat scheduled to resume sometime soon?