Congress urges Modi to choose between 'friend' and investors
In Parliament, the party led the Opposition in demanding a debate and an investigation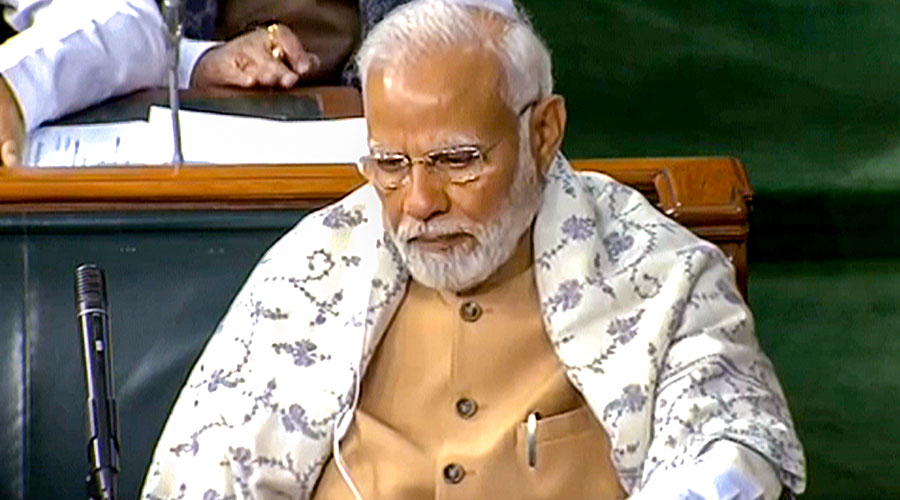 Prime Minister Narendra Modi
File picture
---
New Delhi
|
Published 03.02.23, 03:17 AM
|
---
The Congress on Thursday put Prime Minister Narendra Modi to a moral test, asking whether he would protect the interest of millions of investors or his friend Gautam Adani, who is no longer Asia's richest businessman.
After the Hindenburg Research report triggered a market rout in Adani stocks, the Congress launched a multi-pronged attack on the tycoon who has always been identified as "Modi's friend" by Rahul Gandhi. Rahul's "Hum do-Hamare do" jibe had set the tone for the battle against crony capitalism over the past few years.
In Parliament, the party led the Opposition in demanding a debate and an investigation. "We are not targeting any individual, but the hard-earned money of crores of investors is involved. We want a joint parliamentary committee (JPC) to probe the matter, including who forced the LIC (Life Insurance Corporation) and SBI (State Bank of India) to invest in the Adani group in violation of rules, or an investigation monitored by the Chief Justice of India whose findings should be reported on a daily basis," Congress president Mallikarjun Kharge said.
SBI has lent $2.6 billion to companies in the group, Bloomberg News reported. LIC has invested in group companies.
Congress general secretary K.C. Venugopal announced protests at LIC and SBI branch offices across the country on February 6.
What should worry the government is that the Congress marshalled the support of most Opposition parties — the DMK,TMC, SP, JDU, RJD, Shiv Sena, CPM, CPI, NCP, IUML, NC,AAP and the Kerala Congress.
Several Congress leaders brought up Modi's ties with Adani.
Congress communications chief Jairam Ramesh said: "Modi Sarkar is clearly cornered on the Adani issue. It does not want it even mentioned in Parliament. Hence, both Houses adjourned for the day a few minutes after 2pm without even giving the Opposition a chance to demand a JPC into this MahaMegaScam. The Adani issue does certainly warrant an investigation by SEBI & RBI. Whether that will be truly independent is a separate matter given the special relationship Mr A shares with the ruling regime — which could be dubbed as a Narendradani one."
Party spokesperson Pawan Khera said Modi had backed Adani since his days as Gujarat chief minister. Playing on a once-popular Hindi song, he said: "Bhanwre ne khilaya phool, phool ko le gaya Hindenburg. Modi's hard work as both chief minister and Prime Minister have come to naught as Hindenburg has punctured the balloon."
Khera added: "Modi nurtured Adani by violating laws and norms. We would have ignored it had it been restricted to the Adani-Modi personal relationship. But we can't remain silent today because it involves the hard-earned money of every Indian. It has reached the pockets of citizens; their money is invested in LIC, kept in SBI. Now we have to see whether Adani's 'Prime Mentor' Narendra Modi chooses to protect crores of investors or will still protect Adani. He has chosen to be silent so far."
Arguing that the Enforcement Directorate would have raided Adani by now had he supported the Congress, Khera said: "The Hindenburg Research report has accused the Adani group of the 'biggest-ever corporate con' this country has ever seen — overvalued shares (42 times), debt-fuelled business, Adani family members allegedly conspiring in Mauritius, UAE and indulging in laundering billions of dollars through 'a vast web of anonymous shell companies' in tax havens such as the Caribbean islands — and made serious allegations of insider trading, stock manipulation."
He added: "Extremely risky transactions and investments of the Adani group in government institutions like LIC and SBI have been made by the Modi government. LIC officially says that its equity exposure to Adani is Rs 56,142 crore. The 39 crore policyholders and investors of LIC have lost Rs 33,060 crore since the shares of the Adani group have started falling. And perhaps the most sensational revelation that has gone unnoticed by the Indian media so far is that of the relationship between Adani Group and Chang Chung-ling — a Chinese businessman of questionable antecedents."
Khera said: "As per Hindenburg Research, Chang Chung-ling runs (or used to run) a firm called Gudami International, which was 'identified as part of an investigation into government fraud into the Adani Group's alleged circular trading of gems, and that Chang Chung-ling, and Vinod Adani's Singapore residential address was the same'. The report says, 'This is a significant matter, not only for the sake of the shareholders but also for the national security of India'. Now the wealth arm of Citigroup has stopped accepting Adani securities as collateral for margin loans.  Credit Suisse had yesterday said that it would not accept Adani bonds as collateral."