Congress upfront on Rahul's overseas trip
For years, the Congress has seen Rahul Gandhi's periodic foreign visits as an embarrassment to be hidden from public scrutiny.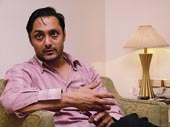 ---
Published 11.09.17, 12:00 AM
|
---
New Delhi, Sept. 10: For years, the Congress has seen Rahul Gandhi's periodic foreign visits as an embarrassment to be hidden from public scrutiny.
This time, the party is advertising his ongoing two-week US tour as a "serious exercise" involving interactions with global thinkers, technocrats, politicians and overseas Indians.
"This is like a study tour, meant to deepen his understanding of the world, societies and the emerging political and economic trends across the world," a senior Congress politician told The Telegraph.
"Rahul, of course, needs wider exposure but the global leaders too should learn about his views on key subjects. He will be holding small private meetings with a large number of people from various walks of life."
Critics had ridiculed Rahul's previous foreign tours as pleasure trips, and the Congress's tendency to clam up about these outings had fanned further controversies. Even the latest trip was dragged into controversy, with reports suggesting the Congress vice-president was going abroad to deliver a lecture on "artificial intelligence".
The party initially chose not to respond to the unconfirmed reports, allowing mischievous jibes to flourish across social media platforms, linking the motif of "artificial intelligence" to Rahul's BJP-endowed image of a " pappu" (milksop or ingénue).
While the Congress has always contested perceptions of Rahul as a naïve or indecisive person, many senior Opposition leaders too have dismissed such slurs after interacting with him over the past few months.
Sam Pitroda, chairperson of the Indian Overseas Congress who has organised Rahul's trip, eventually put paid to the rumours today.
"I have seen news in media that Rahul Gandhi is coming to the US to give a talk on artificial intelligence. This is false information," Pitroda tweeted.
"I don't know who is behind it but it seems like it has gone viral. Rahul is not coming to talk about artificial intelligence. He is coming to meet with students and academicians and various thinking people in the US."
Artificial intelligence is about a computer or robot being able to perform tasks commonly associated with humans, such as reasoning, planning, learning, problem-solving and speech recognition. It also refers to a branch of computer science that aspires to create such machines.
Such subjects may or may not crop up during discussions with technocrats, but that is certainly not the purpose of Rahul's visit, Congress sources stressed.
Pitroda also said: "He will be giving a talk at the University of California, Berkeley. He will also be meeting with Indian Overseas Congress members and others. There is a major event planned in New York with Indian Overseas Congress."
A day after speaking on "India at 70: Reflections on the path forward" at Berkeley -first public speech in the US - Rahul will interact with students.
During his recent visit to Norway, Rahul had interacted with several groups and luminaries but didn't deliver any lectures. His great-grandfather, the late Prime Minister Jawaharlal Nehru, had delivered a speech at Berkeley in 1949.
Rahul will also visit Washington DC to meet thinkers and politicians, and will interact with technocrats in the Silicon Valley. He is expected to meet a handful of economists and diplomats as well and will address a gathering at Princeton University.
While Rahul frequently tours India too, his foreign tours had emerged as a disturbing aspect of his leadership for Congress workers.
He had gone on long tours abroad at least six times in the past two years, giving ammunition to the BJP to brand him a non-serious politician and leaving the Congress red-faced at a time it is grappling with its worst-ever crisis.
After every such trip the Congress would try to reassure itself - with little conviction - that this would be Rahul's last before he puts his nose to the grindstone for the sake of reviving the party's fortunes.
But this latest tour has drawn support from most senior politicians and ordinary workers in the party.
"We have no problem with this tour as Rahul has to evolve into a visionary leader, which can only come with learning and experience. He has already granted us exhaustive campaign schedules for the upcoming Gujarat elections," a senior Congress politician from Gujarat said.
Pitroda had been appointed head of the Overseas Congress with the assignments of networking with NRIs and foreign politicians to popularise the Congress and organising interactions and seminars like the ones scheduled for Rahul.