Congress signals resolve to fight laws against 'love jihad'
Legislation controversy appears to have set the stage for a political and legal battle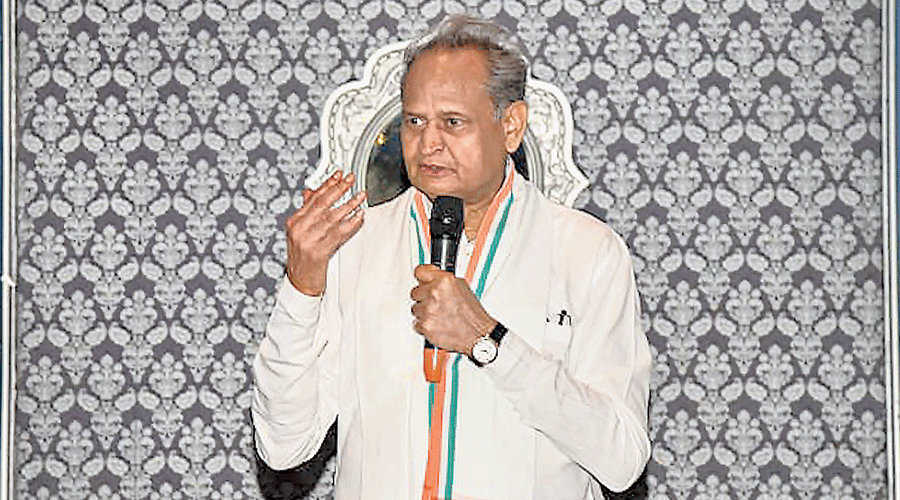 ---
---
The Congress has signalled a resolve to fight BJP-ruled states' plan to enact laws against "love jihad", with Rajasthan chief minister Ashok Gehlot saying any curbs on citizens' freedom to choose their life partners would be unconstitutional and would not stand in a court of law.
Gehlot accused the BJP of propounding the scurrilous theory of "love jihad" — which portrays Hindu women who marry Muslim men as victims of a larger conspiracy to convert and radicalise them — "to divide the nation & disturb communal harmony".
"Marriage is a matter of personal liberty, bringing a law to curb it is completely unconstitutional and it will not stand in any court of law," he tweeted.
"Jihad has no place in love. They are creating an environment in the nation where consenting adults would be at the mercy of state power. Marriage is a personal decision & they are putting curbs on it, which is like snatching away personal liberty.
"It seems a ploy to disrupt communal harmony, fuel social conflict and disregard constitutional provisions like the state not discriminating against citizens on any ground."
Senior ministers in Madhya Pradesh, Uttar Pradesh and Haryana have spoken of criminalising "love jihad" through legislation although junior Union home minister G. Kishan Reddy told Parliament in February that "love jihad" was not defined in law and the central agencies had reported no such instances.
While the emotive issues that the BJP so effectively deploys to further its majoritarian politics have often found the Congress on the defensive, the "love jihad" legislation controversy appears to have set the stage for a political and legal battle.
Soon after Gehlot's comments, T.S. Singh Deo, a senior minister in Congress-ruled Chhattisgarh, tweeted: "Love jihad an exhaustingly bigoted term coined by BJP carried forward through the media propagandists has now reached levels of severity. The hatred and intolerance has crept so deeply that they are now brazenly planning laws against consensual interfaith marriages."
He added: "A marriage is a personal and domestic matter, affecting chiefly the two parties concerned and partly their families — Pandit (Jawaharlal) Nehru had the most practical analysis for the sacred institution, which is now being compartmentalised with bigotry and hatred towards certain sect.
"Marriage is and has always been a personal choice for consenting adults — socially and constitutionally. Try all they can to attack the sovereignty of India, we shall stand strong to uphold the integrity of our Constitution and this great nation."
Congress sources confirmed that Punjab chief minister Amarinder Singh too would oppose the BJP-ruled states' plan to restrict inter-faith marriages.
Article 21 of the Constitution allows every citizen to marry according to their choice. The Hindu Marriage Act and the Special Marriage Act too allow consenting adults to marry across castes and religions.
In a recent case from Kerala that had attracted national spotlight, the Supreme Court had ruled: "The right to marry a person of one's choice is integral to Article 21 (which defines right to life and personal liberty) of the Constitution."
The apex court had set aside a Kerala High Court order that had annulled the marriage of Hadiya, a Hindu woman who had converted to Islam and married a Muslim man, on a complaint from her father.
Justice D.Y. Chandrachud had said: "The choice of a partner whether within or outside marriage lies within the exclusive domain of each individual. Intimacies of marriage lie within a core zone of privacy, which is inviolable. The absolute right of an individual to choose a life partner is not in the least affected by matters of faith.
"The Constitution guarantees to each individual the right to freely practise, profess and propagate religion. Choices of faith and belief as indeed choices in matters of marriage lie within an area where individual autonomy is supreme…. Neither the state nor the law can dictate a choice of partners or limit the free ability of every person to decide on these matters. They form the essence of personal liberty under the Constitution."