Congress sees fraud in Narendra Modi govt's sale of Pawan Hans
Party questions credentials of consortium that got the bid, calling the move 'a tutorial on turning a PSU into a loss-making unit before sale'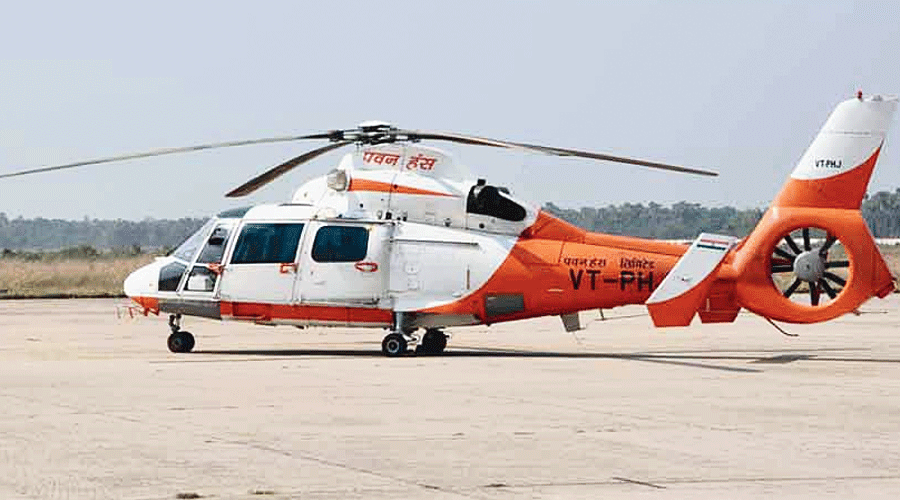 A Pawan Hans copter.
File photo
---
New Delhi
|
Published 02.05.22, 03:39 AM
|
---
The Congress on Sunday said the Narendra Modi government's sale of the Pawan Hans helicopter service provider was a fraud in the garb of divestment.
The party not only questioned the credentials of the consortium that got the bid, it also alleged under-pricing and termed the exercise "a tutorial on turning a PSU into a loss-making unit before sale".
"Is that disinvestment? No, it is a fraud," Congress spokesperson Gourav Vallabh said.
He stressed that Pawan Hans, which was a joint venture of the Indian government and ONGC, was the biggest helicopter company in South Asia with 42 helicopters, a flying experience of over 10 lakh hours and several helipads.
In a media release on April 29, the government had said: "The strategic disinvestment transaction was implemented through an open, competitive bidding process supported by a multi-layered consultative decision-making mechanism involving Inter-Ministerial Group, Core Group of Secretaries on Disinvestment and the empowered Alternative Mechanism."
The consortium's bid too was cleared by the Alternative Mechanism, which included highways minister Nitin Gadkari, finance minister Nirmala Sitharaman and civil aviation minister Jyotiraditya Scindia.
"The BJP's inept handling of the economy is no news now," Vallabh told a news conference.
"The BJP government has magically made good companies and sectors struggle. They are violating all prudence and common logic to find a way out of the financial mismanagement caused in the last eight years. In the series of miscalculated and injudicious disinvestment decisions to justify their financial policies, they are committing a series of blunders."
Vallabh added: "The Modi government has sold 51 per cent stake in Pawan Hans to Star9 Mobility Private Limited for Rs 211.14 crore. The reserve price for the sale of this 51 per cent majority stake was fixed at Rs 199.92 crore. The other two bidders that participated made bids of Rs 181.05 crore and Rs 153.15 crore, respectively. It is surprising that the two bidders quoted rates below the reserve price."
He went on: "While this may seem like a normal disinvestment, there are several things that raise the eyebrows. M/s Star9 Mobility Private Ltd is a consortium of M/s Big Charter Private Limited, M/s Maharaja Aviation Private Limited and M/s Almas Global Opportunity Fund SPC and was set up just six months ago on October 29, 2021. M/s Star9 Mobility Private Ltd doesn't have any helicopters of its own while M/s Big Charter Private Limited has just three helicopters in its fleet."
Vallabh added: "Maharaja Aviation has no details on the Internet. On its Facebook account, it only flaunts photographs of Baba Ramdev. What the relation of this company is with Ramdev is not known to us. Also, M/s Almas Global Opportunity Fund SPC is set up under the jurisdiction of Cayman Islands and has no correlation or experience in this sector."
"Modi used to talk about the Cayman Islands in the context of black money. There is also a court case ongoing between M/s Big Charter Private Limited and M/s Ezen Aviation Private Limited in Delhi High Court."
Vallabh said the Pawan Hans employees' union had expressed interest in participating in the divestment process and had also recommended that Pawan Hans be merged with ONGC or made a subsidiary company but the government ignored this.
"Pawan Hans made a net profit of Rs 242.78 crore in 2016-17 but has gone downhill since 2018-19, making losses of Rs 63.67 crore in 2018-19 and (that of) Rs 33.15 crore in 2019-20. A company that has been consistently making net profits suddenly starts making losses since 2018-19 around the same time when the disinvestment was first processed."
Vallabh asked how the government could presume that a consortium floated barely six months ago had better credentials than ONGC and the Pawan Hans employees' union.
"Why the hurry to sell off the company that was continuously making profits? How was Pawan Hans turned into a loss-making unit? This was a tutorial on turning a PSU into a loss-making unit before sale," he said.
"The company was forced to invest in the Rohini helipad as part of shoddy financial management."