Congress sees betrayal in FDI relaxation
Congress criticised the decision to allow foreign retailers to sell online even before setting up physical stores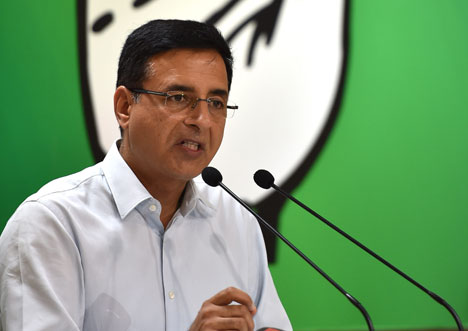 ---
---
The Congress on Thursday said the relaxation in foreign direct investment rules announced a day earlier clearly showed that the Narendra Modi government was working in the interest of big multinational companies while harming millions of small Indian businessmen and manufacturers.
A statement issued by party communications chief Randeep Surjewala said: "The relaxations given to foreign single-brand retailers is an assault and a betrayal of Indian businessmen and small manufacturers. This decision will hurt the interests of three crore Indian businessmen and 15 crore employees engaged by them. Their livelihood will be in peril. This government has worked to serve the interests of foreign companies."
The strict condition imposed by the Manmohan Singh government that required investors dealing in single-brand retail to make 30 per cent procurement locally was intended to boost domestic traders.
Following the relaxation, investors will be able to get around the sourcing condition by piggybacking on the average exports from its manufacturing base in the country in the first five years. After that period, the equivalent value of local sourcing of inputs can be met through annual exports.
The government has also decided that procurements made in India shall be considered as local sourcing irrespective of whether the goods procured are sold in the country or are exported.
The Congress criticised the government's decision to allow foreign retailers to sell online even before setting up physical stores.
Surjewala's statement said: "The Modi government has fulfilled the demands of foreign companies. They are no more obliged to open showrooms in India before they start selling their goods online. Physical stores opened in India bring investments, jobs, larger involvement of Indians. Now they can do business just by launching their websites. This is a serious disadvantage."
Surjewala said the inclusion of 30 per cent local sourcing to the procurement made for exports means investors can sell 100 per cent imported goods in India.
The government's decision also means that procurement records will not be checked for the first seven years, the Congress pointed out.
"The provision for 30 per cent local procurement helped small and medium industries and traders, which are the primary growth engines of the Indian economy. Now both manufacturers and traders will be badly hit and their potential to compete with multinationals will get completely destroyed over a period of time," Surjewala said.
The Congress added that the latest changes would spell doom for the Make in India scheme and facilitate monopolistic control by foreign companies.