Congress seeks action against ED officials over selective leaks
Party leaders question intent of government in targeting Rahul Gandhi and say the exercise is designed to damage his family's reputation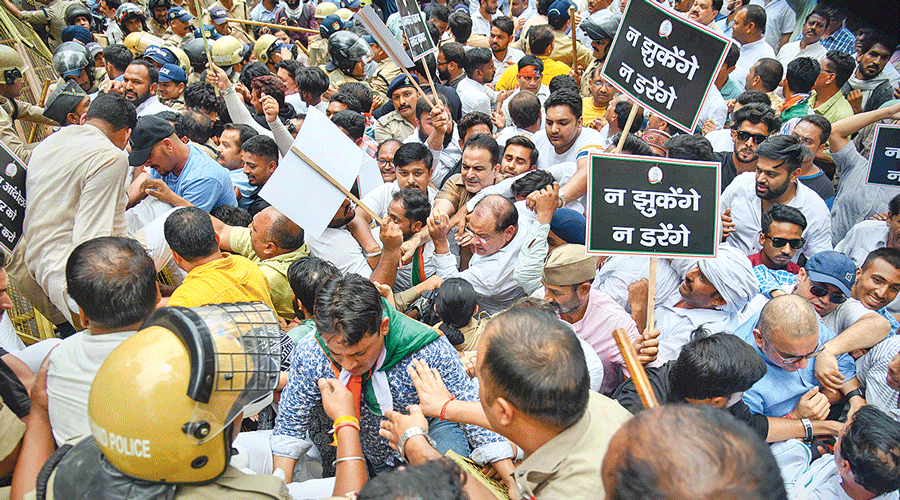 Police stop protesting Congress workers in Dehradun on Thursday.
PTI picture
---
New Delhi
|
Published 17.06.22, 01:59 AM
|
---
The Congress on Thursday took strong objection to the selective leaks about Rahul Gandhi's questioning by the Enforcement Directorate (ED) and sought breach-of-privilege proceedings against Delhi police officers who allegedly roughed up party MPs during protests.
Former Union minister P. Chidambaram said: "The so-called interrogation… the ED is bound to conduct the interrogation in absolute confidence. If the ED begins to leak one side of the story, biased story, prejudiced story, distorted story… what kind of an investigation is this? This is clearly a biased and prejudiced investigation. The fact that the ED has leaked selective parts of the interrogation according to their understanding clearly establishes bias and prejudice."
Several other Congress leaders questioned the intent of the government in targeting Rahul and said the ED exercise was designed to damage the reputation of the Gandhi family. The Congress had earlier asked the government to allow cameras and telecast the questioning live instead of planting wrong stories in the media.
Rahul, who was asked to appear for questioning again on Friday, has written to the ED to reschedule it to Monday because of his mother's illness.
Congress office-bearers held a review meeting at the party headquarters on Thursday morning to discuss the course of action on "excesses" by the Delhi police. A large number of leaders and party workers have suffered injuries and are feeling humiliated because of being "treated like criminals and terrorists" by the police.
Members of Parliament available in Delhi were called and told to meet Lok Sabha Speaker Om Birla and Rajya Sabha Chairman M. Venkaiah Naidu to lodge formal complaints.
After leading a delegation of Rajya Sabha members to Naidu's residence, leader of the Opposition in the House Mallikarjun Kharge alleged mental and physical torture of MPs by the police and demanded strict action.
Chidambaram, who was part of the delegation, said: "We have given a written complaint on the manner in which the police have acted over the last three days. They have assaulted MPs of both the Houses. They have taken away MPs as far as the border of Haryana. They have held them without a written order for eight hours or 12 hours. They denied them food and water and when they asked 'have you arrested us', they did not give an answer."
He explained: "As it turns out, they did not arrest any MP. If they arrest an MP, they are obliged to inform the respective presiding officer of the House, the Speaker or the Chairman. But no information has been given to Parliament about the arrest of any MP. If they have arrested any MP, they should produce him before the magistrate within 24 hours. They have not arrested and taken any MP to the magistrate. So it is absolutely clear that they detained MPs for eight hours to 12 hours without a written order, without a legal order, it is a clear violation of liberty."
The Congress veteran added: "Apart from their privileges as members of Parliament, they have a fundamental right under Article 19 and Article 21. Every fundamental right has been violated, every privilege has been violated. We have appealed to the Chairman to take action for breach of privilege as well as breach of liberty and let the process of law take its course. Let the matter be referred to the privileges committee and let the privileges committee hold an inquiry. They cannot treat any citizen, much less an elected MP, in the manner they treated us."
Adhir Ranjan Chowdhury, who led the delegation of MPs to the Lok Sabha Speaker, said: "We have explained the nature of atrocities inflicted upon us. Many of our MPs suffered injuries. The police acted as if we are terrorists. We have no problem with Rahul's interrogation but why can't we show solidarity with our leader and walk along with him on the road? Is that a crime? They turned the entire area into an impregnable fortress, disallowing any movement and attacking whoever steps out. Are we living in a dictatorship? Woman MPs were tortured; our MP from Tamil Nadu wept inconsolably after returning home last night because of the humiliation she suffered."
Chowdhury added: "So much poison in what the Prime Minister describes as Amrit Kaal. There have been so many agitations in India. Has any government resorted to such a crackdown? Did we stop people from coming out, did we enter party offices to beat up people? But they tried to crush our completely peaceful protest."