Congress leader Rahul Gandhi brands government's use of Israeli spyware 'treason'
Opposition demands to know why government used a 'warfare weapon' against Indian citizens, 'duped' Supreme Court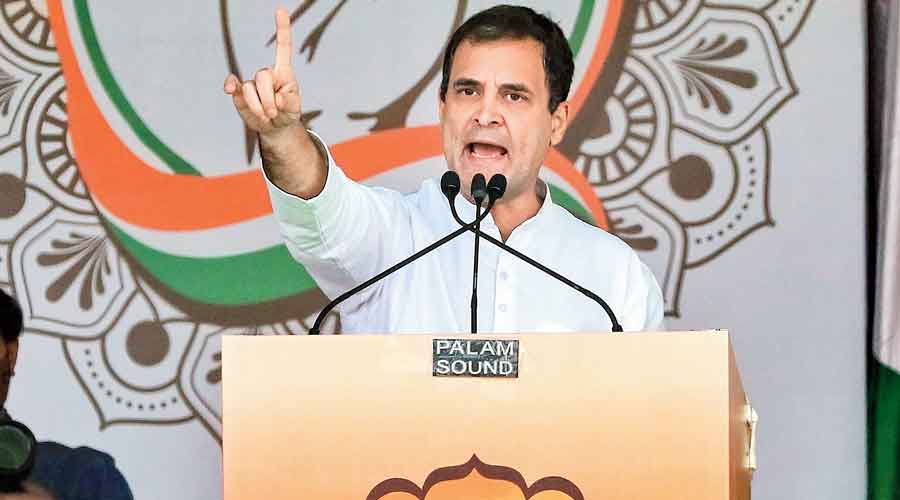 Rahul Gandhi
File Picture
---
New Delhi
|
Published 29.01.22, 08:14 PM
|
---
Congress leader Rahul Gandhi has blasted the government, accusing it of treason and undermining democracy by using Pegasus spyware to snoop on everyone from politicians to the public and government functionaries.
"The Modi Government bought Pegasus to spy on our primary democratic institutions, politicians and public. Govt functionaries, Opposition leaders, armed forces, judiciary all were targeted by these phone tappings. This is treason. The Modi Government has committed treason," the Congress leader said on Twitter.
At a hastily called news conference, the party said the government had "deceived" Parliament and vowed to raise the issue in the House which opens on Monday. The party said it will consult Congress MPs and Opposition leaders to finalise the strategy. 
Other Congress leaders also moved to attack the government in the wake of a story in The New York Times detailing how Pegasus software made by Israeli company NSO was sold to India and other governments around the world.
Speaking at the news conference, veteran  Congress leader Mallikarjun Kharge asked, "Why did Modi Govt act like the enemies of India and use a warfare weapon against Indian citizens? Illegal snooping using Pegasus amounts to treason. No one is above the law and we will ensure that justice is served." 
Also at the press conference, Congress leader Ranjeet Singh Surjewala accused the government of deceiving both Parliament and the Supreme Court. He noted that Prime Minister Narendra Modi's government had even sworn an affidavit that it had submitted to the Supreme Court unequivocally denying the allegations that it had bought Pegasus.
He said the party would call on the Supreme Court to "issue appropriate penal proceedings against this government for deliberately deceiving the apex court," Surjewala said.
The Congress went into attack mode after the New York Times said that India had bought Pegasus spyware as part of a $2-billion arms deal with Israel. During the Parliament's Monsoon Session, the government had stonewalled Opposition questions about whether it had bought Pegasus and refused to confirm reports that it was using it against journalists, opposition leaders and even Supreme Court judges.
"It is clear the Modi government is the deployer and executor of the illegal and unconstitutional snooping and spying racket… This is a brazen hijack of democracy," Surjewala said. 
The Pegasus purchase deal was struck during Prime Minister Narendra Modi's state visit to Israel in July 2017, the first-ever by an Indian prime minister, the newspaper reported. Modi's visit was considered a huge diplomatic coup for the host country and its prime minister Benyamin Netanyahu.  
'Cordial, stage managed' 
The visit was "notably cordial" the newspaper said, "complete with a carefully staged moment of him (Modi) and Prime Minister Netanyahu walking together barefoot on a local beach." It added: "They had reason for the warm feelings. Their countries had agreed on the sale of a package of sophisticated weapons and intelligence gear worth roughly $2 billion -- with Pegasus and a missile system as the centrepieces."
Netanyahu visited India a few months later and "in June 2019, India voted in support of Israel at the UN's Economic and Social Council to deny observer status to a Palestinian human rights organisation," the newspaper said. It was "a first for the nation (India)" in voting against Palestinian interests, the paper noted. In a break with tradition, Modi did not visit Palestine during his Israeli visit.
The Government specifically denied in Parliament that it had bought Pegasus. IT minister Ashwini Vaishnaw said: "In the past, similar claims were made regarding the use of Pegasus on WhatsApp. Those reports had no factual basis and were categorically denied by all parties, including in the Supreme Court." He added: "The press reports of 18 July, 2021, are also an attempt to malign the Indian democracy with its well-established institutions." Pegasus was allegedly used to tap almost 300 phone numbers. A Supreme Court-appointed panel is now looking into the issue. 
A year of investigation 
The New York Times investigation headlined "The Battle for the World's most Powerful Cyberweapon", which had lasted over a year according to the newspaper, said that Pegasus sales had become a key part of Israel's diplomatic efforts globally. Israel, it said, through its export licensing system, "has ultimate say over who NSO (which manufactures Pegasus) can sell its spyware to. This has allowed Israel to make NSO a central component of its national security strategy for years, using it and similar firms to advance the country's interests around the world."
India's relations with Israel have become stronger in recent years, particularly after the BJP came to power. In 2016 President Pranab Mukherjee visited Israel. Also, Israel has become India's second-largest arms supplier after Russia. 
The New York Times detailed how Mexico had used Pegasus to break into BlackBerry communications used by members of drug cartels, resulting in the arrest of major gang leaders including Joaquin Guzman Loera, better known as El Chapo. Notably, Mexico has in recent years abstained on Palestinian issues at the UN. However, later Mexican government agencies began tapping phones of journalists and opposition leaders.
'Pegasus sold Poland, Hungary, UAE, Saudi Arabia'
Pegasus has been sold, according to The New York Times, to the Polish and Hungarian governments which have both been accused of trying to curtail democracy and clamp down on opponents. Hungary's leader Viktor Orban said the newspaper "deployed the hacking tools on opposition figures, social activists, journalists who conducted investigations against him and families of former business partners who had become bitter enemies." It added: "But Orban has been Israel's devoted supporter in the European Union."
Besides that, Pegasus has been sold to the governments of the UAE and Saudi Arabia which have both used it against their rivals. Sales to the Saudis were banned after the killing of Washington Post columnist Jamal Khashoggi but restored later. At the time, Netanyahu was negotiating peace deals with Arab countries including Saudi Arabia, the UAE and Bahrain which ended in what is called the Abraham Accords. 
'FBI ran trials too'
The US newspaper said the US Federal Bureau of Investigation (FBI) had run trials of Pegasus but had ultimately decided not to use it after discussions lasting over two years with the FBI and the US Justice Department. The newspaper added that "European investigators have quietly used Pegasus to thwart terrorist plots, fight organized crime and, in one case, take down a global child-abuse ring, identifying dozens of suspects in more than 40 countries."
Besides that, it said: "In a broader sense, NSO's products seemed to solve one of the biggest problems facing law enforcement and intelligence agencies in the 21st century: that criminals and terrorists had better technology for encrypting their communications than investigators had to decrypt them. The criminal world had gone dark even as it was increasingly going global."