Congress Kerala chief in misogyny row
Mullapally Ramachandran called the health minister 'Covid Rani'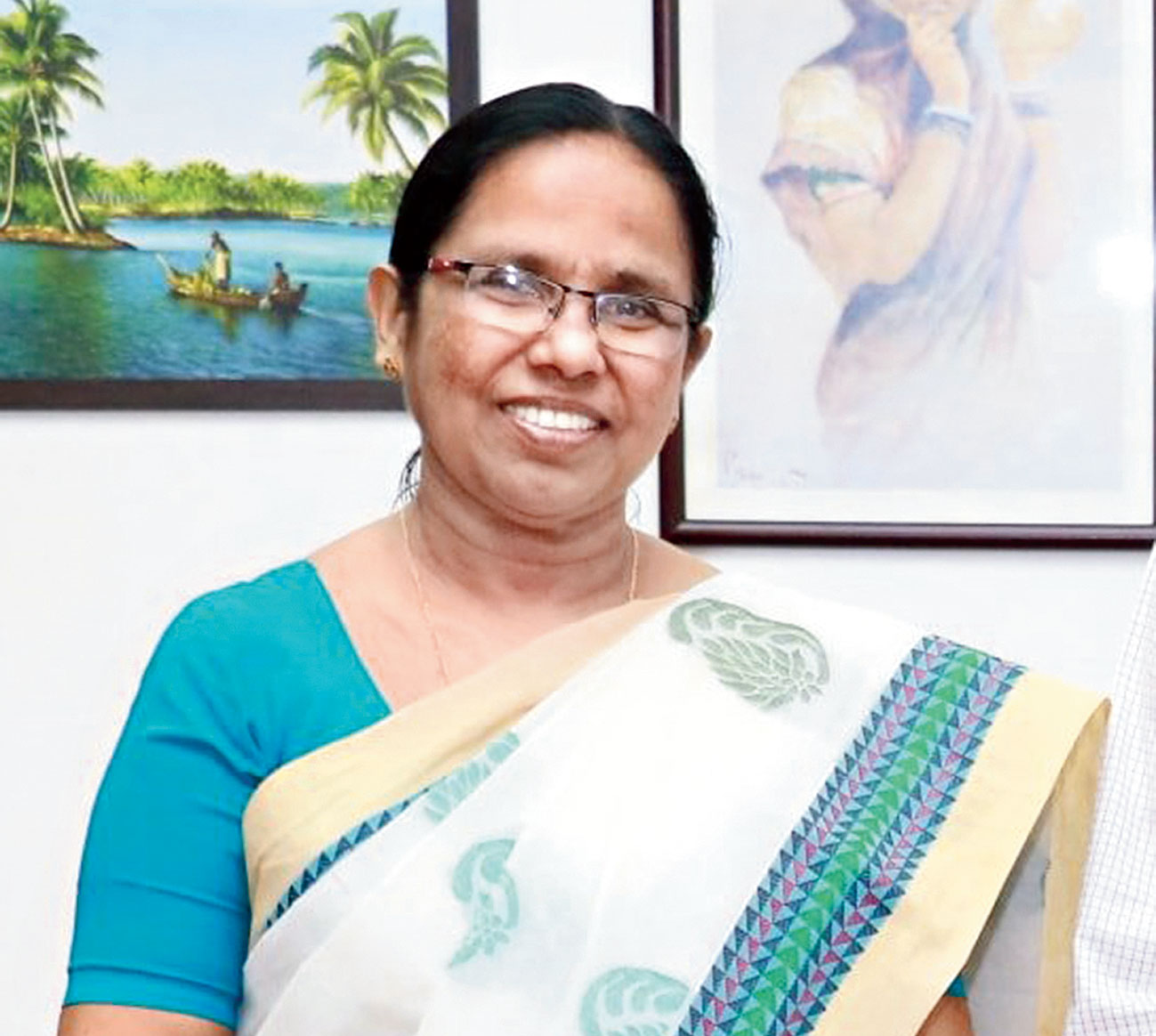 KK Shailaja
Telegraph picture
---
Bangalore
|
Published 22.06.20, 03:10 AM
|
---
Kerala Congress president Mullapally Ramachandran has faced intense criticism for his misogynistic comments against K.K. Shailaja, the Left health minister who has been widely praised for her handling of the pandemic.
While kicking off his party's protest against the Covid-related policies of the Centre and the state government on Friday at Kerala capital Thiruvananthapuram, Ramachandran tried to give the entire credit for the battle against the coronavirus to health workers and said "our health minister camped there only as a guest artiste".
The Congress leader went on to add: "She is trying to be known as Covid Rani…. (She) was earlier in a competition to get the title of Nipah Rajkumari."
Ramachandran has refused to apologise, saying he had not made any sexist comments. When reporters asked him on Saturday whether he would apologise, he shot back: "What are you talking. Apologise? Me? Nothing doing."
Kerala Women's Commission chairperson M.C. Josephine told The Telegraph on Friday that she would take action against Ramachandran, a former Union minister. "What Mullapally has said is purely misogynistic and we will register a complaint against him," Josephine said.
CPM politburo member Brinda Karat urged Ramachandran to apologise for his "sexist" remarks.
Social media users also lashed out at Ramachandran.
The Kerala Opposition coalition is divided over Ramachandran's misogynistic comments. While some in the Congress have come out in support of its leader, its alliance partner Indian Union Muslim League has distanced itself from the remarks.
IUML state general secretary K.P.A. Majeed told reporters on Sunday that Ramachandran "should have avoided" such comments. "He should decide what he has to say. But the IUML's position is that he should have avoided such remarks," Majeed said.
Former chief minister Oomen Chandy and leader of the Opposition Ramesh Chennithala are among those who have backed Ramachandran.
"He has already explained. So I don't want to add anything to make it a controversy," Chandy said.
Chennithala said: "He was quoted out of context by extracting one or two words from his detailed speech. Mullapally has made it clear that he has not made any sexist comment."