'Monetisation plan reeks of crony capitalism'
Congress: Centre squandering wealth built in 60 years
The justification of collecting Rs 6 lakh crore for facilitating Rs 100 lakh crore investments in the infrastructure sector is an obvious absurdity, Ashwani Kumar said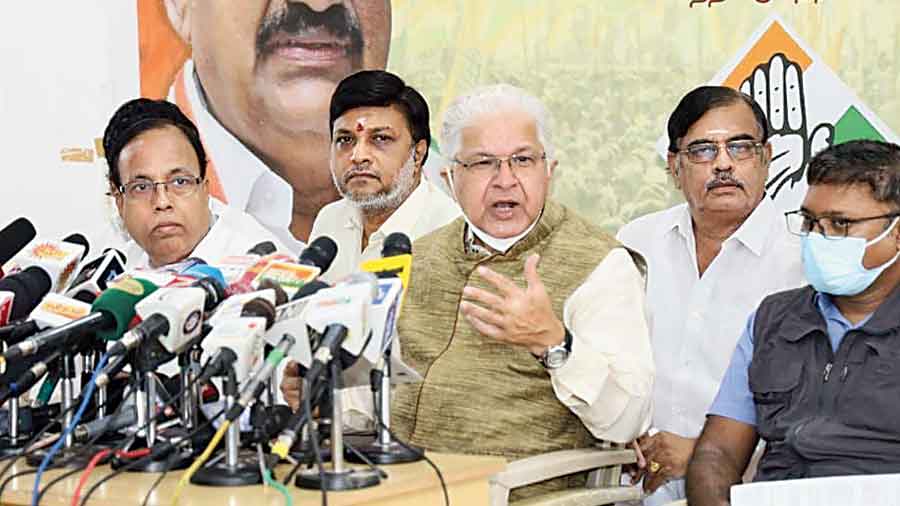 Ashwani Kumar (centre) speaks at the news conference in Chennai on Thursday
Telegraph picture
---
Chennai
|
Published 03.09.21, 12:36 AM
|
---
The Congress on Thursday condemned the Centre's National Monetisation Pipeline policy through which assets valued at Rs 6 lakh crore and created over 67 years were sought to be "squandered away".
Congress veteran Ashwani Kumar said at a news conference held in Chennai that the Centre sought to alienate the assets, including those of critical value to the nation.
"The Centre's announcement seeks to legitimise favours to the favourite few at the cost of public interest and in breach of the government's fiduciary obligations," he said.
Terming the policy as "tailor-made for rent seeking", he said: "It reeks of crony capitalism, and the fire sale of the nation's assets through the mechanisms indicated is manifestly against national interest."
The Congress said these agreements would lead to increase in prices in key public sectors.
It will lead to a rising concentration of economic power in crucial sectors at the cost of price stabilisation and result in loss of public revenues for 30-50 years, Kumar said.
Terming it as "a transfer of taxpayer-funded assets to a handful of business groups", he said it would lead to job insecurity as well.
The justification of collecting Rs 6 lakh crore for facilitating Rs 100 lakh crore investments in the infrastructure sector is an obvious absurdity, the Congress veteran added.