Congress gamble in Shiromani Akali Dal's fort Bathinda
There is no love for Congress either, and the fragmenting of AAP in Punjab has left many voters disillusioned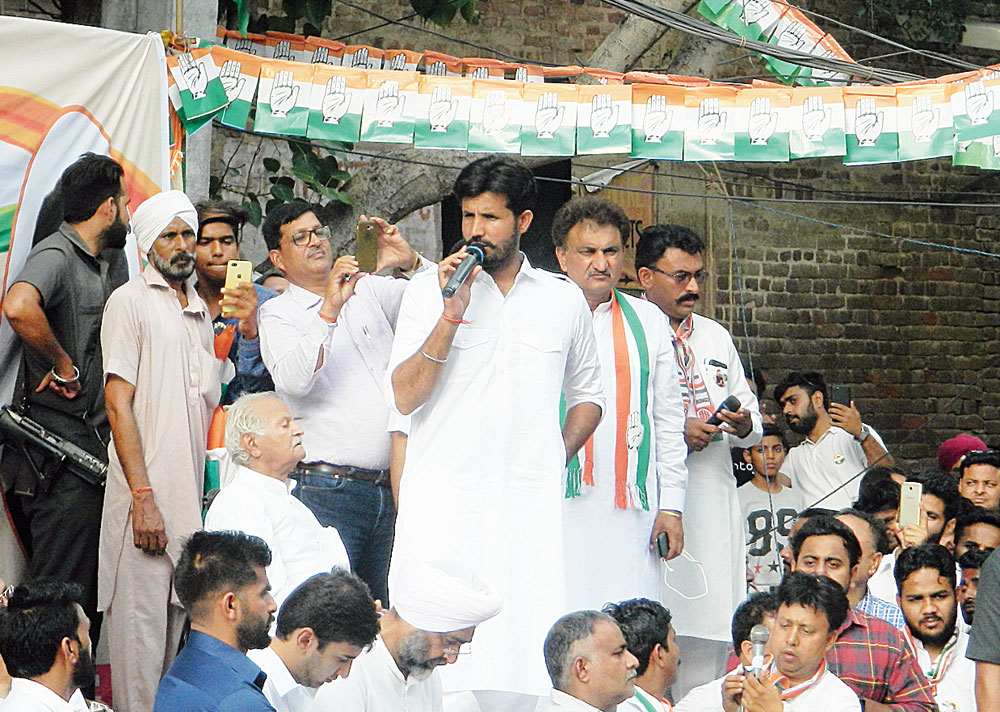 ---
|
Bathinda
|
Published 20.05.19, 10:03 PM
---
Bhatinda Rural segment, where Nandgarh is, had voted for AAP MLA Rupinder Kaur in 2017. "We never saw her from then until now when she came to canvass for AAP candidate Baljinder Kaur. We had so much faith in them to improve our schools and hospitals like Delhi. But after they split, neither AAP nor any of its rebels have a chance," said Krishan.
Harsimrat has more support in Badal village with its city-like planned sewer network, and date palms lining the streets. "The Badals have given us everything. Captain has not kept all his promises, but the minimum wage has gone up," said agricultural worker Ved Prakash of Badal village, who earns Rs 300 for a day's work, still lower than the minimum wage of Rs 311.12. He earned Rs. 250 in 2017, which was also lower than the rate of the day. "But because we are from Badal, our MP at least listens to us."
Grocer Amanpreet Singh intervened: "There is never any shortage in Badal, but there are winds of change at the Centre."
But election management is a Badal forte. Despite the low ratings of AAP and its splinter, Khaira's PEP, their share is expected to cut into the Congress's. In a speech on the last day of campaign on Friday, Congress minister Navjot Sidhu made a veiled attack on saboteurs. He said in a rally: "Run, those having a share of 75:25, run Badal run. Here comes Sidhu, vacate the chair."
Critics saw it as a snipe at CM Amarinder Singh.
"With a margin of 20,000 at their peak, the Akalis should — in the normal course of things — lose here," said CPIML-Liberation's Sukhdarshan Natt, who is based in Mansa, which is in the Bathinda constituency. "The local Congress is strongly anti-Badal, its candidate Amrinder Warring unseated the Akalis in Gidderbaha Assembly segment after 17 years. He has the support of his party's central leadership too. Sidhu has revealed the fear that Captain's support may vanish at the last moment, as some quid pro quo for the Akalis to go slow in Patiala."
CM's wife Preneet Kaur is the Congress nominee from Patiala which she lost to AAP last time.
"The vote for the Congress is a negative one. People are expressing their resentment against the Modi and the Akalis," Natt said.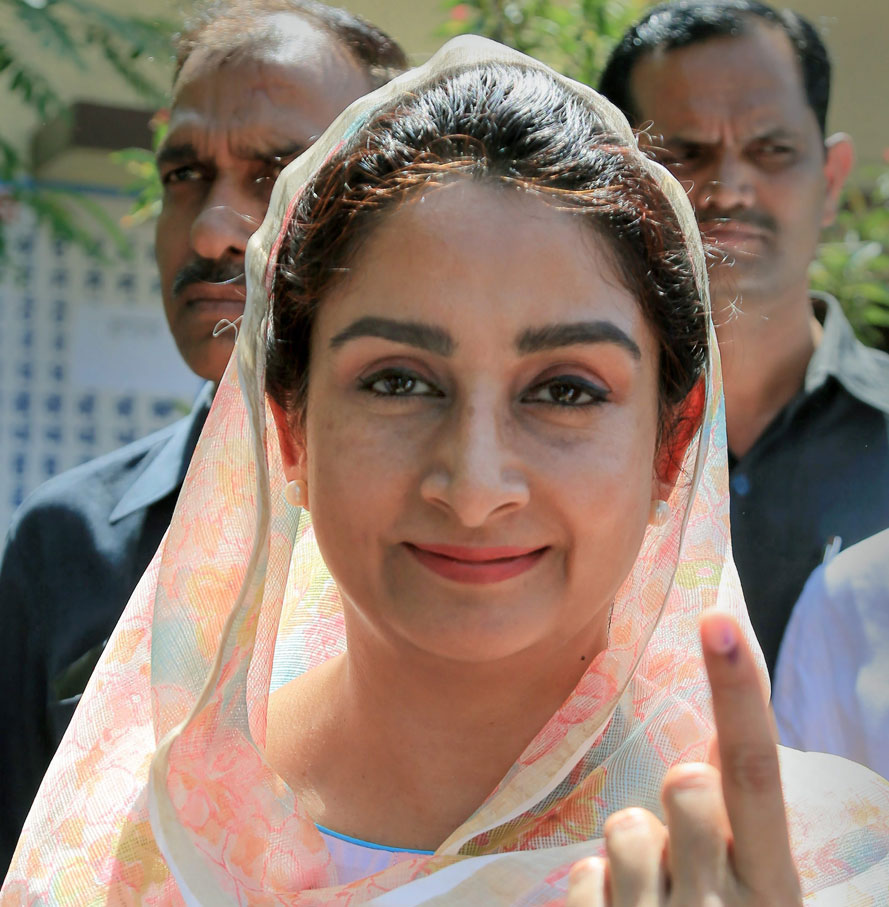 The word veehazaar— 20,000 in Punjabi — is haunting Union food processing minister Harsimrat Kaur Badal in her party Shiromani Akali Dal's pocket borough of Bathinda.
The Akalis have held the seat since 1996 with just one break in 1999 for the CPI, which is supporting rebel AAP MLA Sukhpal Khaira from the Lok Sabha seat as part of the Punjab Democratic Alliance this time. The Badals' eponymous village is in Bathinda's Lambi segment, held by Akali patriarch Parkash Singh Badal since 1997. Despite this, at the peak of the party-led 10-year regime, Harsimrat Badal defeated Parkash Badal's estranged nephew Manpreet — now Punjab's finance minister — by less than 20,000 votes in the 2014 Lok Sabha election in which 11.77 lakh votes were polled here.
That veehazaar is a number that is repeated by Congress candidate Amrinder Singh Raja Warring in every public meeting.
The Akali problem is that of clout — depleting since their loss in the Assembly polls in 2017. The diminishing patronage of the Akalis has weakened their hold on their core Jat Sikh voters. The Congress is the natural pole for the consolidation of the rest.
"What's the use of being a VIP constituency? There is never a specialist at the Ghudda Civil Hospital when you need one. We are in debt because of going to private hospitals," said
Kewal Krishan, a farm worker, in Nandgarh, 17km from Badal village.
When in power, the Badals drew flak for transfers of renowned doctors to this hospital. Locals blame the Congress of vendetta, but many here wonder if change is inevitable.
"Akali Dal was our No. 1 party. They lost because they always chose to side with the rich and the large farmers. They gave free power to landlords, but landlords charge us sharecroppers Rs 50 per hour to pump water," said Charanjeet Kumar, a sharecropper and shopkeeper in Nandgarh. "Akalis still got support because we thought of them as caretakers of our area. But when there are no new jobs in our area, and everything from power to fertilisers is more expensive, Modi introduced demonetisation which ruined one harvest, and then GST which has cut my profits by half."
There is no love for the Congress either, and the fragmenting of AAP in the state has left many voters disillusioned.
"The (state) government is sitting on my application for farm loan waiver from a cooperative bank for the last two months. Captain (chief minister Amrinder Singh) has hiked power bills so much that my (bi-monthly) bill goes up to Rs 4,000. Neither party cares about the poor. In the name of the poor, Modi has gone and given reservation for upper castes. If the BJP comes back, Brahmins will sit on our head," Charanjeet added.