Congress confronts tricky side of tie-ups
Tribal party's chief wanted 40 seats but Congress gave it just 1-- and now tribals are themselves split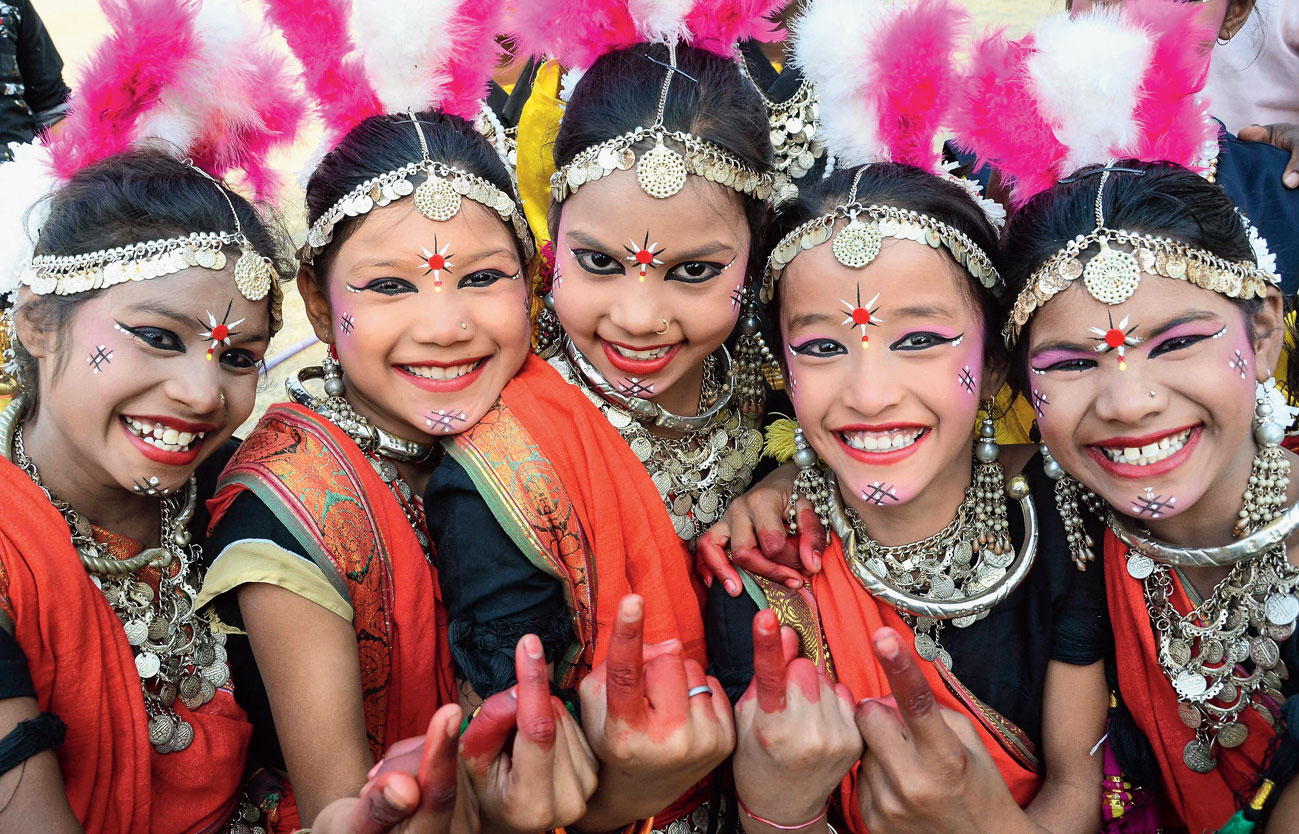 Tribal children at a voter awareness campaign in Jabalpur on Saturday for the Madhya Pradesh Assembly elections.
(PTI)
---
Dhar(MadhyaPradesh)
|
Published 24.11.18, 09:44 PM
|
---
The Congress's efforts to deal with a new tribal outfit in Madhya Pradesh has laid bare how academic theories about the importance of alliances in confronting the Narendra Modi juggernaut may be upstaged by the political complexities on the ground.
It had seemed a masterstroke on Rahul Gandhi's part when he nullified the danger posed by the Jai Adivasi Yuva Shakti, which had threatened to slice away the Congress's traditional tribal votes by proposing to contest 60 of the 230 Assembly seats.
Although the negotiations with the Congress started with a demand for 40 seats, Jai Adivasi chief Hiralal Alawa, an AIIMS doctor, eventually settled for merely one seat — for himself. The Congress had clearly pulled off a coup.
That's when trouble erupted. Alawa's disgruntled lieutenants broke away, accusing him of bartering away tribal interests for personal gain and pledging to build a new organisation.
On the other hand, the allocation of even that single seat to Alawa has set off a churning in the Congress, which the 133-year-old party is now quietly trying to contain.
Alawa initially demanded the Kukshi Assembly seat in Dhar, which the Congress had won 10 times since 1957. In 2013, Congress candidate Surendra Singh Baghel won Kukshi by over 45,000 votes. A near-revolt broke out in the state Congress as the new ally eyed its safest seat.
Already the Congress had had an uncomfortable experience last year when it handed the safe Assembly seat of Vadgam in Gujarat to Dalit activist Jignesh Mevani. Many in the party had then grumbled that "these activists" accuse the Congress of being a regressive force and yet try to use it for their own growth.
Alawa was somehow persuaded to contest from Manawar, another seat in Dhar, which the Congress had lost by a small margin in 2013. Alawa agreed but there was a hitch.
Gajendra Singh Rajukhedi, veteran tribal leader and three-term Congress MP from Dhar, had already declared his intention of contesting from Manawar and had been toiling in the constituency for the past one year.
Rajukhedi, known as "Bhaiya", is a popular figure in the area and could have won the seat easily. Former chief minister and Congress veteran Digvijaya Singh asked him to meet Rahul.
Rajukhedi, a Nehru-Gandhi family loyalist, gave up his claim when Rahul explained to him how Jai Advasi could, unless appeased, harm the Congress across the Dhar-Khargone-Jhabua region.
Alawa began campaigning in Manawar but to an apathetic response from the voters, who insisted they would vote only for "Bhaiya".
Digvijaya asked Rajukhedi to help Alawa. This was a time when Congress veteran Satyavrat Chaturvedi, a trusted lieutenant of Sonia Gandhi, had deserted the party after his son Nitin was denied a ticket. Nitin has now jumped into the fray with Samajwadi Party support.
In the run-up to this Assembly election alone, the Congress and the BJP have had to expel more than 100 dissidents and still face a serious challenge from at least 40 rebel candidates.
But Rajukhedi chose to abide by the leadership's instructions. He himself drove the new candidate around the constituency for two days, asking his supporters to vote for his "younger brother".
"These alliances do throw up unforeseen situations but the party president's orders can't be defied," Rajukhedi told The Telegraph.
"If Rahulji tells me to
support somebody, it becomes my duty. I am doing a door-to-door campaign and 200 of my boys are moving with Alawa every day."
Asked whether the Congress was sincerely helping him, Alawa said: "Yes, Gajendrabhai has offered all possible help. The Congress is honestly with me."
This does not, however, mean Alawa is going to win. Local Congress workers are seething, saying the imposition of an "outsider" had made a mockery of their decade-long hard work.
"Rajukhedi may again contest the parliamentary elections or be content with whatever he has got so far, but we were loyal to him and won't be left in the lurch like this," a local Congress politician said.
"There should be a succession process. We are not prepared to work for Alawa now."
Many in the Congress privately argue that the party has done well to lure Jai Adivasi's leader away, and it should now ensure that the entire organisation is finished.
"We cannot allow a new outfit to snatch our traditional support base," a party source said.
"The Congress has suffered a lot with the Bahujan Samaj Party taking away the Dalit vote. If a tribal outfit emerges in Madhya Pradesh, we are finished here too. It will be all over for the Congress in the state anyway if we fail to win power this time."