Congress chief ministers meet Rahul and tell him to stay on
Rahul did not relent, said sources, but whether chief ministers opted to step down is unclear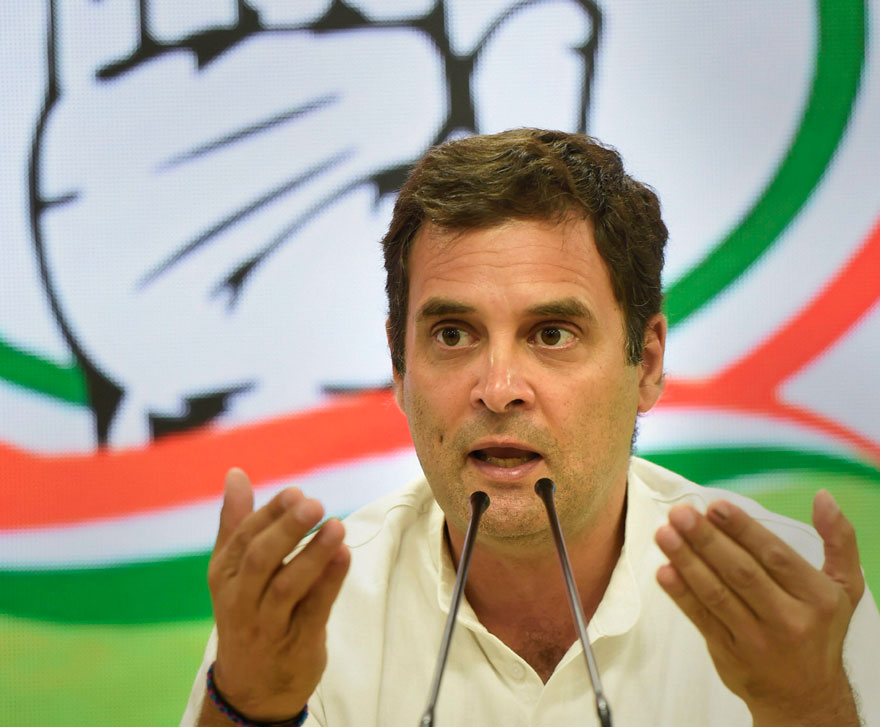 ---
---
Chief ministers of five Congress-ruled states on Monday are believed to have requested Rahul Gandhi to stay on as party president in a two-hour meeting at his residence but Rahul, according to sources, did not relent.
Sources told PTI that the chief ministers took moral responsibility for the party's defeat in the Lok Sabha elections and some offered their resignations, but confirmation on this is unavailable. When the chief ministers were asked about resignations, Rajasthan chief minister Ashok Gehlot told the assembled media after the meeting: 'In elections, victories and defeats happen. But the high command decides on the future course of action. This issue has already been resolved as all chief ministers have offered their resignations at the meeting of Congress Working Committee on May 25.... The entire CWC had resigned and authorised Rahul Gandhi to bring about changes in the party. So this issue of resignation has already been resolved on May 25. It is no issue now.' 
Gehlot himself had come under fire at the May 25 CWC meeting when Rahul had pointed out that the Rajasthan chief minister had focused on campaigning for his son in the Lok Sabha election, instead of leading the campaign in the state. Hours before the meeting, Gehlot had said on Twitter that the chief ministers would show their solidarity and own up responsibility for the party's poor performance in the general elections.
The five chief ministers  - Gehlot, Kamal Nath, Amarinder Singh, Bhupesh Baghel and V Narayanasamy - also expressed their views on the party's debacle in Lok Sabha elections. 
The meeting at Rahul's residence took place in the wake of a continuing suspense over his future role in the party and a spate of resignations by Congress leaders at various levels. 
'It was a good meeting, we conveyed to him the feelings of our party workers and leaders. We hope he takes note of our views and does the right thing. Today's meeting was to brainstorm over the dismal performance of the party in the general elections, especially in the Hindi heartland states where the Congress won three Assembly elections December last," Gehlot said, while addressing media after the meeting.

He lauded Rahul for doing issue-based politics in the 2019 general election over the BJP's "politics in the name of fanatic nationalism". "The BJP managed to hide their huge failures behind their fanatic nationalism with the help of enormous resources and government machinery at hand (In the Lok Sabha elections). Narendra Modi (Prime Minister) kept doing politics in the name of the army, misguided people in the name of religion. BJP representatives kept playing the caste and religion card. But ,in spite all odds, Congress president Rahul Gandhi did his best to make it an issue based election and take BJP head on," he said.
This was the first meeting of the chief ministers with the party resident after he offered to resign in May.