Congress blames 'power lust' and 'no policy' for Kashmir situation
'No policy on J&K and Pakistan. Hollow words (and) episodic, pendulum-like shifting stands'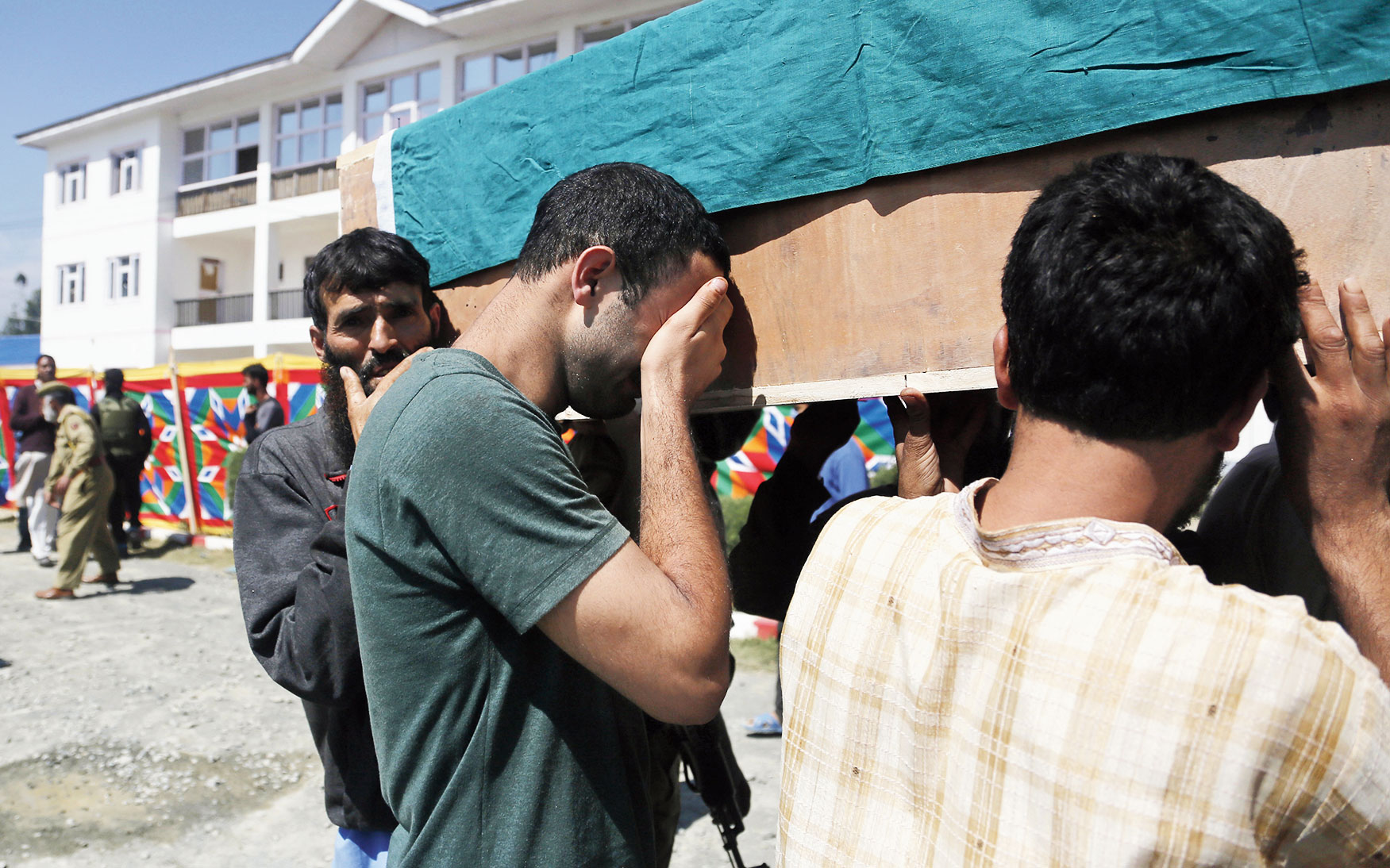 ---
New Delhi
|
Published 21.09.18, 09:33 PM
|
---
The Congress on Friday said the Narendra Modi government's incompetence and "naked power lust" had created a never-before situation in Jammu and Kashmir, and censured the Centre for agreeing to a meeting of the Indian and Pakistani foreign ministers.

Party spokespersons Abhishek Singhvi and Manish Tewari were commenting before the government called off the meeting citing the "brutal" killing of three policemen in the insurgency-hit state and Pakistan's release of postage stamps glorifying Kashmiri militant Burhan Wani.
"There is no policy on J&K and Pakistan. Hollow words (and) episodic, pendulum-like shifting stands can't be called policy," Singhvi said, blaming Prime Minister Modi for the drift.
"What we have seen is naked power lust, utter hypocrisy. They made an unnatural alliance (with the People's Democratic Party) and then dumped the state mid-stream."
Singhvi said the Manmohan Singh government had with great difficulty brought normality back to the state but suggested the situation had now got out of hand again.
"Policemen are being abducted and killed. There are resignations of policemen out of fear. The (Union) home ministry is saying it is not because of fear; as if they are quitting their jobs joyously."
Responding to a question, Singhvi criticised the University Grants Commission's directive to educational institutions to celebrate September 29 as "Surgical Strike Day".
"This is a government of diktats — when to sit, to stand up, to celebrate. What celebrations? Was the surgical strike conducted for this — a rise in terror attacks and mutilated bodies?" he said.
"Will the government celebrate Demonetisation Day for the job losses and harm to the economy it caused?"
Singhvi said that Kashmir was "burning" and "the Prime Minister is busy taking selfies".
"It is more than a question of partisan politics now: it is about national pride. Have you ever seen this situation before? People (have) got totally alienated and terrorism has been mainstreamed," he said.
"More than 400 soldiers have been killed since 2014 in addition to 256 civilians. There is a 500-time increase in ceasefire violations, and our soldiers' bodies are regularly mutilated."
Singhvi expressed shock at the government's sudden decision to accept a meeting of the Indian and Pakistani foreign ministers.
"What is the policy towards Pakistan? What has changed on the ground? The terror attacks have only increased," he said.
"Only two days ago, the US administration said that (terror groups) Jaish and Lashkar were flourishing in Pakistan and exporting terror."
Told that the government may be rethinking the meeting, he shot back: "Why the need for a rethink after the attack by the Congress? What is their policy?"
Tewari said in a series of tweets: "The NDA/BJP government's Pakistan policy is a textbook example of how not to conduct international relations. It will soon become a case study in international relations schools worldwide under the broad rubric subject called 'disastrous diplomacy'."
Tewari added: "From 2004 to (20)14, the BJP proclaimed that terror & talks cannot get together. From 2014 (to) 2018, they mislead the country
that they are talking to Pakistan about terror. On a day when BSF jawan Narendra Singh was mutilated & tortured to death, for the government to announce that two
foreign ministers would meet in New York (is) tantamount to mocking his heroic sacrifice.
"The NDA/BJP should hang its head in shame for all the bluff, bluster, rhetoric that ultimately turned out to be a castle of empty words. These were the people of straw that we entrusted our national security to in 2014."