Congress asks government about AN-32 upgrade
Why was upgradation of AN-32 not completed despite India & Ukraine agreement of 2009, asked Randeep Surjewala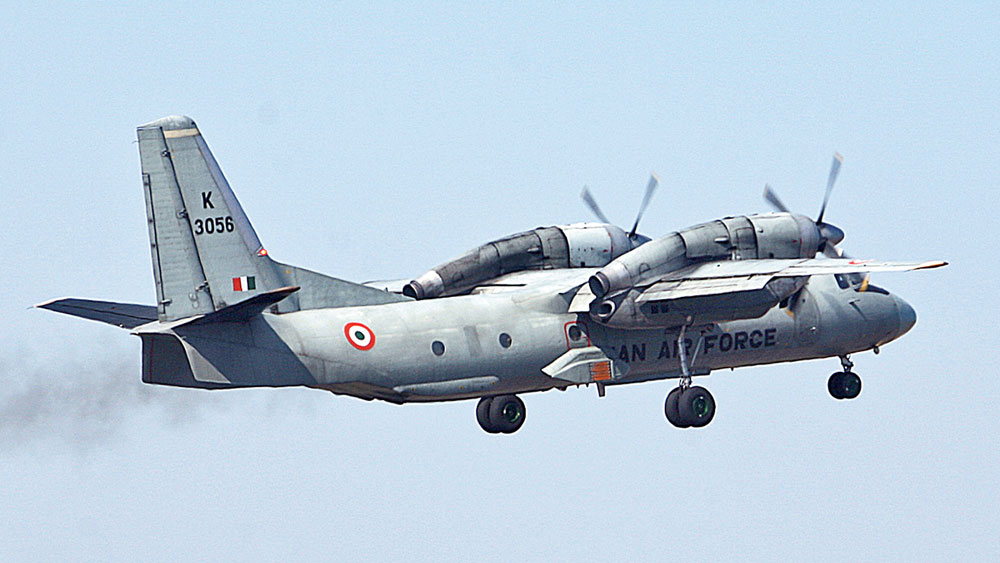 An Indian Air Force AN-32 transport aircraft
A file picture
---
New Delhi
|
Published 06.06.19, 12:59 AM
|
---
The Congress on Wednesday asked the Narendra Modi government why the AN-32 aircraft had not been upgraded despite an agreement with Ukraine and whether better planes should have been used for difficult terrains.
Expressing concern over the Indian Air Force's AN-32 aircraft that has been missing for the past three days in Arunachal Pradesh, Congress communications chief Randeep Surjewala said in a series of tweets: "Pray for safety & well-being of IAF personnel & crew of missing aircraft. Sad to know that missing AN-32 had SOS Signal Unit that's obsolete. The Government must tell — Why was upgradation of AN-32 not completed despite India & Ukraine agreement of 2009?"
The search for the aircraft, which had 13 persons on board, continued in the remote and mountainous Mechuka area in West Siang district on Wednesday.
"The Government & the Defence Ministry must also answer: 1 Why was the AN-32 flying on that treacherous terrain when we have a better aircraft to fly on that route? 2 Why has the Government not allocated sufficient defence budget to replace the AN-32 fleet? 3 Despite a similar accident earlier of losing an AN-32 aircraft en route Andaman and Nicobar islands & which was not tracked, why have mitigating measures not been taken by Defence Ministry?" Surjewala said in another tweet.
The Congress leader uploaded two media reports along with his tweets; one about the alleged obsolete signal unit of the aircraft missing in Arunachal and another about the aircraft that went missing two years ago near the Andamans.
The Manorama report on the AN-32 missing in Arunachal says that the search-and-rescue beacon installed on board the aircraft has not been in production for 14 years.
"While it may still have been operational, no signal from the unit has been detected by rescuers trying to home in on the wreckage of the aircraft. The AN-32, with 13 on board, stopped communicating with ground controllers at 1pm on Monday," the report said.
The AN-32 had taken off from Assam on Monday for the Mechuka Air Landing Ground in Arunachal Pradesh.
In 2009, India signed a $400-million contract with Ukraine to upgrade and extend the operational life of its fleet of AN-32s.
The report Surjewala referred to pointed out that the upgraded AN-32 RE aircraft, 46 of which have been inducted, come equipped with two contemporary emergency locator transmitters considered at least a generation ahead of the unit onboard the aircraft missing in Arunachal Pradesh. This AN-32 had still not been upgraded.
The other report uploaded by Surjewala was on the AN-32 that vanished over the Bay of Bengal two years. That aircraft had 29 people on board.