Scribes' union forsees threat to democracy
Concern after Allahabad High Court denies bail to Siddique Kappan
Democracy will be in trouble if journalists are not given freedom of life and liberty while doing their job, says scribes' union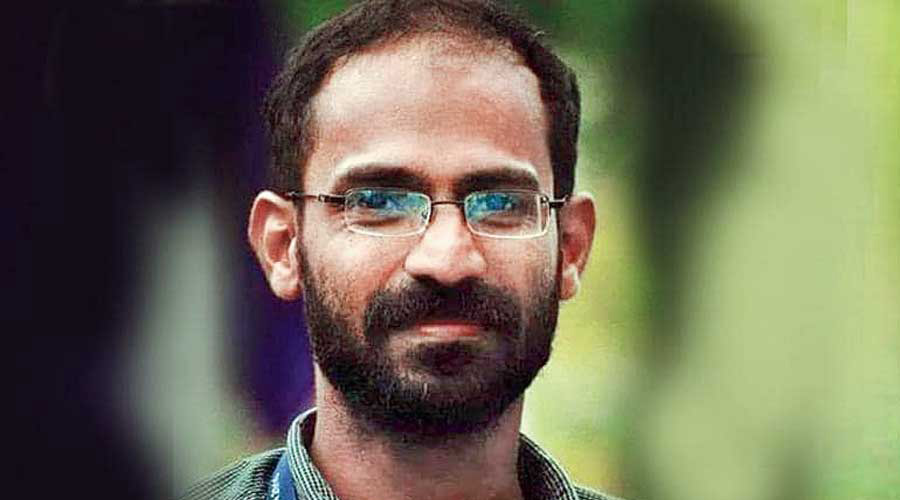 Siddique Kappan
File picture
---
Lucknow
|
Published 05.08.22, 01:54 AM
|
---
The Lucknow bench of Allahabad High Court on Thursday rejected the bail plea of Siddique Kappan, a Malayalam journalist arrested on terror charges in Uttar Pradesh 22 months ago on his way to cover the gang rape and murder of a Dalit teen in Hathras.
The Delhi unit of the Kerala Union of Working Journalists (KUWJ), of which Kappan was secretary when he was arrested in Mathura on October 5, 2020, regretted the verdict and said "democracy will be in trouble if journalists are not given freedom of life and liberty while doing their job". It spoke of a possible appeal before the Supreme Court.
The prosecution accuses Kappan, who was travelling in a cab with three members of the Popular Front of India (PFI) that some consider an extremist Muslim organisation, of conspiring to incite caste conflict and violence by exploiting the Hathras incident.
The single-judge bench of Justice Krishan Pahal said Kappan "had no work at Hathras" and that his trip with "co-accused persons who don't belong to media fraternity is a crucial circumstance going against him".
"The defence taken by the applicant that he is a journalist and only owing to his professional duty, he wanted to visit the place of Hathras incident stands nullified by the averments in the charge-sheet and the persons, he was arrested with, while travelling in a car," it said.
Referring to the prosecution's charge that the four accused were collecting funds and aimed "to break the social harmony and incite violence", the court said that "the tainted money being used by the applicant and his colleagues cannot be ruled out".
"It is alleged in the FIR that the applicant and other co-accused persons were heading to Hathras where ill-fated incident of rape and murder had been committed with an intention to create caste struggle and to incite riots," the high court said.
"The said persons are said to have been collecting funds and running a website (on) 'Carrd.com'. It was also revealed that the said collected funds were used to break the social harmony and incite violence… the website was found to be full of misinformation thereby distorting true facts.... There was another website operated by the laptop (of the accused) which had the heading 'Justice for Hathras'."
The high court quoted Kappan's counsel Ishan Baghel as saying: "No pamphlets or printing paper were being carried… by the applicant or other co-accused persons in the car. The applicant is unaware of any website with the name of 'Carrd.com' and 'Justice for Hathras'. The applicant was going to Hathras to discharge his duty as a professional journalist…. The applicant is not a member of PFI…. The applicant was not going to Hathras on the directions of PFI and furthermore that PFI is not banned organisation altogether."
Uttar Pradesh police had, after searching Kappan's home in Delhi, claimed to have found documents with references to the Students' Islamic Movement of India (Simi), banned as a terrorist organisation.
Quoting Baghel on this, the high court said: "A friend of the applicant was writing a book on ex-SIMI leaders and sent a draft of his book to the applicant. The said friend had also requested the applicant to conduct interviews of ex-SIMI leaders who were now MPs from Trinamool Congress. This is an open secret."
Kappan had approached the high court in January after a Mathura court rejected his bail plea on July 6 last year.
Madhuvan Dutt Chaturvedi, a lawyer who had represented Kappan in the Mathura court, said the prosecution had claimed that a princely sum of Rs 25,000 had been deposited in the journalist's bank account over different dates, and that this money was meant for the illegal activities he is accused of plotting.
The high court order does not mention any sum.
"Further, while there is no proof that he is a member of the PFI, which is not banned, anyway, the entire case is built around his alleged identity as a PFI member," Chaturvedi told The Telegraph.
The Uttar Pradesh police had on October 5, 2020, registered a case under Section 116(6) of the CrPC, accusing Kappan and the three others of travelling to Hathras with the motive of breaching peace.
On October 7, a second case was lodged against them under terror law UAPA's Sections 17 (raising funds for terrorist act) and 18 (conspiracy), and Indian Penal Code Sections 124A (sedition), 153A (promoting enmity between groups), 295A (malicious acts to outrage religious feelings) and 120B (criminal conspiracy).
Sections 65 and 72 of the Information Technology Act, 2000, dealing with tampering of computer sources and breach of confidentiality and privacy were also slapped on them.
Kappan's co-accused are Athikur Rehman of Muzaffarnagar, Masood Ahmad of Bahraich and Mohammad Alam of Rampur.
The KUWJ's Delhi unit said it was "deeply disappointed" at the denial of bail and was "making all efforts to challenge the order before the honourable Supreme Court of India".
"We are of the view that reporting an incident can't be termed as a banned activity under the UAPA…. We collectively feel that democracy is essential for any nation to survive," said the statement by KUWJ Delhi unit secretary D. Dhanasumod and president Prasoon S. Kandathu.
"Journalism and journalists are an integral part of democracy and they need to exercise and enjoy freedom of speech and expression to function within a democracy. Democracy will be in trouble if journalists are not given freedom of life and liberty while doing their job.
"…We hope that the Honourable Supreme Court will interfere to protect the freedom of one of our colleagues by giving a clear message against misuse of the draconian laws against journalists in particular and journalism in general.
"Also, we fear that some of the findings of the Lucknow bench of Allahabad High Court seem to be in conflict with the norms of journalistic conduct issued by the Press Council of India under the Press Council Act of 1978."