Communal polarisation BJP's sole poll plan, says Sitaram Yechury
The CPM general secretary slams Union government for fanfare over evacuation of Indians from war-ravaged Ukraine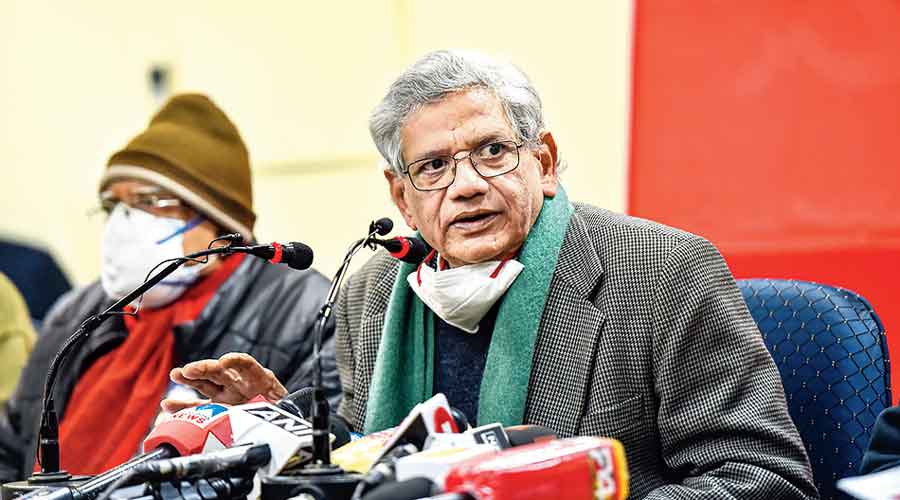 Sitaram Yechury.
File photo
---
Bangalore
|
Published 02.03.22, 12:53 AM
|
---
CPM general secretary Sitaram Yechury on Tuesday cautioned the BJP and the RSS that their dependence on communal polarisation as the sole electoral weapon would endanger social harmony and the integrity of the country.
"They think the only way they can garner people's support is by sharpening communal polarisation, which is the only electoral weapon in the hands of the BJP to continue to win elections," he said while inaugurating the party's four-day Kerala state committee meeting in Kochi.
"With this process they are actually destroying not only social harmony but also the unity and integrity of our country," Yechury warned, citing recent examples.
"The Uttar Pradesh chief minister talks about 80-20," Yechury said, referring to Yogi Adityanath's controversial remarks about the state election being a contest between 80 per cent and 20 per cent of the population. Against the backdrop of allegations of communalising the polls, Adityanath had claimed he had not made the comment in terms of religion.
The ongoing hijab row in Karnataka and Prime Minister Narendra Modi's recent statements were only "sharpening the communal polarisation", Yechury cautioned.
The CPM leader slammed the Union government for using the evacuation of Indians from war-ravaged Ukraine as a photo op, forgetting that past governments had undertaken much larger airlifts without any fanfare or giving credit to the Prime Minister of the day.
"Our people are stranded there (in Ukraine) and a big photo op is going on for the last three days," Yechury said.
"India has a track record of evacuating more than 10 lakh people during the Gulf War, over a lakh during the Libyan crisis. But there were no photographs of people coming back with Indian flags and 'Thank you, Modi' postcards those days. This is part of the job the government has to do," the CPM leader said.
Yechury urged the government to ramp up efforts to quickly evacuate all Indian nationals from Ukraine by commandeering aircraft from private airlines.
"Now if you ask them, they would say we have sold Air India and hence don't have planes to bring back our people. (But) you have the right to commandeer aircraft from any airline in a state of emergency. So do that," he urged the government whose evacuation efforts have been questioned since not enough aircraft were being deployed to airlift stranded Indians.
Yechury noted that hostilities must stop immediately in Ukraine, whatever might be the reasons that triggered the war.
"Yes, the Russian invasion is not the answer. And that must end immediately. But then why did the situation reach this stage? That has to be resolved as well," he said, referring to how Nato forces have been bolstering their strength along Russia's borders.
Yechury recalled how America had promised the then general secretary of the Communist Party of the Soviet Union, Mikhail Gorbachev, that there would not be any eastward expansion of Nato.
"But since then the US has admitted everybody except Ukraine. Over 175,000 Nato troops are on Russia's borders and their missile systems are ready to reach Moscow in 15 minutes and Leningrad in five minutes, or so Russia claims. These are the threat perceptions Russia feels. This is something that has been built up," Yechury said.
"The Putin administration... went back to Russian chauvinism arguing Ukraine was always part of Russia and it was only the Bolsheviks who gave Ukraine an independent status…. This is a dangerous situation that has to be de-escalated. So this (war) has to stop immediately," he added.