Communal campaign targets idli-dosa batter maker in Bangalore
The hate drive has accused the company of using cattle bones and calf rennet in its products and urged 'every single Hindu' not to use them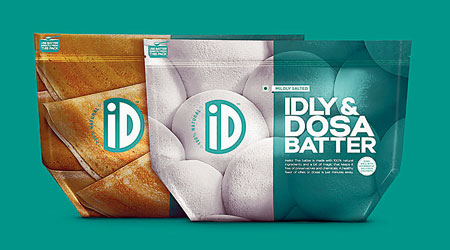 Batter of iD Fresh Food
Sourced by The Telegraph
---
Bangalore
|
Published 08.09.21, 01:57 AM
|
---
A city-based food start-up that sells packaged idli and dosa batter across  India and abroad is the latest target of a communal campaign that has accused the company of using cattle bones and calf rennet in its products and urged "every single Hindu" not to use them.
The campaign, started by Chennai-based Twitter user Srinivasa S.G., who proclaims to be a "proud Hindu/Indian" on the social media platform, also referred to the religious identity of the company promoters and employees.
The claims about the Bangalore-headquartered start-up iD Fresh Food (India) Ltd, which were not backed up with proof, were shared widely, commented upon and also circulated on WhatsApp.
iD Fresh Food called the allegations "baseless and fake propaganda" aimed at undermining the trust of millions of customers.
"We would like to clearly specify that iD uses only vegetarian ingredients to make its products. iD Idli-Dosa Batter is made from rice, urad dal, fenugreek and RO-water only, which are 100% natural and vegetarian agri-commodities. There are no animal extracts used in any of our products," the firm said in a Facebook message.
Srinivasa SG, who identifies himself on Twitter also as an "Indian Air Force veteran", "a soldier always" and "entrepreneur", had tweeted on September 4: "All the Chennai stores or supermarkets are selling the Idli/Dosa paste produced and marketed by iD Foods!! Do you know they mix Cows Bones & Calf Rennet to make Volume of the Batter? How many really know that this company employs only Muslims and it is Halal certified?"
"Every single Hindu should refrain from iD batter & products…," Srinivasa said in another tweet.
In another tweet, Srinivasa wrote: "iD Fresh Food, a private limited company, was founded in 2005 by P.C. Mustafa and his four cousins — Abdul Nazer, Shamsudeen T.K., Jafar T.K., and Noushad T.A…."
iD Fresh Food, which has units in multiple Indian cities including Calcutta, West Asia, the Far East and the US, was founded by P.C. Mustafa, who is the CEO. The company offers a wide range of ready-to-cook products like idli-dosa batter, Malabar parotta, curd and paneer, vada and filter coffee decoction.
 "We proudly manufacture healthy and authentic Indian products — with no chemicals or preservatives inside our world-class, state-of-the-art manufacturing facilities that fully comply with the Food Safety Management System. Such baseless and fake propaganda is unfortunate and it undermines the trust of millions of iD customers," the company said.
The communal campaign against iD has broadened a disturbing trend of attacks based on religious identity that has now permeated into the most basic of human services.
Last month, a Muslim bangle-seller in Madhya Pradesh's Bhopal and two Muslim brothers selling dosa in Uttar Pradesh's Mathura were assaulted by groups whose sole grouse was their religious identity. The Bhopal youth was accused of "posing as a Hindu" while the Agra brothers were roughed up as their stall was named Srinath Dosa Corner.
iD founder and CEO Mustafa's is a rags-to-riches story. The son of a coolie at a village in Kerala's Wayanad district, Mustafa made it to the National Institute of Technology-Calicut, where he graduated in computer science, and IIM Bangalore.
He started the venture with four of his cousins from a 50sqft establishment in Bangalore with just one grinder and Rs 25,000 in 2005.
iD Food raised Rs 35 crore from its first round of funding from Helion Venture Partners in 2014, by when the Bangalore-based firm had become a popular brand in south India.
iD Food raised another $25 million (Rs 170 crore) from Premji Invest headed by Wipro founder Azim Premji. ID Food had clocked revenues of Rs 100 crore in 2015-16 and never looked back. It has plants in half a dozen countries.
While the hate campaign did receive a lot of support through WhatsApp shares, many questioned the motive of the propaganda by Srinivasa against a hugely successful company.
"Could you please share the source of this information? You, sir, are spreading hate and I hope @Twitter takes cognisance of this and blocks the account for spreading false news," Twitter user Arvind Krishna Murthy responded to Srinivasa's tweet.
"No, there is nothing like adding additives or animal fat. It's only rice & dal. I have visited the plant and seen myself the process," tweeted Pandurangavittal V.N.
But there were others who declared they would not buy iD products. "Will never purchase such items…. N inform others too," tweeted Pranaw Kumar.