NRI Pandit claims Srinagar fire arson act by Islamists
His Facebook post ignites conspiracy theories, provide fodder for propaganda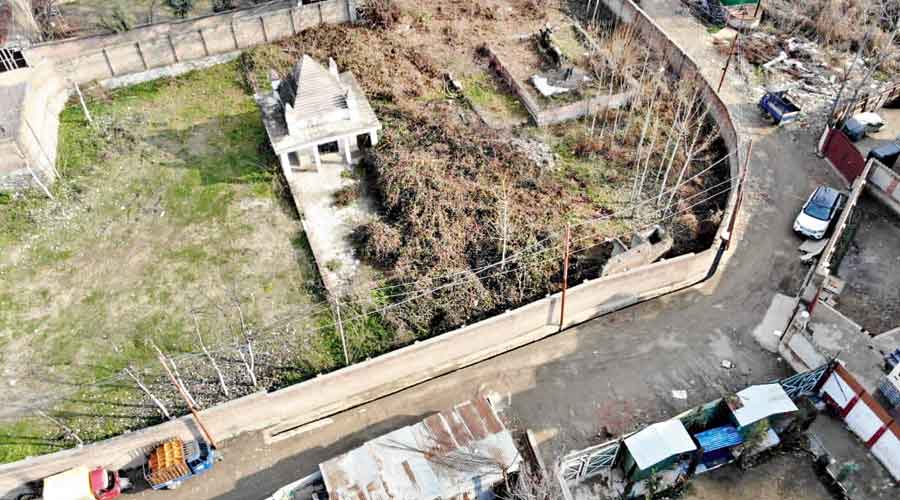 ---
|
Srinagar
|
Published 16.12.20, 02:06 AM
---
"Normality" in Kashmir means something as commonplace as a fire can ignite conspiracy theories, fodder for propaganda and a riddle about a temple.
On Sunday, a fire broke out at Rainawari in Srinagar's old city locality, apparently reducing a factory and two adjacent houses to ashes.
Soon, the ripples of what was a civic issue threatened to spread far beyond the Union Territory. Some Kashmiri Pandits, including a BJP leader, claimed that a temple was set ablaze in the area, triggering an unlikely spat between officers in the administration of Lt Governor Manoj Sinha and the Pandits.
Vimarsh Raina, who claims to be a doctor working abroad, posted purported images and videos of the fire on Twitter and said "one of the oldest Arya Samaj Hindu temples" at Motiyar in Rainawari had been burnt.
"This is how Hindus are being persecuted by radical Islamists in my homeland in Kashmir," Raina posted on Facebook.
Jammu and Kashmir police lodged an FIR against Raina, following which his Facebook account has been deactivated.
The police action came after tensions flared up on social media as several Pandits, including BJP leader Ashwini Chrungoo and journalist Aditya Raj Kaul, waded into the controversy.
So much so that the police were compelled to issue a counter-claim. "Some unknown anti-social miscreant has posted with criminal intention... a baseless post regarding alleged act of arson at the Arya Samaj Temple, Motiyar, Rainawari, when the said mandir is safe and intact. No act of arson has occurred at the said temple," a police spokesperson said on Monday.
The deliberate act of malice would have wounded feelings of Hindus within the district and elsewhere in the country and world, the police added. "The said rumour/tweet bears potential to create feelings of enmity and hatred between religious groups," the police said and released multiple pictures of the temple to show it was intact.
The Srinagar district administration said the fire broke out some "200 metres away from the Shri Vaital Bhairav temple".
Many Pandits, however, were adamant and said the officers were lying. BJP leader Chrungoo said the Srinagar administration was "misguided in this regard".
Chrungoo posted on Facebook: "It was the Yagyashalla of the Arya Samaj Mandir under the control of Arya Samaj Committee, Rainawari. I have many a time visited this complex near a small bridge in Motiyar. In fact, it was a donated property and was usurped post 1990s by the Akhoons."
Chrungoo was referring to former National Conference MLA Syed Akhoon. Rainawari is his ancestral home.
Rainawari was a mixed neighbourhood where many Kashmiri Pandits lived before militancy. Many of them have sold their property.
Kaul, a Kashmiri Pandit journalist based in Delhi, said the police FIR was aimed at intimidating exiled Kashmiri Pandits further and asked the lieutenant governor to take the police "to task".
"Shame on Srinagar Police, Kashmir. It shows there is no damage to Arya Samaj Temple by showing photos of another — Vital Bhairav Temple in Motiyar Rainawari. Officer who wrote this juvenile press release without probe or reaching out to exiled Kashmiri Pandits should be fired," Kaul tweeted.
The tweet claims there are two temples in Motiyar locality and it was the Arya Samaj temple that was torched.
Akhoon, the National Conference leader, said there was no Arya Samaj temple in Motiyar while the Vital Bhairav temple was safe. He said the fire destroyed his cousin Rafiq Ahmad Akhoon's factory.
"It is not my property. I had a home in Rainawari which was torched thrice (during militancy) and I have never gone to the area since," NC leader Akhoon told The Telegraph.
Cousin Rafiq said the fire had destroyed his factory and two adjacent houses.
"I had purchased a house from a Kashmiri Pandit in 2004 which I converted into a glass factory. The police came yesterday to enquire about the fire and I produced all the documents to prove I had legally purchased the property," he said.
Rafiq said the Vital Bhairav temple was more than 100 metres away from his factory and there was no Arya Samaj temple in the locality. "It (the Vital Bhairav temple) is perfectly all right," he said.