CJI push for speedy case disposal
Many cases related to murder, rape, kidnapping and other criminal offences are pending in the top court for the past one decade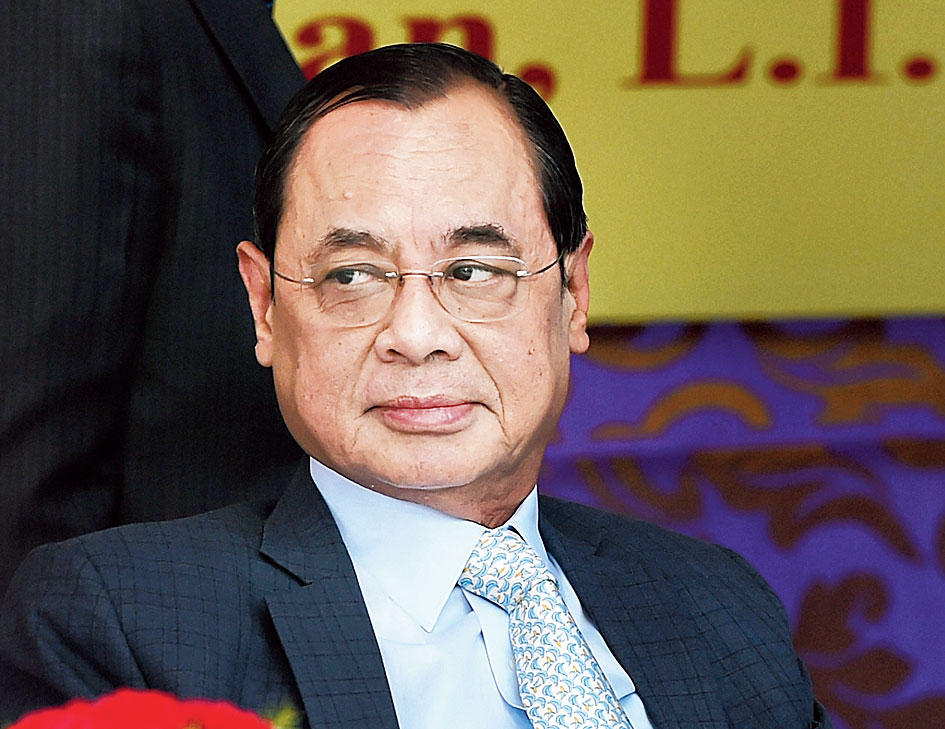 Chief Justice Ranjan Gogoi
(PTI)
---
New Delhi
|
Published 11.10.18, 10:41 PM
|
---
New Chief Justice of India Ranjan Gogoi is understood to have recently given a pep talk to the chief justices of all high courts, underlining the need to expedite criminal and civil cases to bring down the number of pending trials from 3 crore in courts across the country.
According to sources, the CJI held a video conference with the high court chief justices during which he also advised all judges to ensure punctuality, not to take unnecessary leave and be available in courts during working hours.
Justice Gogoi told the chief justices to quicken the process of recommending names for the appointment of high court judges. More than 400 of the 1,079 judges' posts in the high courts are lying vacant.
The sources said the CJI had decided to henceforth have criminal matters listed on every Wednesday and Thursday before at least five benches of the Supreme Court for early disposal.
Many cases related to murder, rape, kidnapping and other criminal offences are pending in the top court for the past one decade.
Recommendations
The Supreme Court collegium of CJI Gogoi and Justices Madan B. Lokur and Kurien Joseph has recommended the appointment of judges to the high courts in Tamil Nadu, Karnataka and Kerala.
According to a resolution adopted on Thursday, the collegium recommended the elevation of three additional judges — Justices R.M.T. Teeka Raman, N. Sathish Kumar and N. Seshasayee — as permanent judges of Madras High Court.
For Kerala High Court, the collegium has recommended the names of advocates V.G. Arun, N. Nagaresh and P.V. Kunhikrishnan for nomination as judges of Kerala High Court.
The collegium, however, said the recommendations for elevation of advocates S. Ramesh, Viju Abraham and George Varghese as judges of Kerala High Court had been "deferred" for the time being.
"The proposal for their elevation would be taken up for consideration by the collegium after some time," the apex court said.
On advocate P. Gopal, the resolution said "the collegium deems it appropriate not to recommend his name for the present, as he does not qualify the existing norms, his average net professional annual income for the preceding five years being less than the prescribed income… applicable in case of Bar members".
The collegium has recommended the names of district judges T.V. Anilkumar and N. Anil Kumar for appointment as judges of Kerala High Court.
The Supreme Court collegium has also recommended the appointment of the following additional judges of Karnataka High Court as permanent judges: Justices Kempaiah Somashekar, K. Somappa Mudagal, Sreenivas H. Kumar, John Michael Cunha, Basavaraj A. Patil, N.K. Sudhindrarao and H.B.P. Sastry.