Citizenship crackdown protesters unlock voice
Faced with a ban on gatherings, the Internet campaign is part of a series of protests against the arrests of Jamia Millia Islamia students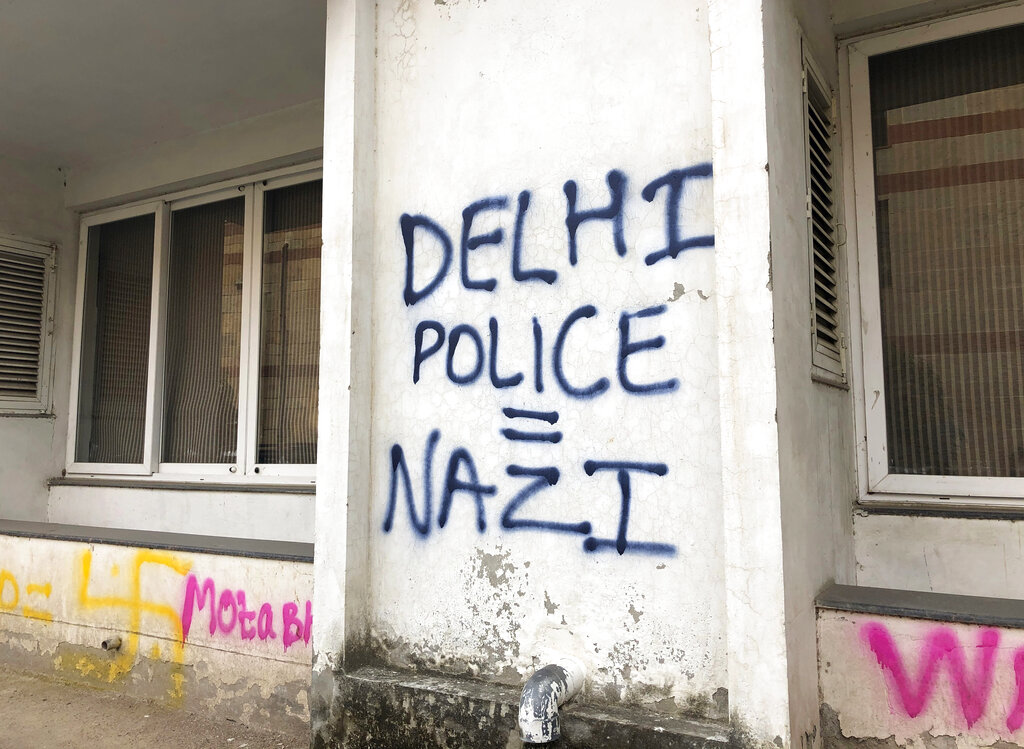 ---
New Delhi
|
Published 25.04.20, 09:57 PM
|
---
Locked down but refusing to be silenced, several students and activists showered social media on Saturday with images of themselves holding placards condemning the arrests of several people, especially those involved in the protests against the new citizenship matrix.
In a series of tweets, N. Sai Balaji, president of the CPIML Liberation's All India Students Association, said: "Medical workers are facing massive shortage of PPE kits and migrant workers don't have access to food and shelter. The government is choosing to prioritise suppression of dissent and booking activists and students under UAPA. This needs to stop!"
He added: "Meeran Haider, Safoora Zargar and Umar Khalid booked under UAPA. This blatant witch-hunting of Muslim activists and students must stop! The government should focus on fighting Covid-19, not activists!
"The anti-national Modi govt decides to commercially export hydroxychloroquine under Trump's pressure! Meanwhile, it arrests activists branding them 'anti nationals'!... Increase the testing rate, not communal hate! Repeal UAPA!"
Faced with a ban on gatherings, the Internet campaign is part of a series of protests against the arrests of Jamia Millia Islamia students Haider and Zargar, among others, who are accused of using the protests against the Citizenship (Amendment) Act to incite riots in Delhi in February.
Rashtriya Janata Dal MP Manoj Jha told The Telegraph: "These individuals are accused of making speeches which were against CAA-NPR-NRC. It is these speeches and peaceful protests that have attracted serious accusations in FIRs, which were gradually built up from inciting violence to attempt to murder to murder to sedition to the cherry on top — UAPA.
"These youth activists were in the public domain and at no point did they refuse to cooperate with the police investigation. The police need to explain their selective alacrity, which is nothing short of alarming. They need to explain what the risk is of these activists escaping anywhere during the lockdown, that the prosecution has opposed even their bail applications. I believe all of us should worry not only for the future of these activists, who are among the most conscientious and compassionate Indians, but also fear and worry for the future of our republic."
On Saturday, voices were also raised for other activists in prison. Hum Bharat Ke Log, a collective against the CAA steered by political activist Yogendra Yadav and others, condemned the arrest of Assam peasant leader Akhil Gogoi, in jail since December last year.
"This pattern of re-arresting Akhil Gogoi in old cases, when the chargesheets could not be filed, is an attempt at circumventing the judicial scrutiny of executive actions," they said.
"Gogoi's health has been deteriorating and the jail authorities have failed to provide him proper treatment. As a result, the NIA special court had to order a medical check-up and constituted a medical board to monitor his health. But his condition has not yet improved. We demand an end to all attempts to criminalise democratic protests against the unconstitutional CAA."
Tamil author Meena Kandaswamy tweeted: "News has just come in that Dr Anand Teltumbde is being sent to Taloja jail. This anti-Dalit vendetta is the DNA of the Manuvadi fascist Modi-Shah government. 20 days ago, Taloja jail authorities complained of overcrowding and said no to any more prisoners."
Several others too posted tweets demanding the release of the 11 activists, including academic Teltumbde, arrested in the Elgaar Parishad case. They are accused of Maoist links and involvement in an alleged plot to assassinate Prime Minister Narendra Modi.
A Mumbai court rejected Teltumbde's interim bail plea on Saturday.
Besides songs and monologues that the students had recorded at their homes, many social media users also shared last month's statement by United Nations Human Rights Commissioner Michelle Bachelet, which said: "Now, more than ever, governments should release every person detained without sufficient legal basis, including political prisoners and others detained simply for expressing critical or dissenting views."