Smells like a page from 'Nazi' copybook
Parallels with Hitler Germany cited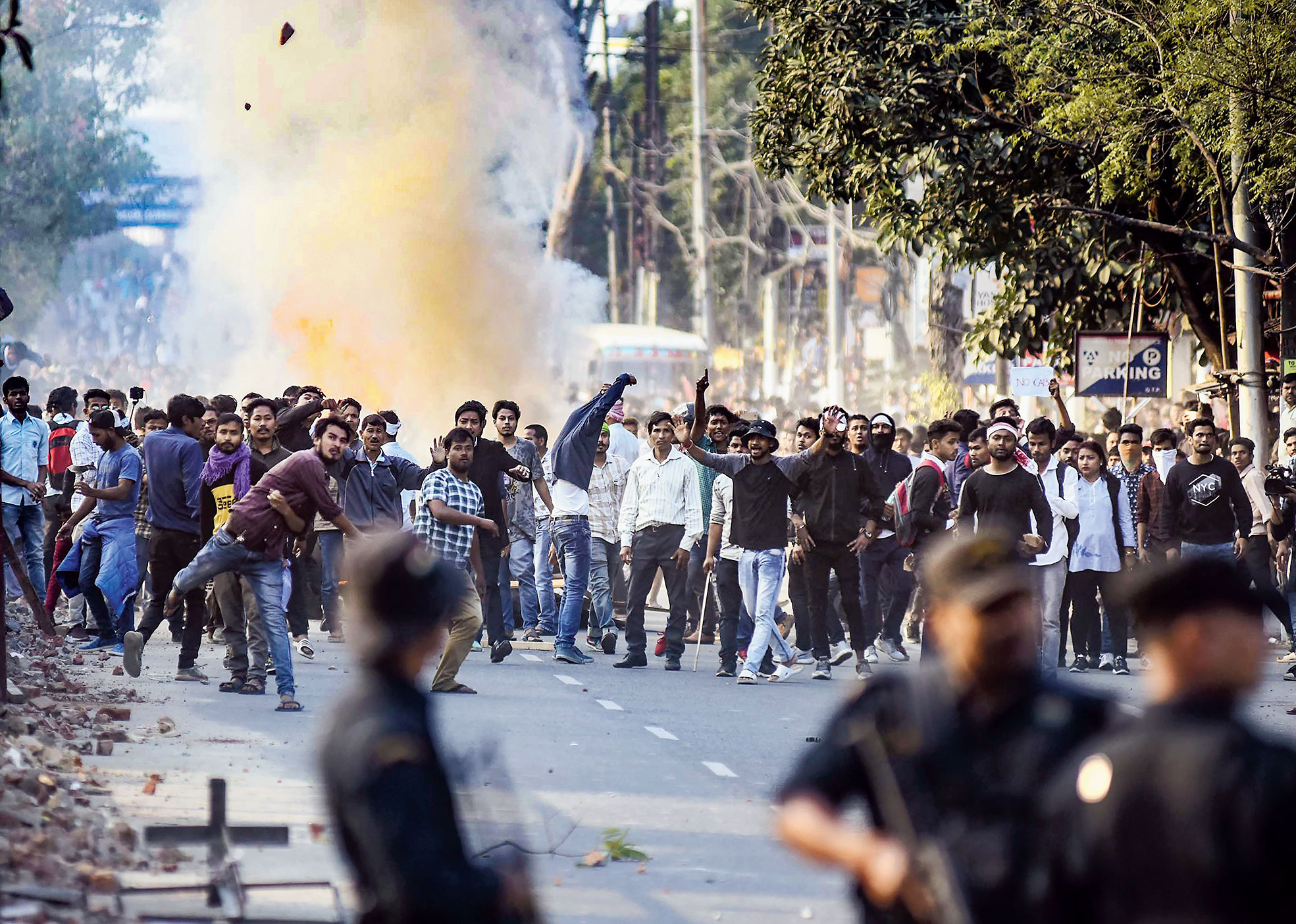 Protesters throw stones at the police in Guwahati on Wednesday during a march against the Citizenship Bill.
(PTI)
---
New Delhi
|
Published 11.12.19, 09:48 PM
|
---
Trinamul Congress and Congress leaders, opposing the grant of citizenship by religion, on Wednesday sought to draw a parallel between the Narendra Modi government and Germany under the Nazis.
During the debate on the Citizenship Amendment Bill in the Rajya Sabha, Trinamul's Derek O'Brien cited similarities between the bill and a series of actions in Nazi Germany in the 1930s and said the officials drafting it have drawn from the Nazi copybook.
The MP drew a parallel between the concentration camps of 1933 and the detention camps of 2018, before adding that 60 per cent of the people in those detention camps are Bengali Hindus.
The Reich Citizenship Law of 1935 protected those with German blood, he pointed out, and compared it with the Citizenship Amendment Bill in India now that seeks to grant citizenship to Hindus, Jains, Parsis, Buddhists, Christians and Sikhs from Bangladesh, Pakistan and Afghanistan.
"Third, 1935 — the focus back to the Nazis — you needed an identity to prove your lineage. So, what did you have? You were given an ancestral past. What is it today, in 2019? You rely on a piece of paper to prove your Indian citizenship," O'Brien said.
In Germany under the Nazis there was a plan, known as the Madagascar Plan, to deport the Jews. Now, the Indian government has the National Register of Citizens (NRC), he said.
"Today, the equivalent of the Lügenpresse is the fake news and media being pressurised to push the fake agenda," the Trinamul leader said.
"And the last one, in the German copybook they referred to a very interesting word, 'Jews' as 'rats'. And, as someone said, once powerful politicians start using dehumanising language, what happens after that, termites! What are we talking about today — termites, cockroaches, vermin. These words are not used by any party worker, but these words are being used by the Prime Minister and sometimes by the home minister," he said.
Congress leader Anand Sharma also likened the detention centres to the Nazi concentration camps. "I saw a documentary in BBC on detention centres. An all-party delegation should be sent there. Children are kept away from mothers. Now you are saying about doing NRC across the country. Will there be detention centres across the country which will remind us of concentration camps?" Sharma asked.
Home minister Amit Shah rejected the comparison. "Ours is democratic nation. Democracy has continued for years barring a brief period except when Emergency was imposed," he said.
Germany, too, was a democracy when Adolf Hitler came to power.