Chowkidar who arrives in a BMW
A good time to read aloud The Watchman, by Miriam Vedder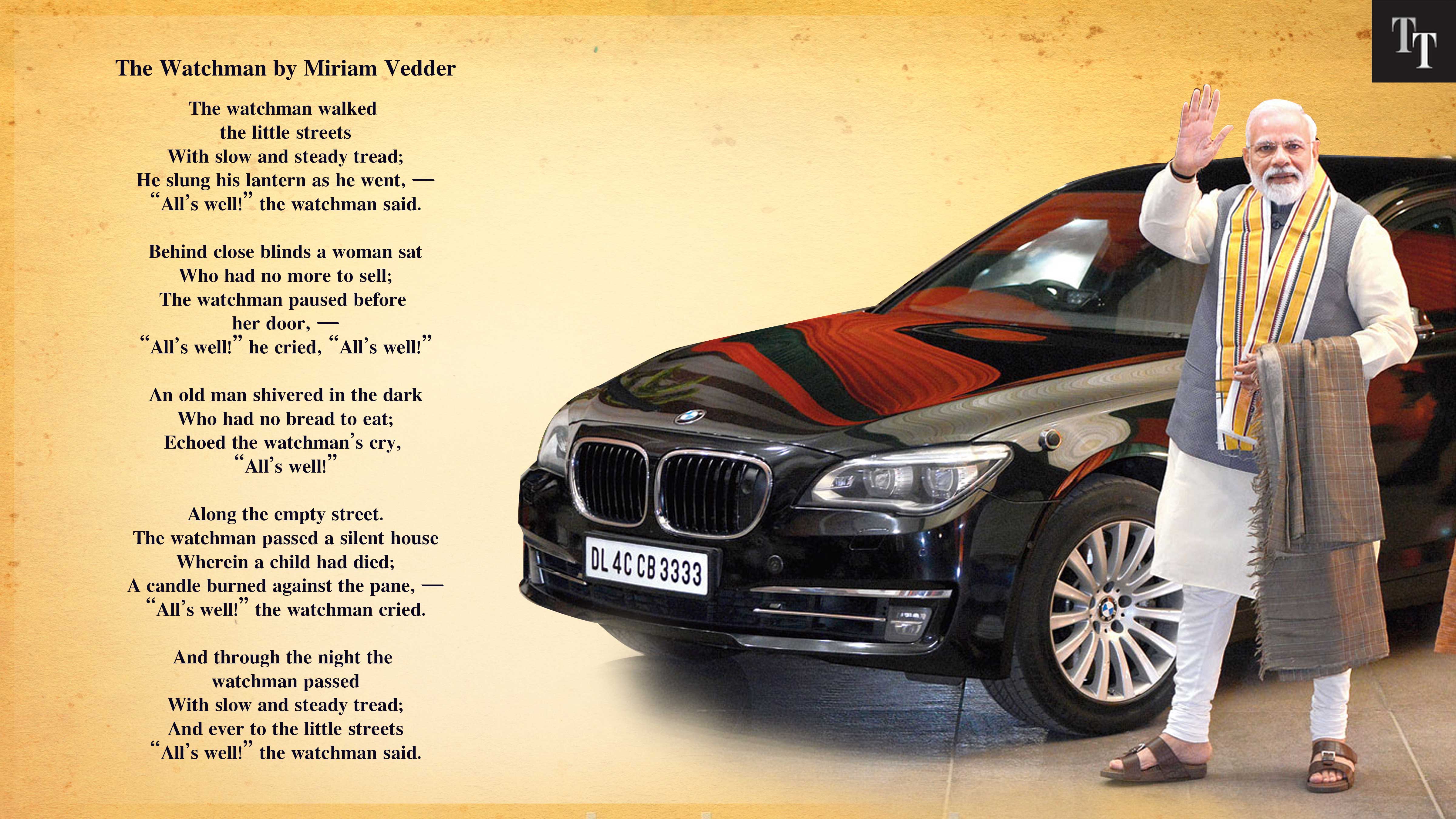 ---
|
Calcutta
|
Published 20.03.19, 07:09 AM
---
In an election-bound country facing numerous problems, Prime Minister Narendra Modi is seeking to milk the #MainBhiChowkidar campaign to its last drop.
The BJP has announced that on Wednesday, Modi will use an "audio bridge" (teleconference) to interact with 25 lakh people who are chowkidars by profession.
No day is perhaps more apt to recall the poem, The Watchman, attributed to Miriam Vedder, who wrote in the early 20th century.
On Wednesday, Congress president Rahul Gandhi said that Prime Minister Narendra Modi has relegated the PMO to a "Publicity Minister's Office" by indulging in "mediocrity" in a highly sophisticated country. "The Prime Minister's Office is now Publicity Minister's Office," Rahul told students in Manipur.
Another Opposition leader, BSP chief Mayawati, on Tuesday scoffed at Modi's #MainBhiChowkidar campaign.
She tweeted: 'After BJP launched 'Mai Bhi Chowkidar' campaign, PM Modi & others added the prefix 'Chowkidar' to their Twitter handles. So now Narendra Modi is Chowkidar & no more 'Chaiwala' which he was at the time of last LS election. What a change India is witnessing under the BJP rule. Bravo!'
Her ally, Samajwadi Party chief, Akhilesh Yadav tweeted: "Has the chowkidar responsible for the theft of file from the ministry been punished." He prefixed his tweets on Tuesday with "Vikas puch reha hai" (Vikas is asking), playing on the word "development", which was used extensively by the Bharatiya Janata Party during its 2014 campaign.
On March 6, Attorney-General K.K. Venugopal had told the Supreme Court that the Rafale documents were "stolen" from the defence ministry, triggering a row. Two days later, he claimed the Rafale documents were not stolen from the ministry and what he had meant was that petitioners in the application used "photocopies of the original" papers, deemed secret by the government.