Chinese ship Yuan Wang 5 docks at Sri Lanka's Hambantota port
China's comments are being seen as an oblique reference to security concerns raised by India and US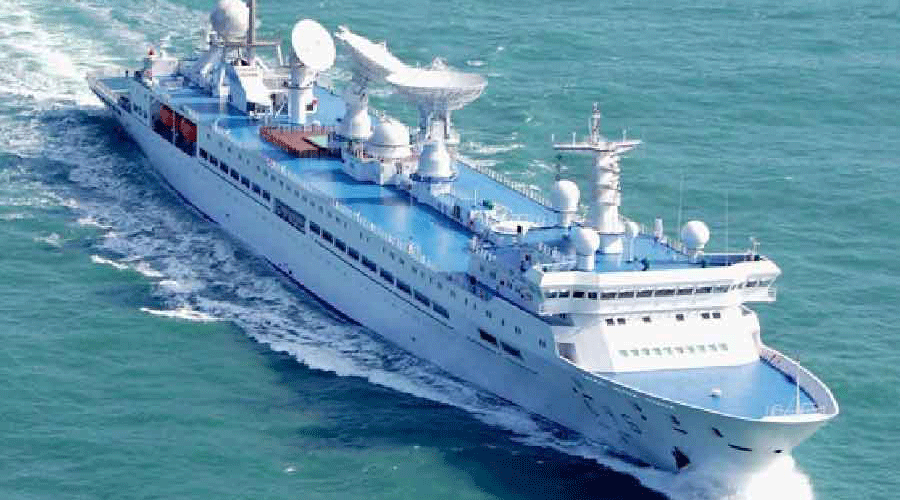 The Chinese ship Yuan Wang 5.
File photo
---
New Delhi
|
Published 17.08.22, 03:46 AM
|
---
Chinese "research/survey" ship Yuan Wang 5 docked at Sri Lanka's Hambantota port on Tuesday morning, following which Beijing said its activities were in line with international law and should not be disrupted by any third party.
China's comments are being seen as an oblique reference to the security concerns raised by India and the US.
India did not comment on the ship's docking at Hambantota — New Delhi has not said a word on the issue since Saturday when Sri Lanka granted Yuan Wang 5 permission to dock at the port from August 16.
The Chinese vessel docked at Hambantota in line with a revised schedule that will keep it anchored at the port till August 22. Earlier, the ship was to make this port of call from August 11 to 17 but the dates were deferred at Colombo's request after India raised security concerns about the presence of the vessel with facilities to track missiles and satellites so close to the Indian coast.
India last Friday denied that it had pressured Sri Lanka to reconsider the decision to allow the vessel to make a port of call at Hambantota.
But in late July, external affairs ministry spokesperson Arindam Bagchi had said in response to the ship's scheduled arrival that New Delhi "carefully monitors any development having a bearing on its security and economic interests''.
On Tuesday, confirming that the ship had docked at Hambantota, Chinese foreign ministry spokesperson Wang Wenbin sought to counter the allegation that Yuan Wang 5 was a surveillance vessel.
"I want to stress again that the marine scientific research activities of the Yuan Wang 5 ship are consistent with international law and international customary practice. They do not affect the security and economic interests of any country and should not be obstructed by any third party," Wang said.
Asked whether China planned to step up financial assistance to cash-strapped Sri Lanka now that it had granted permission to the ship to make a port of call at Hambantota, Wang said: "On what you asked about China-Sri Lanka cooperation, as we have stressed many times, as Sri Lanka's friendly neighbour, China feels deeply for the economic and social difficulties facing Sri Lanka at the moment. China has been doing its utmost to support and help Sri Lanka pull through the difficulties. This is what we have been doing and what we will continue to do."
China has been held responsible for part of the economic crisis facing Sri Lanka and has been found to be a laggard in helping Colombo out of the dire straits, especially in comparison with India.