China build-up but we are ready for any eventuality: Army chief
Naravane said the Chinese PLA had stationed troops in considerable numbers all across eastern Ladakh, including forward areas, which was a matter of concern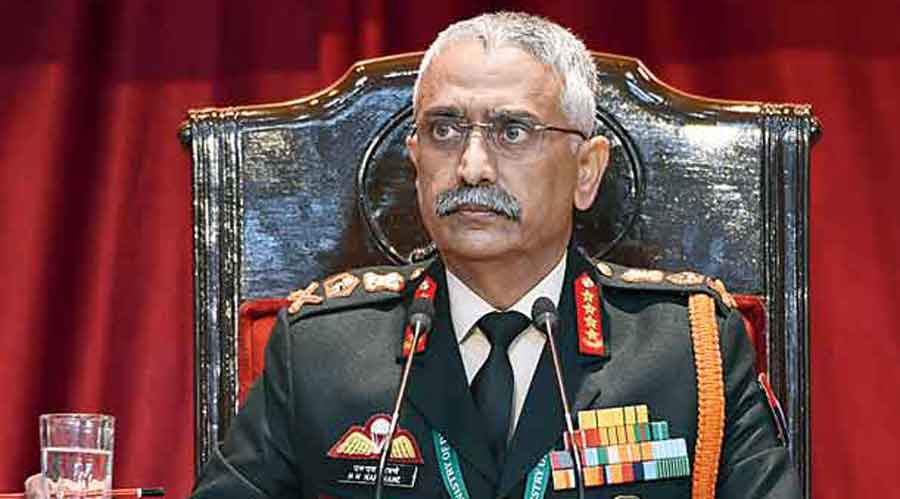 ---
New Delhi
|
Published 03.10.21, 01:57 AM
|
---
India Army chief Gen. M.M. Naravane on Saturday said China had built a lot of infrastructure along the Line of Actual Control (LAC) in eastern Ladakh, adding that the Indian soldiers were ready for any eventuality.
"China has built a lot of infrastructure on its side of the LAC and has deployed more troops. We have inducted advanced weaponry and are ready for any eventuality," Naravane said.
He said the Chinese People's Liberation Army (PLA) had stationed troops in considerable numbers all across eastern Ladakh, including forward areas, which was a matter of concern.
"We are closely monitoring all the developments and are well prepared to meet any eventuality," the army chief said.
Naravane, who had earlier asserted that incidents with China would continue until a long-term solution in the form of a boundary agreement was reached between the two countries, on Saturday said India was hopeful that the border standoff would be resolved through dialogue.
He is in Ladakh on a two-day visit to review the security situation and operational readiness along the China frontier.
Sources said the army chief visited several forward areas and was briefed by army commanders on the ground situation at the multiple friction points in eastern Ladakh where the Chinese army had been occupying Indian territories since last year.
So far 12 rounds of military talks have taken place between the two armies to resolve the border standoff. There has been "partial" disengagement from the Galwan Valley, the Pangong Lake and Gogra by creating a demilitarised "buffer zone" with the Chinese stepping back a few kilometres while still remaining within India-claimed lines.
The standoff at Hot Springs and the Depsang Plains continue. The Chinese are said to be entrenched 18km inside India-claimed lines at the Depsang Plains.
Sources in the Indian Army said the disengagement process between the two armies had hit a wall as a result of the Chinese PLA's reluctance to pull back its forward deployed troops at Hot Springs and the Depsang Plains.
Naravane on Saturday said the 13th round of military talks between the two sides was expected soon in which disengagement from other friction points would be taken up with the Chinese army.
Sources in the security establishment said Beijing continued to resist New Delhi's demand for disengagement and de-escalation of troops from multiple friction points. Since May last year, the PLA has altered the unmarked LAC at several friction points and as per estimates it has taken over close to 1,000sqkm of India-claimed territory.
On Thursday India had hit out at China for attempting to blame it for the ongoing border standoff and asserted that the "provocative" behaviour and "unilateral" attempts by the PLA to alter the status quo along the LAC in the region had seriously disturbed peace and tranquillity.