Charge: Omar got voters to defy boycotts
A dossier on Omar drawn up by the administration of the Union territory of J&K says he favours 'radical thoughts' which he has 'turned into actions'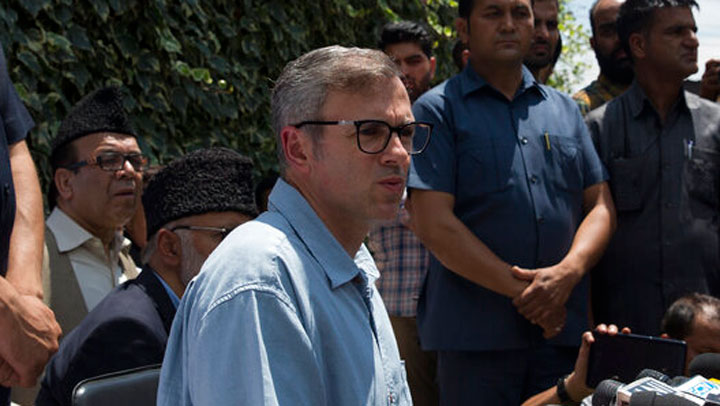 Omar Abdullah speaks during a press conference in Srinagar on August 3, 2019.
(AP)
---
Srinagar
|
Published 09.02.20, 09:05 PM
|
---
The Centre has found a candidate fit to be sent to the "de-radicalisation camps" that Chief of Defence Staff Bipin Rawat spoke about last month — former chief minister and former Union minister Omar Abdullah.
A dossier on Omar drawn up by the administration of the Union Territory of Jammu and Kashmir, which slapped the draconian Public Safety Act on him on Wednesday, says he favours "radical thoughts" which he has "turned into actions", according to sources who have seen the document.
The PSA allows detention without trial for up to two years. Omar and another former chief minister, Mehbooba Mufti, had already spent six months in jail when the Act was invoked against them.
One of the charges cited to invoke the PSA against them is their capacity to convince the "electorate to come out and vote in huge numbers even during peak of militancy and poll boycotts", the sources said.
Ironically, the Centre has always cited participation of Kashmiris in elections as proof that they favour remaining as a part of India.
"After revocation of Article 370 and Article 35A, in order to secure support of common people, the subject (Omar) removed all covers/ curtains and while resorting to his dirty politics he has adopted a radical methodology by way of instigating general masses against the policies of central government," the sources quoted the dossier as saying.
Omar was put under preventive detention before the special status of Jammu and Kashmir was revoked on August 5 and has not spoken a word since in public.
In the last tweet before his arrest, the National Conference leader had called for "peace and calm". "Violence will only play into the hands of those who do not have the best interests of the state in mind. This wasn't the India J&K acceded to but I'm not quite ready to give up hope yet. Let calm heads prevail. God be with you all," Omar had tweeted.
The label of "radical" on Omar, considered one of the most liberal voices from the Valley, comes weeks after Rawat triggered outrage with his claim that "girls and boys as young as 10 and 12 are now being radicalised" in Kashmir for which "de-radicalisation camps" were a remedy.
"There are people who have completely been radicalised. These people need to be taken out separately, possibly taken into some de-radicalisation camps. We have got de-radicalisation camps going on in our country," Rawat said.
Against Mehbooba, the last chief minister of the state leading a coalition government of the PDP and the BJP, the charge is that she took a pro-separatist stand, extended support to the banned Jamat-e-Islami and made anti-national statements.