CHANGE OF GARB
Dawn of new era in Assam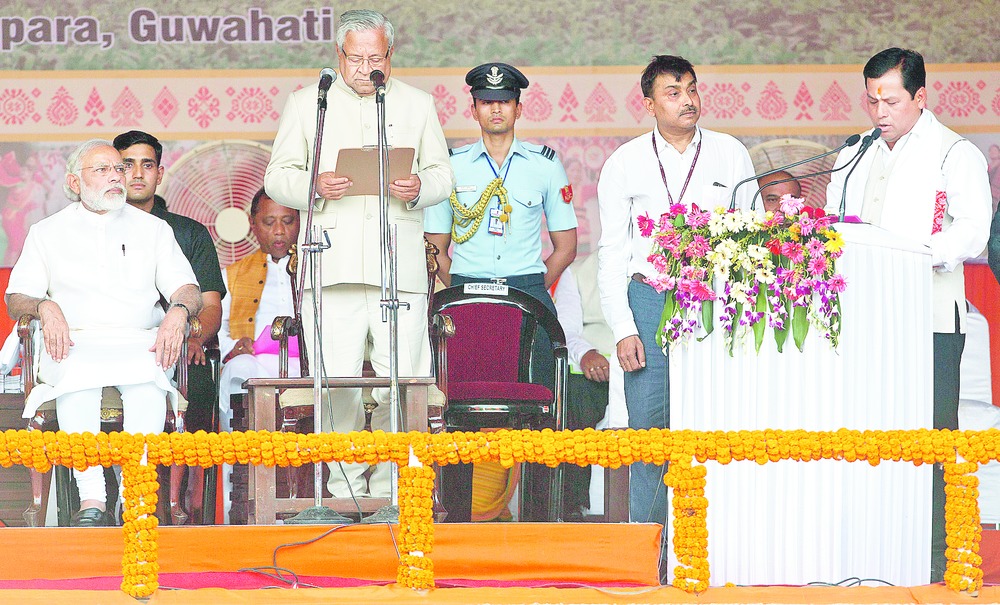 ---
---
Guwahati, May 24: It is exactly 30 years and five months to the day when Sarbananda Sonowal became the second president of the All Assam Students' Union (AASU) to take oath as the chief minister of Assam this afternoon. The first was Prafulla Mahanta and he took oath as the state's chief minister on December 24, 1985. Mahanta ascended the hot seat as founding president of the AGP, Sonowal as president of the Assam BJP.
Mahanta was a lot younger though, all of 33 years-and-a-day old when he and his team drove from the hostels of Gauhati University at Jalukbari to Judges Field in the middle of the city to become the government of Assam. Sonowal is 54 years, six months and 23 days.
Both the swearing-in ceremonies were big public affairs, the only two to have been so grand thus far in Assam. But that is where perhaps the similarity of oath and organisation ends.
Much water - and blood - has flowed down the Brahmaputra between the two trysts that the people of Assam have had with destiny. Mahanta's first term saw the rise of militancy by way of Ulfa and a spate of killings and kidnappings, following which came two sustained military operations in Assam - Bajrang and Rhino. Mahanta's second term was tainted by a series of what came to be known as "secret killings" that saw the families of Ulfa operatives systematically eliminated.
Twenty-seven years and five elected governments after 1985, not including the one sworn in today, the security forces are yet to return to their barracks in Assam.
One portal that records militancy-related activity in the country puts the death toll in Assam between 1992 and now at 8,204. And it is the common man who has, elections notwithstanding, borne the brunt of it all - 4,268 of those killed were civilians, 824 were security force personnel and 3,112 were militants. Prior to this, 854 students had laid down their lives in the six-year-long Assam Agitation from 1979 till 1985 that eventually led to the creation of the Asom Gana Parishad (AGP) that made Mahanta chief minister in 1985.
Today, at the Veterinary College Field in Khanapara, Sonowal and his 10 ministers took the oath of office.
Both within his cabinet and beyond, Sonowal will now have to deal with an unprecedented mishmash - seven BJP legislators, including Himanta Biswa Sarma, who is now a minister, were once prominent Congress legislators and leaders, till the other day largely silent spectators to the illegal migrants problem in Assam, one that the BJP built its jati (community), mati (land) and bheti (home) slogan on this time round.
Another BJP minister, Chandra Mohan Patowary, is a former president of the AGP, that seeks an Assam free of foreigners, Hindu and Muslim, unlike the BJP (and the Congress) that welcomes "persecuted" Hindu migrants from Bangladesh. Current AGP president Atul Bora, too, was sworn in as minister today. Including Sonowal, two other BJP MLAs, Tapan Gogoi and Satyabrata Kalita, are former members of the AASU's top leadership, people who called the shots in an organisation that claims to be the sole representatives of the Assamese and the indigenous and are opposed, like the AGP, to illegal migrants of all hues.
And it isn't that the BJP has descended in Assam all of a sudden. It was during the Assam Agitation that AASU leaders placed their case before Atal Bihari Vajpayee, the BJP's patriarch. Assam's bard Bhupen Hazarika, a sworn Leftist, who sang strong about the Agitation - " Luitporia deka bondhu, tomar tulona nai, jiyai thokar jujot namisa mrityu xopot khai" (Young friends of the Luit, you fight for life, swear by death) - in 2004 fought the Lok Sabha elections as a BJP candidate from Guwahati and lost, in the days when Assamese people believed the AGP's brand of jatiyotabad (patriotism) was sacrosanct.
Praising Sarbananda Sonowal's "Adivasi" moorings, Prime Minister Narendra Modi this evening admired his madhurta (pleasantness) and saralata (simplicity) and hoped he would "do everything to change the future of Assam". "Assam is a land of cultural traditions and will inspire the country," Modi said. Speaking of handing-holding states through to progress, Modi ended his speech with Xahityarothi Lakshminath Bezbaroa's (1868-1938) famous lines: " Bajok doba, bajok xonkho, bajok mridong khol... Axom akou unnotir pothot, Joi Ai Axom bol... (A call for a celebration by the Xahityarothi as Assam was again on the path of progress)".
Taking the podium, Sonowal, the state's new chief minister, however, said it straight: His fight, he said, would be to free Assam from " bidexi (foreigners), durniti (corruption) and produxon (pollution)."
Back in 1985, when Mahanta took charge, Assam's Muslim population stood at an approximate 60 lakhs, of which six-seven per cent were indigenous Assamese Muslims. The rest were immigrant Muslims, including those who had come in illegally. According to the 2011 census, the figure had swollen to 1.24 crore, of which indigenous Muslims would be about 10 lakh.
It was a recitation of Rupkonwar Jyoti Prasad Agarwala's (1903-1951) poem Oxomiya Dekar Ukti that the organisers of today's celebrations chose to present Assam's pluralistic ethos before those present. The poem that goes, "Moi Lalung, Sutia, Lusai, Mikir, Garo/Misimi, Khamti, Noga Angami bir (I am the Lalung, Sutia, Lushai, Mikir, Garo / Misimi, Khamti, the Naga and the Angami hero)" also goes on to say "... Na Oxomiya moi Moimonsingia..." which would mean "I am the new Assamese, the one from Mymensingh (in Bangladesh)".
That is what Sonowal and his government will now have to deal with, without collateral damage - to the Indian Muslim in Assam, and the state's social fabric which stands threatened.