Silent protest held outside Madras High Court
Centre notifies transfer of Justice Sanjib Banerjee to Meghalaya
Advocates ask whether this was a 'punishment transfer' for an 'honest and fearless' judge who had delivered a series of landmark verdicts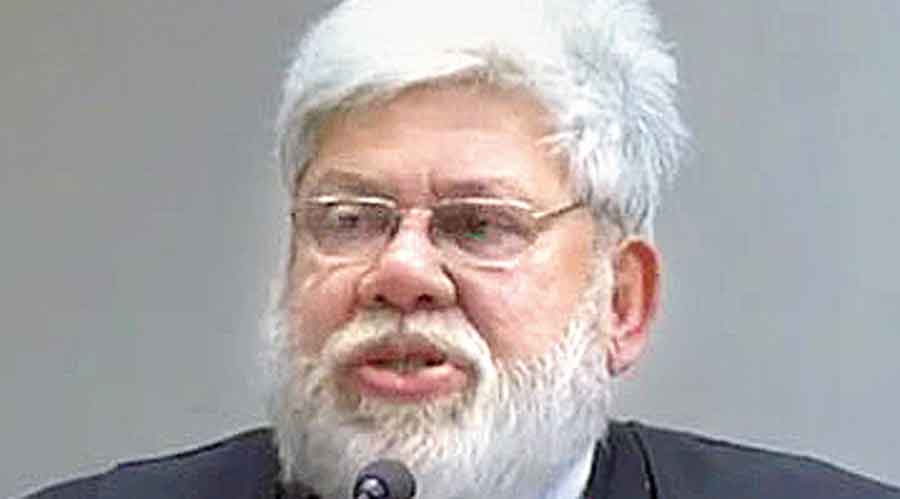 Justice Sanjib Banerjee.
File photo
---
Chennai
|
Published 16.11.21, 01:29 AM
|
---
The Centre notified on Monday evening the transfer of Madras High Court Chief Justice Sanjib Banerjee to Meghalaya, ignoring appeals for a rethink that gained more voices, including that of a highly respected former judge whose real-life story has inspired a film that is now making waves in the over-the-top space.
"In exercise of the power conferred by clause (I) of Article 222 of the Constitution of India, the President, after consultation with the Chief Justice of India, is pleased to transfer Shri Justice Sanjib Banerjee, Chief Justice of the Madras High Court, as the Chief Justice of the Meghalaya High Court," the notification cleared by the Union law ministry said.
Earlier in the day, a silent protest was held outside Chennai High Court. Besides, a representation was made to the Supreme Court collegium by 31 designated senior counsel.
Some 237 advocates practising at the high court had already written an open memorandum to the collegium on Thursday, asking whether this was a "punishment transfer" for an "honest and fearless" judge who had delivered a series of landmark verdicts.
Justice K. Chandru, a retired Madras High Court judge, spoke of the brevity of Justice Banerjee's 10-month stint in Madras and the impartiality, efficiency and speed with which he had disposed of cases through virtual hearings.
Justice Chandru had hit the headlines in the past few weeks, particularly in southern India, after Jai Bhim, an acclaimed movie depicting his legal battle in a custody death case when he was a lawyer, was released on an OTT platform. The movie is based on a true incident in which a tribal person was tortured to death in custody and his wife fought a legal battle, backed by lawyer Chandru, against daunting odds.
On Monday, Justice Chandru asked why it had taken the collegium such a long time to make its decision public.
While the transfer recommendation was made on September 16, the decision was made known only on November 9 night. The memorandum from the 237 lawyers had questioned the "secrecy" and highlighted the absence of stated reasons for the transfer recommendation.
Justice Chandru referred to the apex court collegium's recommendation to transfer Justice Munishwar Nath Bhandari from Allahabad High Court to Madras High Court and wondered whether the authorities wanted to appoint him chief justice of Madras High Court.
On Monday, more lawyers and the Madras Bar Association voiced concern at the transfer proposal and urged a rethink.
Outside the high court, lawyers held up placards that read "Recall the unfair transfer of our Chief Justice" and "We demand the withdrawal of the transfer RPT the transfer of our Chief Justice Sanjib Banerjee".
Veteran lawyer N.G.R. Prasad, who led the silent protest outside the high court, later told reporters that Justice Banerjee's transfer recommendation was a "very serious issue". He said too frequent transfers of a judge invited the inference that "they are being victimised for delivering fair and impartial judgments".
Prasad said that if such a trend of transfers continued, "judges will be there but the judiciary will be undermined".
The 31 designated senior counsel who sent the joint email representation to the collegium include P.S. Raman, V. Prakash, Nalini Chidambaram, Arvind P. Datar, Hema Sampath, Vijay Narayan, Ajmal Khan, Ravi Kumar Paul, N.R. Elango, P.H. Arvindh Pandian, A. Sirajudeen, J. Raja Kalifulla and S. Subbiah.
Their representation said Justice Banerjee had completed only 10 months at Madras High Court and had "discharged his functions, both in the administrative side and judicial side, to the best of his capabilities".
They said Justice Banerjee had disposed of a few thousand cases even during the devastating second wave of Covid-19. "We are unable to fathom the reasons for his sudden transfer to another court," they said.
It takes any new chief justice coming from another state at least a year to "understand the administration, composition and challenges of an institution, apart from understanding the culture, language and local practices of a state", the senior counsel emphasised.
They suggested that the chief justice of Madras High Court should have at least a two-year term.
Justice Banerjee had been transferred from Calcutta High Court to Madras High Court only in January this year.